Tram Tau hosts remote and mountainous green tourism
YBO - Remote but beautiful, Tram Tau in Yen Bai province features a rough mountainous terrain and is home to a large number of Viet Nam's ethnic minorities. Despite being off the beaten path, the locality is growing its sustainable ecotourism base.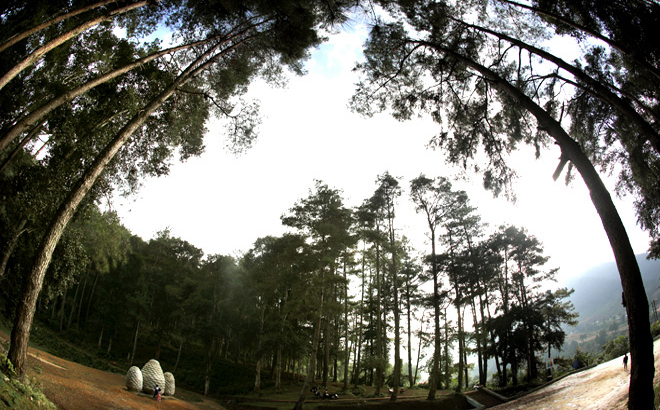 Pine Hill - one of the destinations for camping in Tram Tau district
We cross the winding road to Tram Tau district one weekend morning, reaching the remote Thai and Hmong villages that feature green community tourism. Trekking to the sunlit mountainous region, man and nature are in harmony.
Tram Tau is almost frozen in time, with its untouched beauty, host to many secrets of the region. Climbing to the top of Ta Chi Nhu, Ta Xua, we are witness to the "ocean of clouds", the scent of the forests covering the mountains, pristine in their fresh and green beauty.
I have been to Tram Tau many times, and every time I come back, I see changes. Tourism continues to develop here but preserved forever in each of my returns is the nature, people, and culture of Tram Tau.
The preservation of the region's beauty and culture is result of following the direction and orientation of the province and the district. From the onset, tourism development policy focused Tram Tau on green tourism - tourism based on the sustainable use of natural resources, associated with environment protection, and preserving and promoting traditional cultural values for years to come.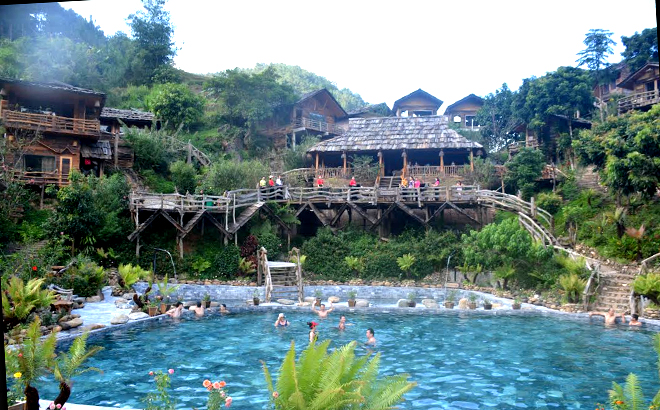 Panoramic view of Tram Tau hot spring resort.
Tram Tau has a manageable number of motels, hotels and accommodation facilities, focused on guiding people to invest in home repairs, building menus of traditional dishes, and opening clean and beautiful homestays to welcome guests.
Ms. Hoang Thi Ha - owner of a homestay in Hat Luu commune said: "We were advised on how to undertake green tourism thus I transformed my stilt home to welcome visitors. We serve traditional food of the ethnic groups such as chili bamboo shoots, five-color sticky rice, and grilled pa ping top river fish. If visitors arrive during the rice cultivating or harvesting seasons, we will invite them to give us a hand to experience real farm life. Tourism helps improve my family's income. It is a great feeling to benefit from what's naturally yours!".
Up to now, the district has 14 households and one cooperative offering homestay tourism, and 12 ethnic Mong and Thai art teams. Every year, Tram Tau welcomes thousands of visitors, creating jobs and sustainably increasing incomes for locals.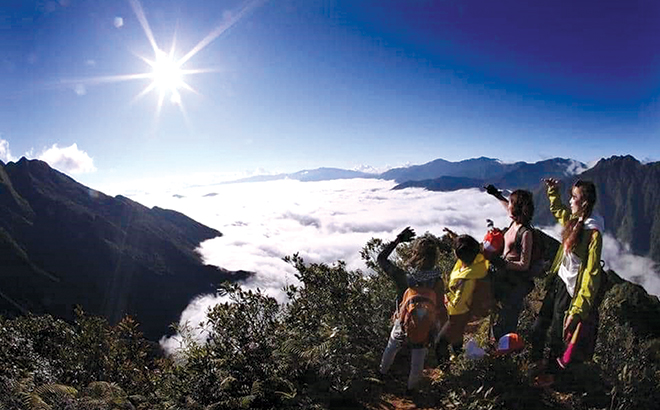 Ms. Duong Phuong Thao - Head of Culture and Information Office of Tram Tau district said in order to realize the goal of developing green tourism, Tram Tau has raised awareness with managers, businesses and local people. The district also develops adventure tourism products, and community tourism coupled with measures to protect the natural landscape and cultural values.
Thanks to effective policies, Tram Tau tourism has grown in both the number of visitors and revenue. In 2016, Tram Tau welcomed about 7,000 tourists and in 2021, over 60,000 tourists. In 2022, the district is expected to receive about 80,000 visitors to enjoy is remote and mountainous beauty.
Other news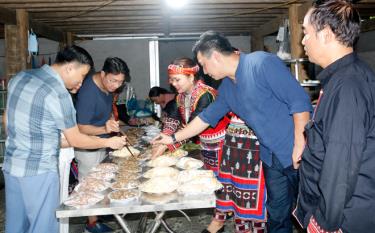 In recent years, Van Yen district of Yen Bai province has focused on preserving culinary cultural values in association with developing tourism, contributing to luring more and more visitors to the locality.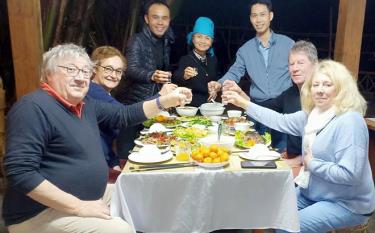 The western area of Yen Bai province boasts a lot of attractive destinations for tourists, including Mu Cang Chai terraced fields, Tram Tau hot mineral springs. A feature that lures visitors is the local rich and unique cuisine culture.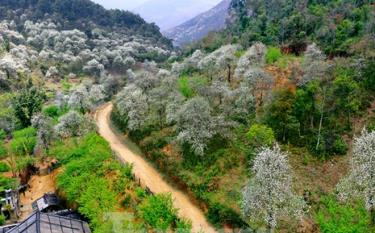 In order to enrich tourism products to attract visitors, Mu Cang Chai district of Yen Bai province will coordinate with Muong La district of neighbouring Son La province to organise the 2023 Hawthorn Flower Festival on March 18 and 19.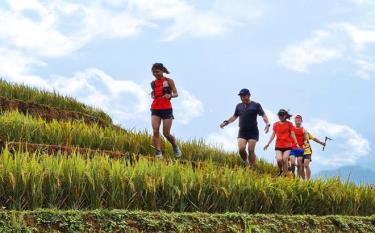 Over recent years, sports tourism has been introduced into Vietnam and is gaining popularity in the Southeast Asian nation. Yen Bai province has grasped the opportunity, especially the "golden" period, to recover the local tourism sector. The province has seriously invested in sport tourism, making it an impulse to attract more visitors.