Nghia Lo women popularise tourism products
Wednesday, November 9, 2022
YBO - Recently, officials from the Vietnam Women's Union (VWU) chapter of Nghia Lo town have actively built tourism products and urged members to develop tourism.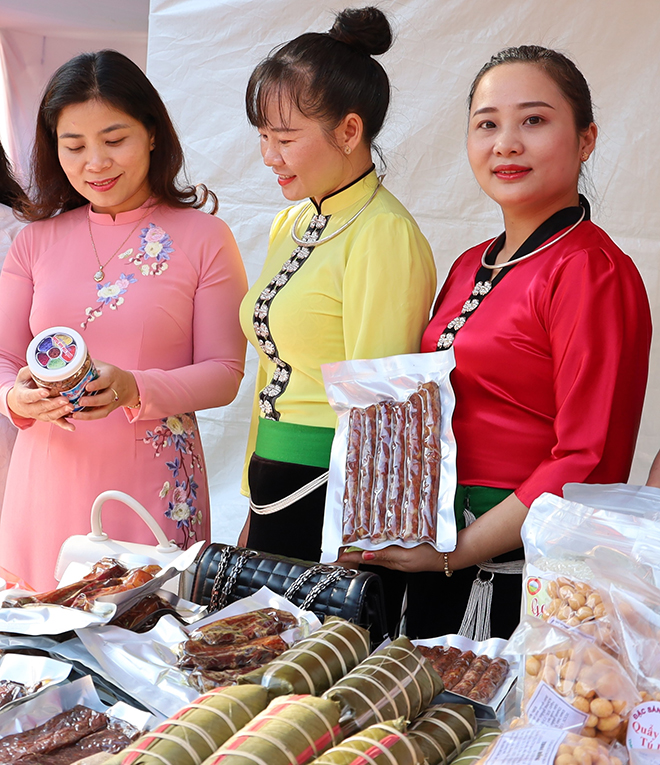 Luong Thi Hoan (right) introduces smoked meat at a stall popularising products of the VWU's Nghia Lo town chapter during Women's Entrepreneurship Festival 2022.
Since 2019, Sam Thi Tam, Chairwoman of the VWU's Nghia Phuc communal chapter, has invested about 600 million VND to build Ban Muong homestay model. Apart from infrastructure investment, Tam also paid attention to popularising Muong ethnic food culture, folk songs and dances. On average, her family welcomes 10 to 20 groups of guests per month, earning a revenue of 150 million VND per year. They generate stable jobs for six workers and provide additional income for members of the village's music troupe.
Tam said along with actively connecting tours and routes with domestic and foreign travel agents to get guests, she regularly urges families of potential members to invest in building a community-based tourism model and stays ready to share experience and develop homestay models.
Luong Thi Hoan, Chairwoman of Nghia An communal chapter of the Vietnam Women's Union, is also an owner of Muong Lo smoked meat production facility with the brand "Ba Chay" which is recognised as a One Commune, One Product (OCOP) product of Nghia An commune. Currently, her family produces pork, dried buffalo meat, sausages and smoked bacon.
Each month, her family produces about 1.5 tonnes of meat and earns a revenue of around 80-150 million VND and a profit of 8-15 million VND, creating regular jobs for 3-5 workers with a monthly income from 2.5- 4 million VND each.
Dong Thi Hong, head of the Women's Union chapter of Chao Ha 1 village, Nghia Loi commune, always urges members to jointly build local tourism products such as traditional cultural villages, in tandem with local tourism development and environment protection, preserve the traditional stilt houses of the Thai ethnic group, build clean houses and beautiful gardens, and set up a village music troupe of which she is a leader.
According to her, preserving the national identity and building a clean and beautiful village landscape is also a way to create tourism products imbued with Thai ethnic culture. As an official of the VWU at the grassroots level, she always tries to teach her peers all kinds of dances and embroidery while actively launching movements in tandem with tourism development to promote local tourism.
Local women have also actively encouraged and incorporated economic development programmes into community-based tourism model building, and launched movements in combination with eco-tourism development. The town currently counts over 35 effective homestay models, most of them owned by women.
Other news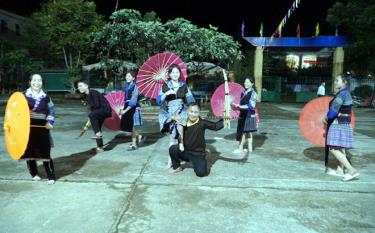 On these days, the Mong people in Mu Cang Chai district are eagerly waiting for the National Day (September 2) holiday. This is also an ideal time for the locality to welcome tourists to enjoy the beauty of terraced rice fields in the harvest season. Preparations are in full swing.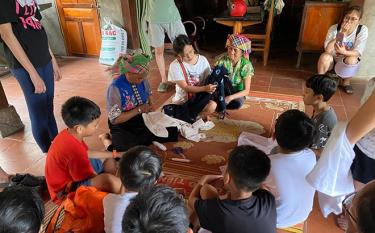 Since 2018, four homestays namely Quan Pom, Kien Panh, Quyet Doan, and Khau Pha House of Thai families in Cao Pha commune, Mu Cang Chai district, have been guided by KPF - Khau Pha Friends to build and provide tourism services in a polite and thoughtful manner, towards the goal of sustainable tourism development in the area.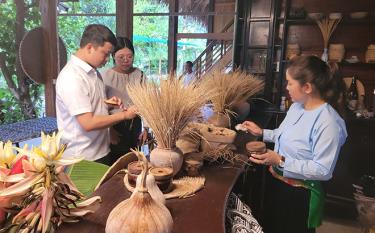 Nghia Lo has installed QR-CODE to introduce destinations and tourism information within the town, as well as a QR payment system at 92 accommodation facilities and 10 restaurants and eateries. Many lodging and homestay facilities and tourism service businesses have actively used social media platforms to draw tourists.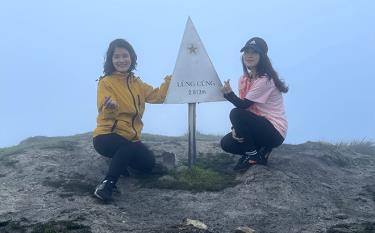 At an altitude of 2,913 m, Lung Cung peak is located in Mu Cang Chai district, Yen Bai province. It is one of the top 15 highest peaks in Vietnam.