Many community-based tourism sites await visitors in Tran Yen
Thursday, November 3, 2022
YBO - Blessed with beautiful natural landscapes, many historical relic sites, cultural diversity, and a number of agricultural specialties, Tran Yen district holds favourable conditions for developing ecological and community-based tourism.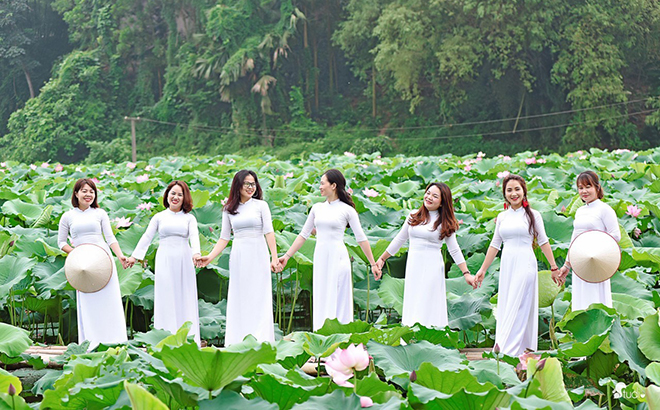 Tourists visit the Van Hoi lotus pond.
Viet Hong commune, located in the Van Resistance Base complex - a national historical relic site, features such relics as Chung Communal House and Doi Cave, along with many places for sightseeing and experience tourism like Truong Tho Waterfall, Ao Sen (lotus pond) in Ban Na hamlet, and many caves in natural forests.
There, the homestay establishment of Nguyen Ngoc Lien, a resident in Ban Van hamlet, is known as an interesting tourism model. He is creating more space for visitors to stay in and hold musical activities.
Lien said he designed a tour of attractive destinations that harmoniously combines experience and exploration tourism so that tourists will not feel bored. He also applied for recognition under the One Commune, One Product (OCOP) programme so that his homestay model can become more attractive to visitors.
The homestay facility of Hoang Thanh Hiep in Ban Van hamlet was opened recently but has left good impression on tourists. It welcomes visitors almost every weekend. Apart from a stilt house, he also built two pond huts where tourists can enjoy fishing and chat with one another.
In the recent past, many households in Viet Hong commune have moved to develop homestay tourism, attracting more than 2,000 visitors each year.
Trieu Khanh Thien, Chairman of the communal People's Committee, said the administration has coordinated with authorities of Yen Bai province and Tran Yen district to make a survey and found that Ban Na and Ban Van hamlets boast many advantages suitable for developing homestay tourism that can combine ecotourism, experience tourism, and relaxation tourism.
So far, five families in Viet Hong have registered to participate in community-based tourism, and two homestay establishments come into being. The commune is planning to launch the tourism product in Ban Van hamlet as an OCOP product this November.
Meanwhile, Van Hoi commune is home to Go Co, Dong Yeng and Van Hoi, which are revolutionary bases in the resistance war against France, as well as charming natural landscapes like Van Hoi, Voi Rong and Que waterfalls, and Van, Linh and Chan streams. It has devised appropriate measures for developing tourism in tandem with preserving and bringing into play historical and cultural values.
Tran Dinh Kien, Chairman of the Van Hoi communal People's Committee, said depending on seasons, the committee will encourage local households to capitalise on different destinations such as the flower valley in Khe Mon hamlet, the lakeside flower valley in Lao Dong hamlet, and the Van Hoi floating house and Ao Xanh hostel in Dong Chai hamlet. Authorities have also guided locals to create new tours. The commune hopes to welcome more than 10,000 visitors in 2022.
Recently, Tran Yen district has also opened tourism training courses, given financial assistance to help homestay service providers build and upgrade infrastructure, and coordinated with localities to organise tours of local destinations.
Other news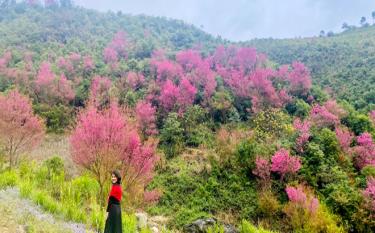 To Day is a flower species belonging to the peach blossom family. The H'Mong ethnic people in Mu Cang Chai district often call it "Pang to day" - forest peach blossom in Vietnamese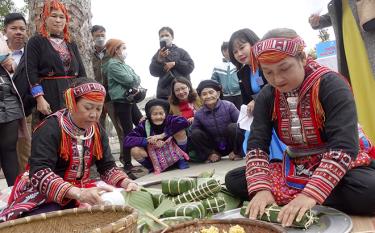 As part of the third "Coming to the Land of Gems" tourism programme in Luc Yen district, Yen The township recently hosted a wide range of activities, including 'chung' cake wrapping and red-whiskered bulbul singing contests, and folk games such as spinning tops, blind man's buff, and 'danh yen' which is considered badminton of the local ethnic minority group.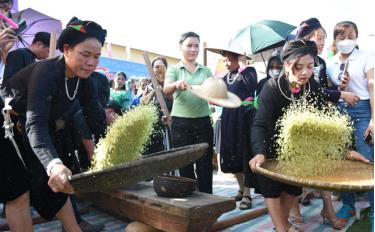 The third "Coming to the Land of Gems" tourism programme is taking place in Luc Yen district from December 2 to 4.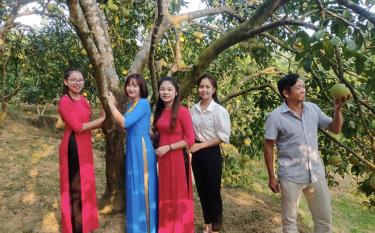 Dai Minh grapefruit, which was once used to be offered to the king, has become a specialty and also a pride of Dai Minh commune in particular and Yen Binh district in general.