Muong Lo Culture-Tourism Festival gathers cultural quintessence
Thursday, October 22, 2020
YBO - The Culture-Tourism Festival, the most awaited event of the people who love the Northwestern mountainous region, opened on October 17 despite the ravaging impact of COVID-19 pandemic. It comprises various cultural activities, giving visitors a fest of culture.
Public actors in Nghia Lo town bring to visitors a fest of art with strong cultural identities of ethnic groups in Muong Lo and Yen Bai.
Prior to the opening ceremony, a carnival was held, featuring the unique cultural values of local ethnic groups. In 2020, Nghia Lo saw the merger of seven administrative units from Van Chan district, making Nghia Lo-Muong Lo a complete venue for cultural values of Thai, Kinh, Tay, Muong and Mong ethnic groups.
This year, the carnival highlighted typical cultural identities of six local ethnic groups in Muong Lo instead of grouping them by commune like in previous years.
The new feature in this year's carnival gave visitors an insight of cultural quintessence of ethnic groups in the locality, while strengthening solidarity among local ethnic groups in Muong Lo.
The opening ceremony was a combination between traditional and modern styles, and between folk and contemporary music.
After the attractive artistic performances, a "xoe" dance involving 2,020 artisans and public actors fascinated audiences and gave them a strong impression of the beauty of Yen Bai.
The thrilling music made audiences shake their body, while the arrangement of dancers following brocade shapes of Muong Lo ethnic group's costumes surprised them.
Thousands of visitors flocked to Muong Lo-Nghia Lo for the festival. They came to enjoy the cultural quintessence. From the visitors, the image of Muong Lo is introduced to wider areas in and outside the country.
The opening ceremony was the start for a series of festive activities spanning through the end of October.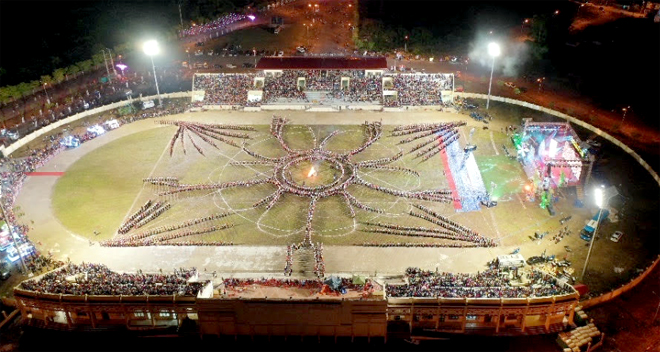 Great "xoe" performance with the engagement of 2,020 artisans and public actors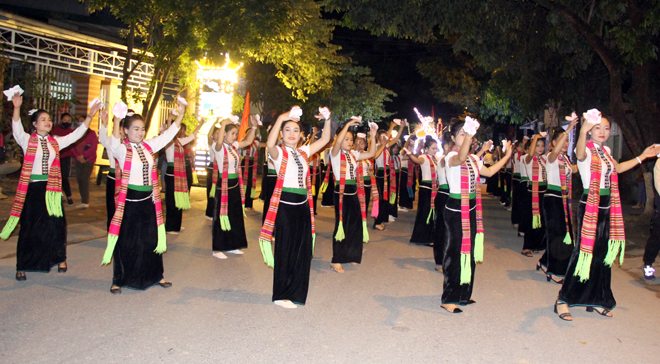 Other news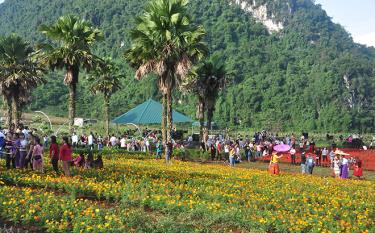 The second Luc Yen district "Going to Gemstone Land" tourism programme will be held from December 4-6 with a wide range of new and attractive activities.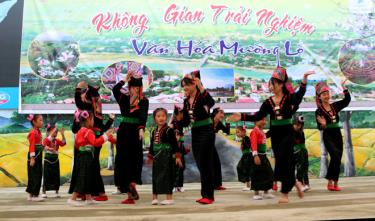 Hands-on activities were a highlight of the Muong Lo culture - tourism festival 2020, as they enabled participants to experience the local culture in both traditional festivals and daily life. A number of activities to be named include brocade weaving, Khen (local panpipes) making, xoe dance teaching, and folk games. Visitors were also enable to explore local life across communes.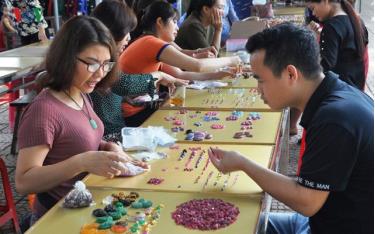 Luc Yen district of Yen Bai province served more than 27,000 holiday-makers, including 1,420 foreigners, in the first nine months of this year, and earned 16.2 billion VND from tourism revenue.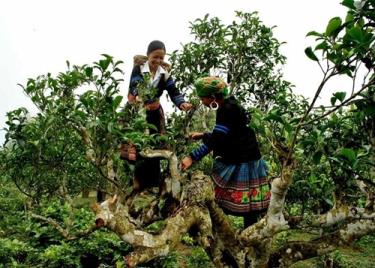 A ceremony was held in Suoi Giang commune, Van Chan district, the Northern mountainous province of Yen Bai on September 20 to honor ancient tea tree, as part of the Muong Lo Culture and Tourism Week.