"Mu Cang Chai Heli Tour" promises unique experience of terraced fields
Thursday, October 1, 2020
YBO - Last weekend, authorities of Mu Cang Chai district and the Northern Vietnam Helicopter Company under the Vietnam Helicopter Corporation launched a helicopter tour of the Mu Cang Chai terraced fields – a special national landscape relic.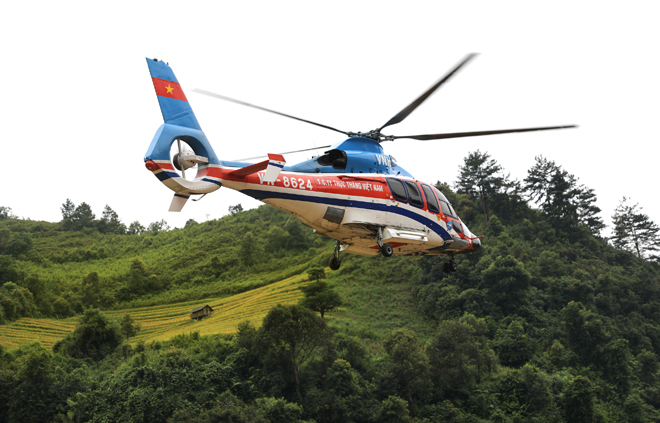 Using the "Mu Cang Chai Heli Tour" service, visitors will be lifted by Bell 505, a modern light helicopter produced in 2019 and imported from the US.
The aircraft, designed specifically for sightseeing, features wide glass windows and up to 12 seats, offering tourists a panorama of landscapes below from any seat.
Helicopter tours give travellers a fresh experience as they can admire breathtaking and much more beautiful landscapes, especially when it comes to the Mu Cang Chai terraced fields – a special national landscape relic recognised by the Prime Minister.
"Mu Cang Chai Heli Tour" will be a new, unique and attractive tourism service organised in annual festivals of Mu Cang Chai so as to help attract visitors to the district in the time to come.
Other news
Amid the complicated developments of COVID-19 pandemic, in order to protect the "green zone" status for the province, Yen Bai has restricted locals from traveling outside the locality as well as people from other localities from entering the province. Many local families have chosen to visit sites in the province to ensure safety and enjoy their vacations in weekends.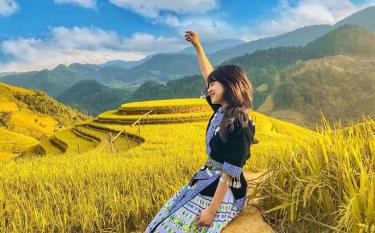 La Pan Tan tray-shaped hill is located about 8km from the centre of Mu Cang Chai district. It is about 1000 – 1600 metres above sea level. The name of the hill might result from the fact that it looks like a tray.
Nghia Lo town of Yen Bai province has launched a contest to seek designs of tourism symbol for the town.
Luc Yen district has set targets to develop green tourism into an important economic sector, create various quality tourism products and become one of the province's outstanding destinations in the 2020-25, thereby building the brand of "Luc Yen-where colours converge".