Luc Yen Tourism striving to recover after COVID-19
YBO - To resume tourism activities in the post-pandemic period, Yen Bai's Luc Yen district has built 'safe and friendly destinations' and fully reopened to tourists.
Thanks to environmental protection efforts, Huoi Luong stream in Lam Thuong commune of Luc Yen district remains clean and a much-loved tourist destination in summer.
As community-based tourism has been favoured by domestic and foreign tourists, homestay facilities in Lam Thuong commune started renovation to welcome visitors back.
Hoang Thi Xoi, owner of Xoifarmstay, said that the facility was about to receive visitors again after a halt prompted by COVID-19, and her family was striving to renovate it so as to meet travel demand.
Lam Thuong, boasting pristine landscapes and unique cultural identity of the Tay ethnic group, has been a magnet to Vietnamese and foreign tourists. It is home to homestay facilities in Tong Ping Cai and Kheo Leng hamlets; Xa Tran waterfall in Nam Chan hamlet; Bo Kheo cave in Kheo Leng and Tham Duong cave in Tong Pang hamlet, among others.
Vice Chairman of the People's Committee of the commune Hoang Khi Phach said it has taken the initiative in working with homestay facilities to timely build support policies for tourism development.
In the past two years, tourist arrivals to Luc Yen district roughly hit 30 percent of the set target due to negative impacts of COVID-19, prompting plunges in tourism revenues and economic growth.
The district has rolled out measures to ease difficulties facing units, individuals and cooperatives and foster safe tourism in the new normal.
It has required facilities offering tourism services to devise programmes and promotions, diversify services and improve quality, update information and regulations on safety, services and prices, realise commitment made with visitors and build new products.
Due attention has been paid to the development of specialties meeting requirements of the 'One Commune, One Product' (OCOP) programme and quality of the trading area and food street at Tran Phu street in Yen The town; and ecotourism and community-based tourism in the communes of Khai Trung and Lam Thuong, and spiritual tourism in Tan Linh and To Mau communes.
Furthermore, the locality has made efforts to recover folk games of the Dao, Tay, Nung ethnic groups and 'khap cooi' singing of Tay people; develop tours exploring Hang Diem cave in Khai Trung commune and Tham Duong cave in Lam Thuong; and more.
During the holiday celebrating the Liberation of the South and National Reunification Day (April 30) and May Day (May 1), the district welcomed about 12,000 holidaymakers, including 600 foreigners and raking in 8.5 billion VND (366,420 USD).
Other news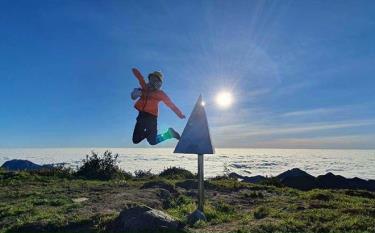 Lung Cung Mountain is described by trekking lovers as a "wanderer" in the beautiful land of Mu Cang Chai as it is covered with white clouds all year round, turning its peak into a small oasis in the midst of a sea of clouds.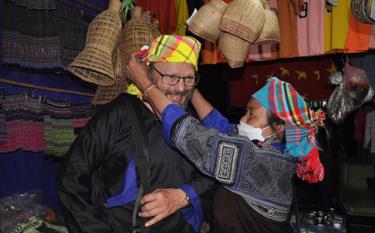 Yen Bai province welcomed 805,755 tourists, including 2,200 foreigners, in the first 6 months of 2022, equaling 73.3% of the yearly plan and up 59.6% against the same period last year.
Every June, mountains in the mountainous district of Mu Cang Chai seem to have a new look when they are covered with diverse colours of the watering season.
In addition to attracting hundreds of thousands of tourists to explore the natural landscape and resort destinations every year, Mu Cang Chai in the northern mountainous province of Yen Bai is also an attractive destination for a large number of holiday-makers who want to experience local cultural and religious activities.