Yen Bai takes different measures to recover, develop tourism
YBO - So far, four key tourism zones in Yen Bai province have taken shape, namely the zone of Thac Ba Reservoir and the Chay River; the zone of Yen Bai city and its vicinity; the zone in the west of the province, consisting Van Chan, Tram Tau, and Mu Cang Chai districts and Nghia Lo town; and the zone of Tran Yen and Van Yen districts.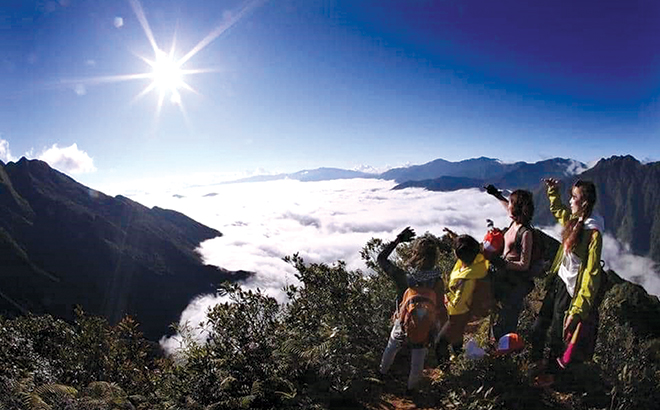 Travellers explore Mount Ta Chi Nhu in Tram Tau district.
Five groups of tourism products have also been developed: sightseeing - resort tourism, community-based tourism and exploration of ethnic groups' culture, eco-tourism, spiritual tourism, and adventure tourism.
As a result, the number of visitors to Yen Bai has increased and tourism revenue rebounded strongly, helping tourism become a key economic sector.
In 2022, the province is investing efforts to concurrently boost tourism and keep the pandemic under control. It looks to welcome 1.1 million tourist arrivals, including 250,000 foreigners. Thanks to the safe and flexible adaptation to and effective control of COVID-19, Yen Bai attracted 200,000 tourists in the first two months of this year, up 68 percent year on year, and earned 104 billion VND (4.5 million USD) in revenue.
The province has devised and issued the tourism recovery and development plan for 2022. In particular, it will improve the quality of tourism services with safety from COVID-19 ensured, sustain the brand of "Yen Bai - Safe destination", and combine travel activities with the celebration of major anniversaries of the province and Vietnam.
In addition, it will work to highlight the identities of each tourism product, ethnic group's culture, and tourism event's uniqueness; further engage people, businesses, and travellers in tourism activities; and encourage companies to take part in the travel stimulus programme by discounting service prices by 10 - 50 percent.
Tourism products in the key zones will be improved and developed. In particular, the zone of Thac Ba reservoir and the Chay River in Yen Binh and Luc Yen districts will better homestay services, the sightseeing of Thac Ba reservoir, and the experience of local ethnic minorities' culture.
Investors will be assisted to survey and implement resort and ecotourism projects. Yen Bai city and its neighbouring areas will boost MICE (meetings, incentives, conferences and exhibitions) tourism, as well as cultural and sports events.
Aside from improving community-based tourism, the western localities will develop seven tourism models and two products under the "One Commune, One Product" (OCOP) programme; professionalise mountaineering tours of Ta Chi Nhu, Ta Xua, Lung Cung, and Pung Luong; while carrying out the Ban Hoc ecotourism project, the Suoi Giang cultural space project, and the Mu Cang Chai resort project.
Meanwhile, the tourism zone of Tran Yen and Van Yen districts will maintain and strongly develop spiritual tourism and connect historical relic sites to create tours for exploring cultural and historical values.
Yen Bai province will also expand tourism cooperation with other localities and successfully organise the Muong Lo cultural and tourism festival, along with the Mu Cang Chai terraced fields festival in September, the Van Yen cinnamon festival and activities of the watering season in May, the Mother Goddess of Mountains worship festival and the new-rice festival at Dong Cuong Temple in October, together with the Dai Minh pomelo festival in November this year.
Other news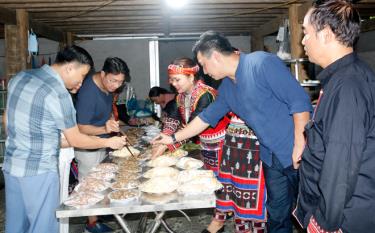 In recent years, Van Yen district of Yen Bai province has focused on preserving culinary cultural values in association with developing tourism, contributing to luring more and more visitors to the locality.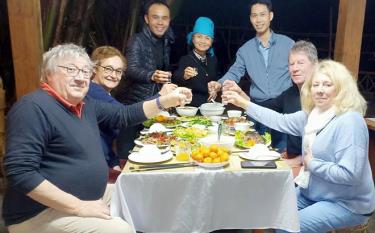 The western area of Yen Bai province boasts a lot of attractive destinations for tourists, including Mu Cang Chai terraced fields, Tram Tau hot mineral springs. A feature that lures visitors is the local rich and unique cuisine culture.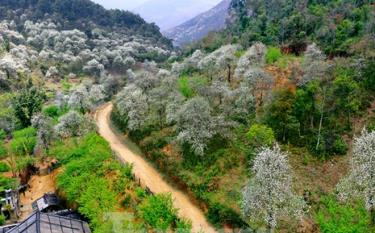 In order to enrich tourism products to attract visitors, Mu Cang Chai district of Yen Bai province will coordinate with Muong La district of neighbouring Son La province to organise the 2023 Hawthorn Flower Festival on March 18 and 19.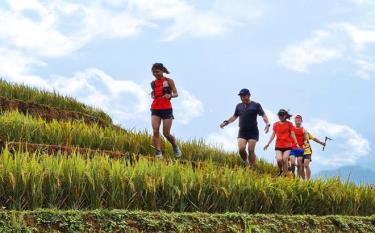 Over recent years, sports tourism has been introduced into Vietnam and is gaining popularity in the Southeast Asian nation. Yen Bai province has grasped the opportunity, especially the "golden" period, to recover the local tourism sector. The province has seriously invested in sport tourism, making it an impulse to attract more visitors.