Delightful colour of spring in Tram Tau
Tuesday, January 21, 2020
YBO - Sweet and gentle aroma of the spring took me along winding roads to the alpine rural district of Tram Tau in Yen Bai. Wonderful tender sunlight touched with fresh spring air in the mountainous region was filling my heart with a flutter.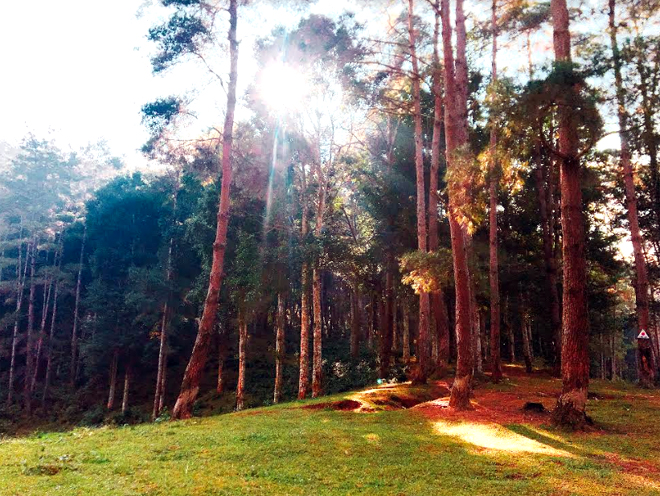 Eo Gio pine hills in Tram Tau in early morning sunlight.
Tracing the small winding dirt road around the hills, I could see local women, young and old, sitting under the trees weaving skirts and scarves with beautiful yarns of all colours in a distant village. Echoing in my ears were giggles of young girls and innocent joyful laughters of children decked out in new clothes.
The town market has become busier than ever these days, bursting with all kinds of laughters and voices as well as singing from a small radio carried by a graceful H'mong ethnic girl.
This spring, the market saw not only locals but also crowds of foreign visitors who were fascinated by hand-embroidered brocade dresses, sophisticated unique silver necklaces and traditional foods prepared by the local ethnic minority peoples.
It was fun to take part in various folk games of H'mong tribal people like "nem pao" (ball throwing), "thoi ken la" (leaf flute playing), and "day gay" (stick pushing) that attracted people of all ages. They all played together and shared such warm and joyful laughters. Mixed with the sound of the "pao" (ball) flying back and forth was the popular singing of the H'mong boys and girls.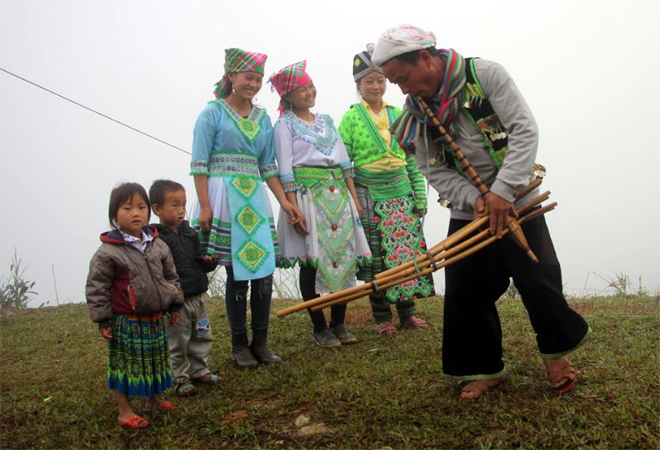 During the games, if a girl likes a boy, she usually cleverly shows the feelings through her eyes and smiles while if a boy likes a girl, he will keep her "pao." One of them can suddenly throw the pao to a place where no one is there and the boy will run after to find the pao while the girl will follow to take it back. They then talk to each other for hours in private and may become a couple.
Besides pao playing, "khen" (panpipe) is also important to H'mong people. It is played in most of their activities. It can follow ethnic villagers to their hill farms to help relieve their hardships. Its exciting sounds can bring people closer to each other and connect them with the nature.
The boys often show off their talents by passionately playing "khen" and dancing at village festivals. The melancholy sound of the khen is as naturally gentle and beautiful as their soul amist the magnificent hills of Tram Tau.
Leaving the H'mong spring festival, I visited Hat Luu, the only commune inhabited by Thai ethnic minority people, to see their happiness spreading across village to village this Tet (Lunar New Year).
Hat Luu has got a facelift this year thanks to support from the Government and the solidarity of the people here, said Chairman of the communal People's Committee Lo Van Chien. Locals have developed their businesses, earned greater incomes and, at the same time, preserved their traditional culture, he said.
"We hope that the commune's economy, culture and living standards will prosper further this year," he added.
The bell of time was ringing to welcome the spring. Every corner of the mountains was overwhelmed with peach and plum blossoms, signalling a peaceful and merry new year with promising changes for the better.
Other news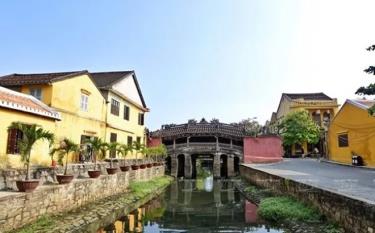 Vietnam has made the shortlist for up to 11 categories in the prestigious World Travel Awards (WTA) 2020.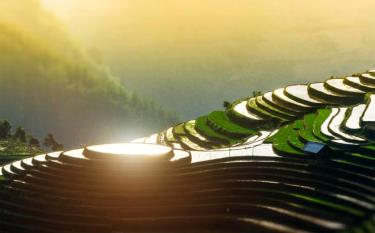 The Mu Cang Chai terraced rice fields in the northern province of Yen Bai have been praised as one of the world's top 20 colourful places by the New York-based magazine Conde Nast (CN) Traveler.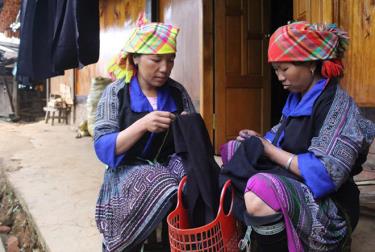 Locals of the Mong ethnic group in Mu Cang Chai district in the northern province of Yen Bai are preserving many traditional crafts with unique culture.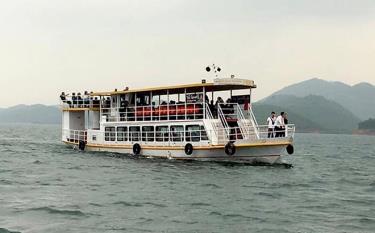 To help revive tourism after the social distancing period, the Hung Viet Trading and Tourism Co. Ltd, based in Yen Binh township of Yen Binh district, has promptly worked to create new tours to attract travellers.