Mu Cang Chai develops craft village tourism
YBO - Locals of the Mong ethnic group in Mu Cang Chai district in the northern province of Yen Bai are preserving many traditional crafts with unique culture.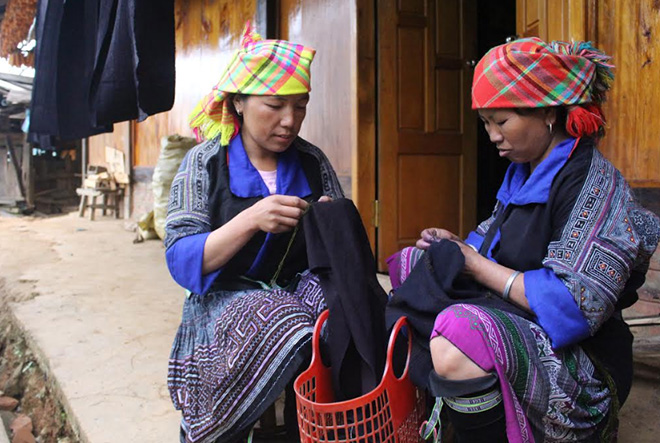 Women in Che Cu Nha commune, Mu Cang Chai district, preserve traditional craft.
Developed from the brocade weaving women's group, in 2019 the brocade weaving village in De Thang village, Che Cu Nha commune, was recognised with 35 members responsible for preserving the traditional craft and creating jobs to increase income for women.
Ms. Ninh, a worker of the craft village, said: "For many years, we have been instructed by the centre for research, connection and development of handicraft (Craft Link) in Hanoi to create diverse products for sale in the local market as well as in northern Ha Giang and Lao Cai provinces, and exports to the Europe."
In 2019, the rice wine making village in La Pan Tan commune was recognised. La Pan Tan Mong ethnic people have developed this trade over the past five years, bringing high economic benefits.
The same year, panpipe making in Nam Khat, Pung Luong, and Mo De communes, along with the forging and casting trade in Nam Khat, Che Cu Nha, De Xu Phinh, and Kim Noi were recognised as traditional crafts.
This has helped these craft villages develop services and tourism in addition to creating unique products.
Luong Thi Xuyen, Vice Chairwoman of the People's Committee of Mu Cang Chai district, said the locality will intensify communications and promotion of products on social media.
It will also upgrade material facilities and encourage locals to actively produce La Pan Tan rice wine, and brocade patterns to make clothes and souvenirs for sale, she added.
Other news
Amid the complicated developments of COVID-19 pandemic, in order to protect the "green zone" status for the province, Yen Bai has restricted locals from traveling outside the locality as well as people from other localities from entering the province. Many local families have chosen to visit sites in the province to ensure safety and enjoy their vacations in weekends.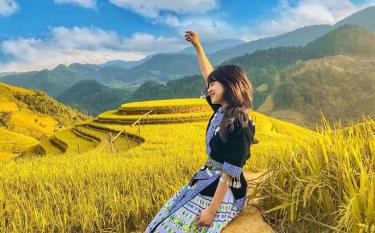 La Pan Tan tray-shaped hill is located about 8km from the centre of Mu Cang Chai district. It is about 1000 – 1600 metres above sea level. The name of the hill might result from the fact that it looks like a tray.
Nghia Lo town of Yen Bai province has launched a contest to seek designs of tourism symbol for the town.
Luc Yen district has set targets to develop green tourism into an important economic sector, create various quality tourism products and become one of the province's outstanding destinations in the 2020-25, thereby building the brand of "Luc Yen-where colours converge".