Travel company diversifies expedition tours
YBO - To help revive tourism after the social distancing period, the Hung Viet Trading and Tourism Co. Ltd, based in Yen Binh township of Yen Binh district, has promptly worked to create new tours to attract travellers.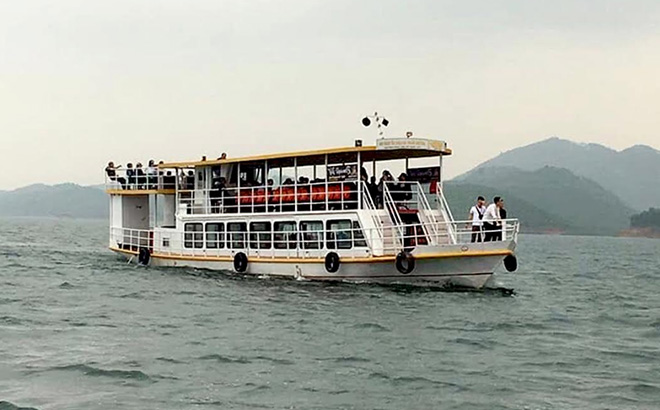 Thac Ba Reservoir has attracted a large number of visitors over the past years.
Aside from upgrading accommodation facilities and auxiliary services, the company has developed tours of destinations in Yen Bai and Vietnam while providing others to meet tourists' demand, focusing on tours of famous places of interest in the province and the country.
Attractive destinations in Yen Bai like Mu Cang Chai terraced rice fields, Muong Lo paddies in Nghia Lo town, Ngoi Tu cultural village in Yen Binh district, and Hang De Cho Waterfall in Tram Tau district are the priorities of package tours that suit different types of tourists.
The Hung Viet company has concentrated on groups of visitors who are family members. It has also offered one- to four-day tours, priced at 430,000 – 2.19 million VND per person, for tourist groups that come to the province for events or recreational purposes.
Resuming its activities in early May, the firm has served more than 10 groups of visitors, most of whom travelled within one day – a popular trend at present.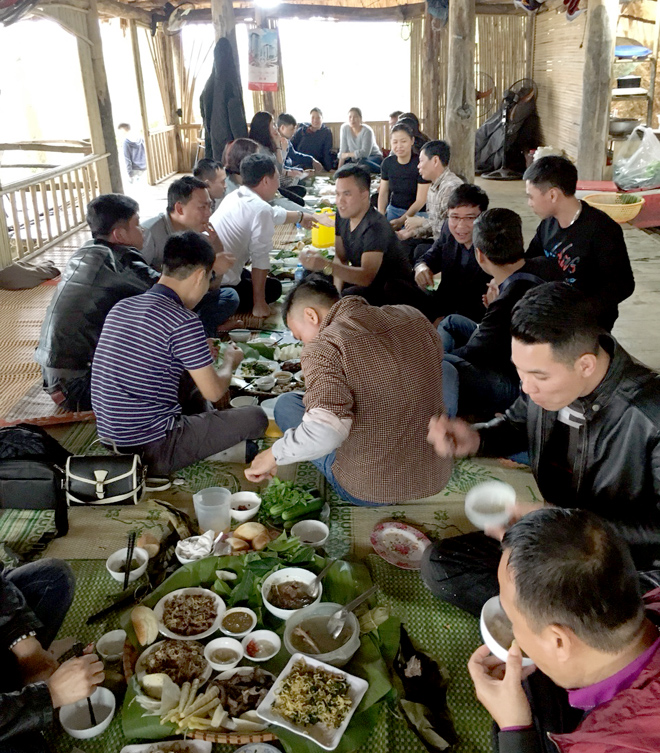 Tourists try dishes at a stilt house of the Dao ethnic group near Thac Ba Reservoir.
Experiencing these tours, visitors can go by boat to enjoy landscapes of the Thac Ba hydropower plant, Thuy Tien Cave and resort sites under construction on the banks of the reservoir, explore local residents' daily activities, and taste ethnic minorities' delicacies right on the boats or islets in the reservoir.
Do Tuan Anh, a visitor from Nguyen Phuc ward of Yen Bai city, said sitting on well-equipped boats to enjoy islets and local dishes on the reservoir gave them excitement.
Director of the company Nguyen Viet Hung said his business has carried out promotions with a 15-percent discount on all services and tours. It is also offering tours for solo travelers on every Saturday morning so that they can explore local destinations at appropriate expenses.
More interesting tours are being developed so as to serve holidaymakers when the tourism market rebounds, he noted.
Other news
Amid the complicated developments of COVID-19 pandemic, in order to protect the "green zone" status for the province, Yen Bai has restricted locals from traveling outside the locality as well as people from other localities from entering the province. Many local families have chosen to visit sites in the province to ensure safety and enjoy their vacations in weekends.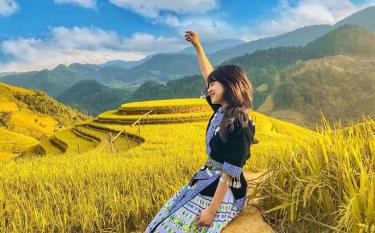 La Pan Tan tray-shaped hill is located about 8km from the centre of Mu Cang Chai district. It is about 1000 – 1600 metres above sea level. The name of the hill might result from the fact that it looks like a tray.
Nghia Lo town of Yen Bai province has launched a contest to seek designs of tourism symbol for the town.
Luc Yen district has set targets to develop green tourism into an important economic sector, create various quality tourism products and become one of the province's outstanding destinations in the 2020-25, thereby building the brand of "Luc Yen-where colours converge".