Visiting Tram Tau hot spring eco-tourism area
Saturday, February 5, 2022
Tram Tau hot spring and eco-tourism area is an attractive destination in Yen Bai province. It boasts an open-air natural hot spring near an agricultural production area in Na Tham hamlet in Tram Tau town of Tram Tau district.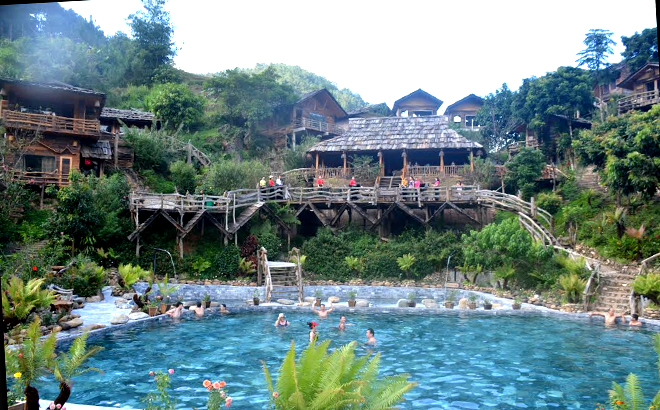 Visitors relax in hot spring pools.
When tending to his crops in the area, Vu Manh Cuong in Tram Tau town came up with an idea to build the eco-tourism area in 2016. He acquired the land lot where the hot spring is located.
The eco-tourism site was put into operation at the end of 2017, receiving 30-40 visitors every day.
Apart from hot spring bathing and accommodation services in the area, members of the Cuong Hai Tourism Cooperative in Tram Tau district have contributed capital to construct lovely bungalows and large stilt houses to meet the increasing demand of backpacker tourists, who prefer homestay.
The tourist area still retains its pristine features, with little human intervention in the natural landscape, so it is beautiful all year round. In spring, visitors can join in festivals of the H'Mong and Thai ethnic groups. In the "pouring-water" season in May and June, tourists can join locals in plowing and harrowing and transplanting activities on terraced fields.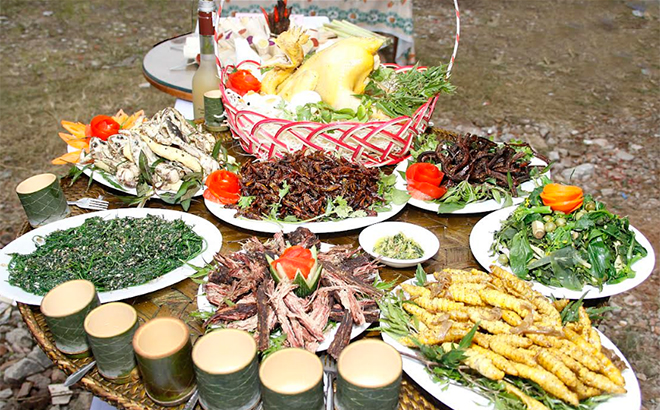 Traditional dishes served in the eco-tourism site
The best time to admire the beauty of Tram Tau is autumn. The stunning beauty of terraced ripening rice fields is a unique tourism product of the locality. Holiday-makers will have a chance to experience harvesting rice and taro, pounding "banh day" (sticky rice cake) and making traditional dishes of the H'Mong and Thai people.
After a tiring day, visitors can soak in the hot spring to relax, which is also good for the health.
In dinner, visitors will enjoy traditional dishes cooked by local chefs such as five-colour steam sticky rice, "rau ron" (athyriaceae), papaya leaves, boiled eggplant dipped in sauce, Tram Tau taro, pickled bamboo shoot with chili, grilled stream fish, grilled buffalo meat, dried pork, H'mong black chicken, black chung cake, and sticky rice cake with honey.
After dinner, visitors can enjoy Shan Phinh Ho tea and the peaceful scenery from the balcony of bungalows or stilt houses in the tourism area.
The package price for 2 days and 1 night in the eco-tourism area is about 500,000 - 700,000 VND (22 - 31 USD)/person for low-end services, and 900,000 - 1,200,000 VND (39.7 USD - 53 USD)/person for high-end services.
After visiting the Tram Tau eco-tourism area, visitors can continue their journey to conquer Ta Chi Nhu peak for "hunting clouds".
Other news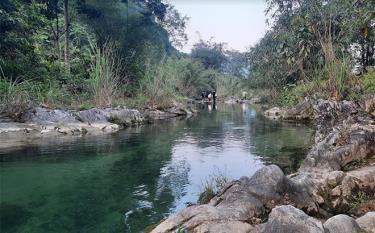 To resume tourism activities in the post-pandemic period, Yen Bai's Luc Yen district has built 'safe and friendly destinations' and fully reopened to tourists.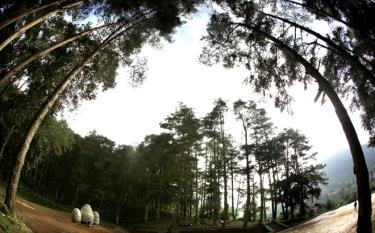 Remote but beautiful, Tram Tau in Yen Bai province features a rough mountainous terrain and is home to a large number of Viet Nam's ethnic minorities. Despite being off the beaten path, the locality is growing its sustainable ecotourism base.
Located at an altitude of nearly 1,400 metres above sea level, Suoi Giang has a cool climate year-round. Average temperatures are perhaps 8-10 degrees Celsius lower than in places such as Van Chan district and Nghia Lo town. On any given day in Suoi Giang, visitors may enjoy a cool night, floating clouds in the morning when they awake, and clear skies and breezes in the afternoon as golden sunshine bathes the hillsides. We are pleased to introduce readers to some of the highlights of Suoi Giang.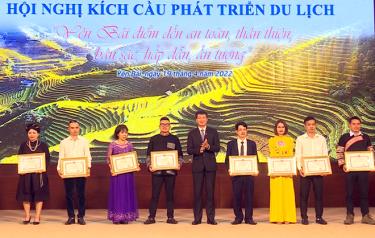 Early last week, the People's Committee of Yen Bai held a conference to promote the province as a safe, friendly, unique, appealing and impressive destination, with the participation of more than 70 local tourism operators and those of other localities.