Community-based tourism - a worth-a-try experience in Phuc An commune
Friday, December 17, 2021
YBO - Setting foot in Phuc An commune of Yen Binh district, the first thing visitors can feel here is that this is a tranquil rural area with friendly and hospitable people. Local residents earn their living mainly from fishing and weaving shrimp traps, which are also interesting experiences that travellers should not miss once coming to this place.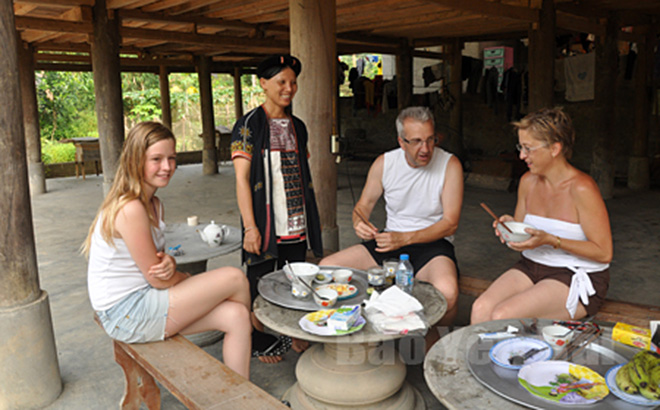 Foreign tourists experience community-based tourism in Phuc An commune.
In the early morning, when the sun just begins to rise, fishermen have returned home with fresh fish to serve tourists and sell to local residents.
Growing naturally in clean water, the fish do not need complicated processing but only some seasonings and then be grilled over charcoal fire so as to become a delicious and nutritious dish.
Besides fresh water species, Phuc An is also home to many unique and attractive traditional dishes of local ethnic minorities such as hill rice, banana flower salad, stewed chicken and bamboo shoots, grilled meat, and wild bamboo shoots.
Boasting natural and cultural advantages, in 2018, the administration of Yen Binh district chose this commune to carry out a project on developing community-based tourism for the 2018 - 2020 period.
At present, tourism services in Phuc An are relatively developed while the transport infrastructure system is also favourable. Local stilt houses have become more beautiful but still keep their rustic features and open space.
Coming to Phuc An, tourists can go sightseeing on Thac Ba Lake, climb up a mountain, visit a village of the Dao ethnic people, learn about traditional crafts like weaving shrimp traps or fishing, or explore the life and culture of local ethnic minorities.
Dang Quang Hung, a tourist from Hanoi, said visiting Phuc An, he is impressed with traditional dances and coming-of-age rituals of the Dao people. He has visited this commune for many times and always wishes to stay here longer.
Aside from experiencing the local life and exploring the nature, travellers can also visit the Ba Chang Communal House - a provincial-level historical relic site, and the O Do Waterfall Temple and Pagoda. These places are associated with the formation and development of this land. They are also the venues of local residents' cultural and spiritual activities, attracting a large number of visitors from far and wide every year.
Other news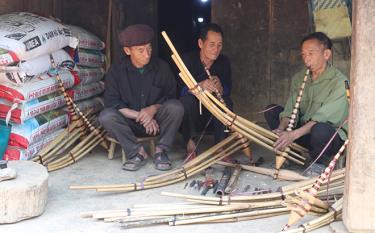 Along with beautiful natural landscapes, Mu Cang Chai district of Yen Bai district is also home to the unique cultural identities of Mong and Thai ethnic minority groups, and various traditional values of local communities' traditional customs, festivals, crafts, costumes and cuisine.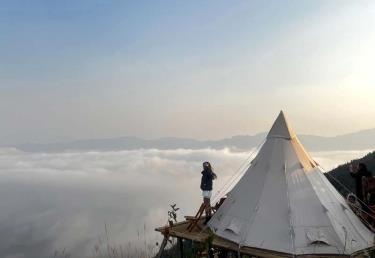 Camping has been chosen by many young people for their holidays over the recent years. In anticipation of that trend, some businesses and individuals in Yen Bai province have set up campsites to take full advantage of natural landscapes and attract tourists to the locality.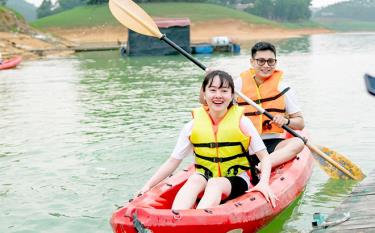 The northern province of Yen Bai welcomed over 121,000 visitors during the five-day holidays from April 29 to May 3, an increase of 70.2% compared to that the same period last year.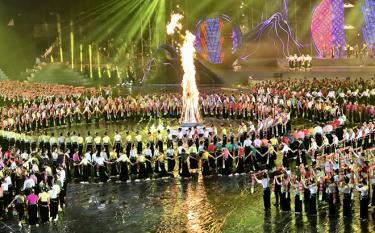 With diverse and unique potential, Yen Bai is a famous tourist destination in the north, as it welcomes millions of visitors every year. In addition to pristine landscapes and attractive indigenous cultures, the western localities of the province have launched many new and attractive tourism products for the five-day national holiday of Hung Kings Commemoration Day, National Reunification and May Day.