Yen Bai residents encouraged to tour Yen Bai province
Thursday, September 16, 2021
YBO - Amid the complicated developments of COVID-19 pandemic, in order to protect the "green zone" status for the province, Yen Bai has restricted locals from traveling outside the locality as well as people from other localities from entering the province. Many local families have chosen to visit sites in the province to ensure safety and enjoy their vacations in weekends.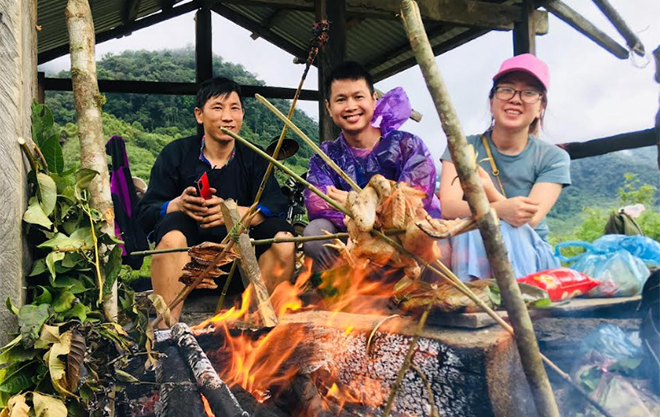 Tourists experience the daily life of Mong people in Mu Cang Chai.
The family of Do Quynh Trang in Van Hoi commune, Tran Yen district, is an example.
Trang said that she used to think that travelling means moving out of the province to explore new things and new experience. But now she has found that her province also has many well-known tourist sites that she has never been to.
"This summer, I decided to visit Nghia Lo township. I found that my children were very interested in the cuisine and culture of Thai people in Muong Lo. I felt that the trip gave them a chance to explore new experience and increase their love for and pride of their homeland," said Trang.
Meanwhile, Vu Thi Thuy Dung, a resident in Hop Minh ward of Yen Bai city made a tour to the western part of the province crossing three famous sites of Tram Tau Hot Spring Ecotourism Site, Dragonfly Nghia Lo and Suoi Giang cultural space in Van Chan.
"I've never thought that my home province is that beautiful with amazing landscapes. In every site I came, I was impressed by the environment, climate, people and tourism services. I was totally satisfied. The cost for our trip was very reasonable. It took three of us less than 4 million VND for a three-day and two-night trip," said Dung.
Dang Thai Son, the manager of the Suoi Trang Cultural Space said that this year the site has welcomed the largest number of local visitors. The visitors mostly travel to the site by their own vehicles and stay for several nights, he said. Son said that due to impacts of COVID-19, the number of visitors to the site has reduced sharply, so the tourism site reduced the room rates by 30-50 percent, in order to attract more tourists from localities inside the province.
Over the years, Yen Bai tourism sector has made great progress thanks to investment in infrastructure serving the sector and the development of tourist sides as well as tourism products.
Tourism activities have been integrated into events and festivals which have been organised professionally with higher quality, contributing to maintaining and promoting traditional cultural values. All of the efforts have created unique features for Yen Bai tourism which is a combination of modern and traditional characteristics, becoming more attractive to visitors.
In the 2016-2020 period, Yen Bai welcomed more than 3 million visitors. In 2020 alone, the province served 760,000 tourists to earn 475 billion VND.
In the context that domestic tourism sector has been affected seriously due to COVID-19 pandemic, the promotion of the tourism market inside the province is a good way to maintain the operations of the sector and generally recover tourism market.
Other news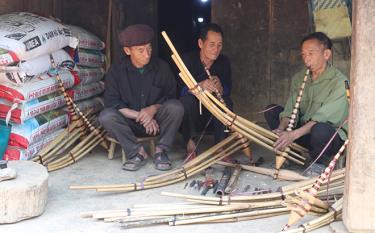 Along with beautiful natural landscapes, Mu Cang Chai district of Yen Bai district is also home to the unique cultural identities of Mong and Thai ethnic minority groups, and various traditional values of local communities' traditional customs, festivals, crafts, costumes and cuisine.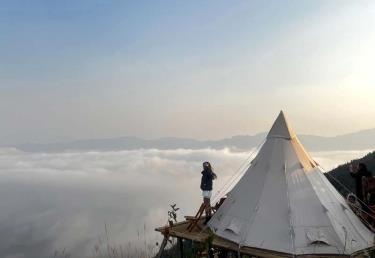 Camping has been chosen by many young people for their holidays over the recent years. In anticipation of that trend, some businesses and individuals in Yen Bai province have set up campsites to take full advantage of natural landscapes and attract tourists to the locality.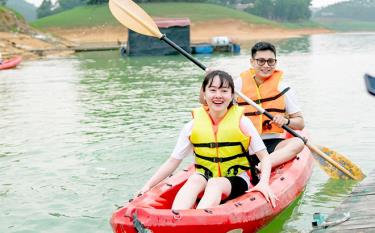 The northern province of Yen Bai welcomed over 121,000 visitors during the five-day holidays from April 29 to May 3, an increase of 70.2% compared to that the same period last year.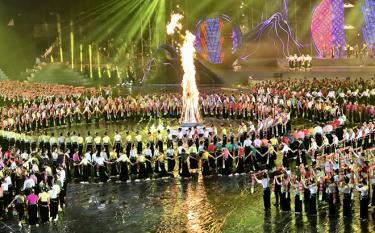 With diverse and unique potential, Yen Bai is a famous tourist destination in the north, as it welcomes millions of visitors every year. In addition to pristine landscapes and attractive indigenous cultures, the western localities of the province have launched many new and attractive tourism products for the five-day national holiday of Hung Kings Commemoration Day, National Reunification and May Day.