Yen Bai works hard on preserving cultural values of ethnic groups
YBO - In recent years, Yen Bai has promptly and synchronously implemented many solutions to preserve and promote cultural heritage values in order to raise public awareness and introduce the image of the province and its people to visitors.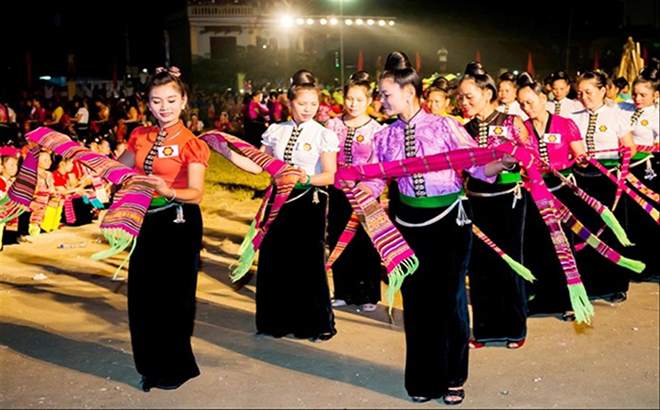 Yen Bai people proud of UNESCO-recognised heritage Xoe Thai dance.
Yen Bai currently has 132 historical and cultural relics recognised at all levels, including one special national relic, 12 national relics, and 119 provincial relics.
Seven national relics and 71 provincial relics were restored and upgraded with funding sourced from the provincial budget and donations by organisations and individuals. Additionally, 91 relics have signage for visitors.
Every year, the provincial museum organises 5-7 research expeditions, field surveys, and archaeological excavations, especially research on the group of ancient carved stone relics in Mu Cang Chai district, archaeological sites and relics of the Neolithic Era and the early Bronze Age in the Red River basin; events and historical figures from the late Modern and Modern era.
Yen Bai boasts 574 intangible culture heritages, in which Xoe dance of the Thai ethnic people was listed as an Intangible Cultural Heritage of Humanity by UNESCO, and five cultural heritages recognised as national intangible cultural heritages by the Ministry of Culture, Sports and Tourism.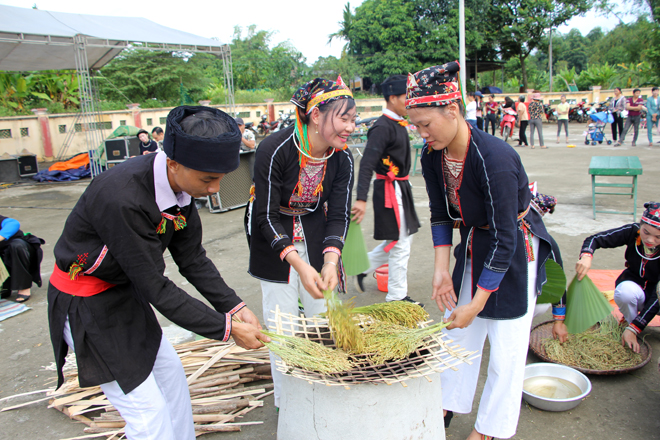 A contest for making "Com" (young sticky rice flakes) at the new rice festival at Dong Cuong temple in Van Yen district.
The local authorities have implemented a variety of activities to preserve and promote cultural heritage values.
Activities to preserve and promote the cultural identities of ethnic groups in the province have been widely deployed among the young generations.
Folk songs and dances have been included in the curriculum of schools in the province, while clubs promoting the image of land and people of Yen Bai have been established in districts, townships and Yen Bai city.
By the end of 2022, Yen Bai has 60 intangible cultural heritages preserved at all levels.
Those that hold, practice and teach intangible Vietnamese heritage are folk artisans that have been recognised and honoured in the past time. To date, as many as 15 outstanding artisans in Yen Bai operating in the field of intangible cultural heritage were recognised and honoured by the State.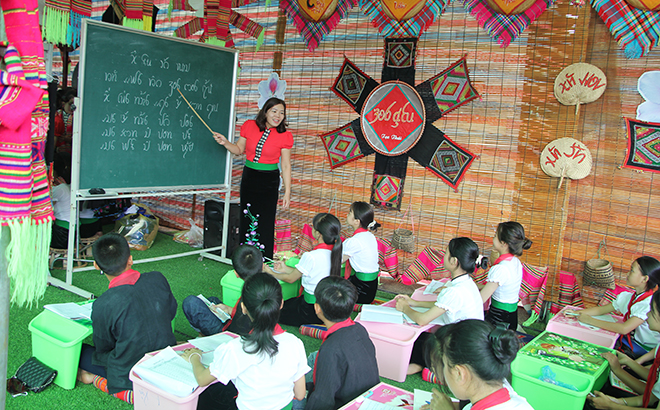 A class of ancient Thai script of Muong Lo students.
They have worked tirelessly to preserve and teach knowledge related to the culture of the Thai and Tay ethnic minority groups to younger generations, including traditional Xoe dance of Thai people and Then singing of Tay people.
In addition, the census surveys have provided data on each ethnic group and local ethnic groups in the province through various forms such as oral and written language, folklore, folk performance arts, social customs, traditional festivals, traditional handicrafts, and folk knowledge. The surveys help local authorities sketch out appropriate and specific policies and prepare resources to preserve and promote traditional cultural identities, thus ultimately contributing to tourism development.
Other news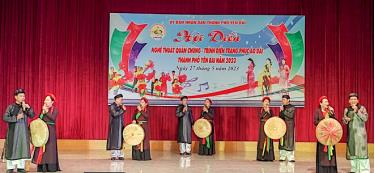 An art festival and an Ao Dai show were organised recently in Yen Bai city, attracting the participation of 375 artists from 15 troupes of communes and wards in the locality.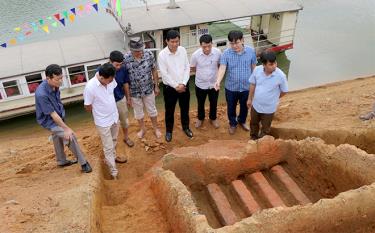 Traces of architectural terracotta have been discovered ing an archaeological excavation at the Dao Kieu relic site, Dao Kieu 1 village, Thinh Hung commune, Yen Binh district, along with many pieces of pottery, earthenware, tiles, and vestiges of a kiln area estimated to date back to the 17th - 18th centuries.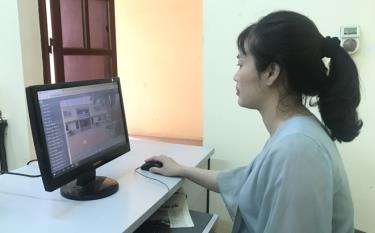 Amidst the current digital transformation trend, Yen Bai Museum has exerted great efforts to apply information technology in its operations, including collaboration with the University of Information Technology and Communication and the Thai Nguyen University to implement a model of a virtual museum using Virtual Reality (VR) technology.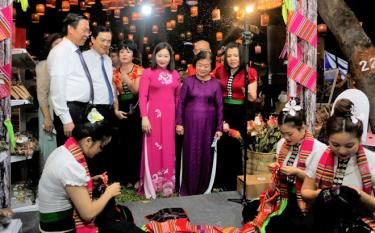 YBO - Yen Bai has promoted its cultural identity at the 19th Ho Chi Minh City Tourism Festival through the introduction of the locality's OCOP (One Commune-One Product) products, the Xoe dance of Thai people, and local tourist destinations.