Over 230,000 Yen Bai students enter new academic year
Wednesday, September 6, 2023
YBO – More than 230,000 students in Yen Bai province joined their peers nationwide to officially enter the 2023 - 2024 academic year on September 5 morning.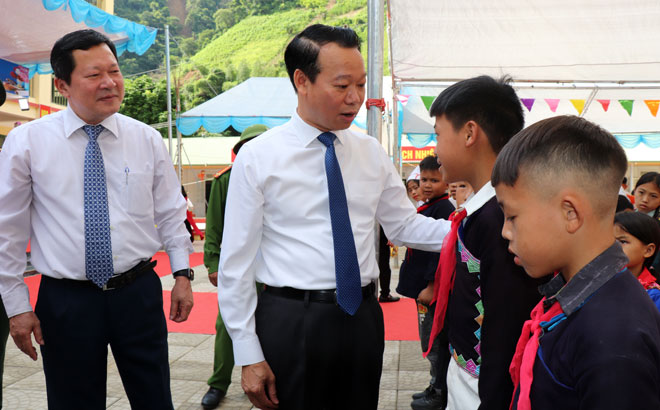 Do Duc Duy, member of the Party Central Committee, Secretary of the provincial Party Committee and head of the province's delegation of National Assembly deputies, and officials of the Department of Education and Training join teachers and students of the Ho Bon Semi-boarding Primary and Junior High School for Ethnic Minority Students, located in Mu Cang Chai district, at the new academic year opening ceremony.
This academic year, Yen Bai has 442 kindergartens and schools of general education with 230,462 students. They include 178 kindergartens, 164 public schools, and 14 non-public ones.
There are 2,024 groups and classes of preschool education with 55,529 children, all of whom are arranged to stay at their kindergartens for whole days and also have lunch there.
Meanwhile, there are 57 schools of primary education with 2,822 classes and 86,251 students, 180 schools of junior high school education with 1,737 classes and 65,713 students, and 27 establishments of senior high school education with 521 classes and 22,969 students.
There are nine centres of continuing education in the province. They comprise one at the provincial level, six district-level centres of vocational training and continuing education, and two vocational schools that provide continuing education. Among the 129 classes of continuing education, there are four classes of illiteracy eradication with 105 students, and 125 others at the high school level with 5,504 students.
To prepare for the 2023 - 2024 academic year, Yen Bai has pressed on with gearing up conditions for implementing the general education programme, launched in 2018, for the 4th, 8th and 11th grades.
Local schools have prioritised arranging teachers for these grades in line with quantity and quality requirements to serve the programme implementation. Besides, the provincial Department of Education and Training has worked to apply online teaching to help address the shortage of teachers of English. It has also advised the provincial People's Committee send teachers to the two mountainous districts of Mu Cang Chai and Tram Tau for certain periods of time.
Besides, schools have basically ensured sufficient classrooms for all grades. In particular, rooms have been prioritised for all classes of the 1st, 2nd, 3rd, and 4th grades to have two learning sessions per day.
Yen Bai has properly geared up personnel, infrastructure, books, and equipment for the 2023 - 2024 academic year – the fourth year the 2018 general education programme is implemented.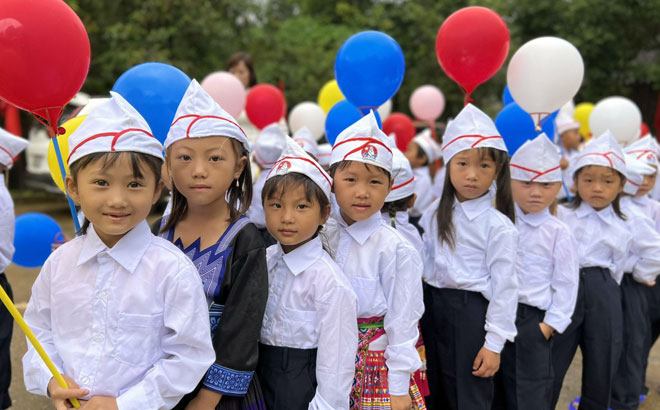 First graders of the Primary School of Sung Do commune in Van Chan district joyfully welcome the new academic year.
To ensure sufficient teachers of English for mountainous localities, the department has also proposed the provincial People's Committee open tertiary classes of education in English that enable students to work and learn at the same time. Lecturers from the School of Foreign Languages under the Thai Nguyen University will be in charge of these classes, which will enroll high school graduates from mountainous areas of Yen Bai.
Local schools have finished repairing classes, purchasing new teaching materials, and building plans on the use of functional classrooms and teaching equipment to ensure the supplies are optimised.
In addition, they have coordinated with relevant parties to guarantee sufficient textbooks for students and address difficulties caused by rising prices of textbooks for the 4th, 8th and 11th grades, especially for students in remote and ethnic minority areas.
In particular, thanks to assistance from sectors and all-level authorities, schools in the three communes hit hard by natural disasters one month ago, namely Ho Bon, Khao Mang and Lao Chai of Mu Cang Chai district, have managed to quickly recover their infrastructure, hold meaningful opening ceremonies for the new academic year, and ensure living and learning conditions for their students.
Other news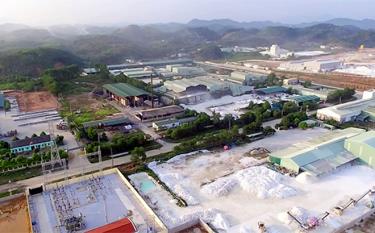 OYB - The People's Committee of the northern province of Yen Bai on November 27 issued Decision No. 2220 on establishing PhuThinh 3 industrial cluster in Yen Binh district with an area of 75 ha.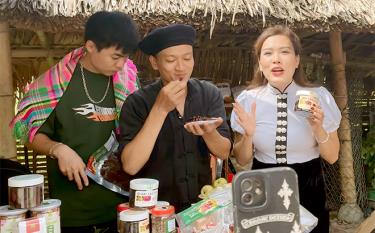 YBO - Focusing on developing the digital economy in agriculture and rural areas and among farmers, and promoting the application of digital technology and high technology to develop the agricultural economy, Yen Bai province strives for the proportion of digital economy to reach 18.5% of the total value of agriculture, forestry and fisheries by 2025.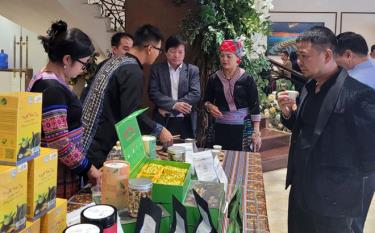 The Vietnam Cooperative Alliance, in coordination with the People's Committee of Yen Bai province, organised a seminar on the application of information technology to support socio-economic development for cooperatives and cooperative groups in ethnic minority-inhabited and mountainous areas with the participation of representatives from Cooperative Alliances of 10 northern provinces.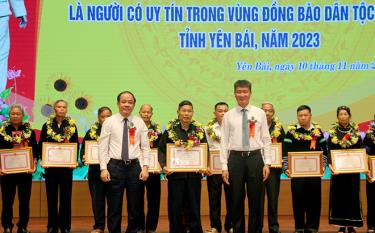 (YBO) – The Yen Bai provincial People's Committee held a conference on November 10 to honour 30 exemplary prestigious persons from local ethnic minority areas in 2023.