"Living history" of Muong Lo Thai culture
Tuesday, September 27, 2022
Distinguished artist Lo Van Bien in Cang Na village, Trung Tam ward, Nghia Lo town, has been proudly named as "living history" of Thai ethnic culture and ancient xoe dances.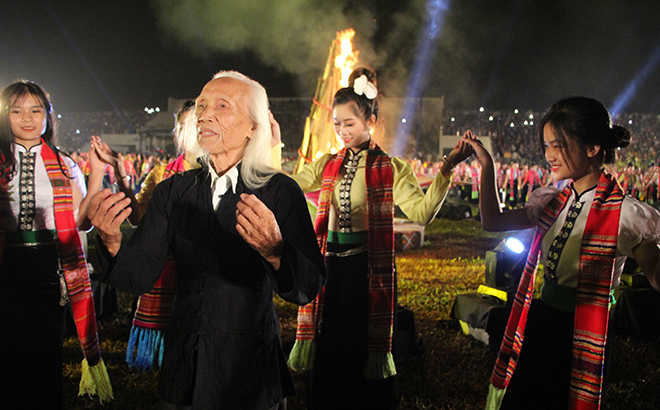 Distinguished artist Lo Van Bien together with artists at Muong Lo Culture – Tourism Festival.
For Bien, xoe is cultural soul of the Thai ethnic people that he has spent most of his life studying and teaching. About the opportunity to study Thai culture, especially his love for xoe dances, he said his dad, an intellectual in Nghia Lo, kept a lot of ancient Thai books. When he turned seven, his dad sent him to the best Thai teacher who could sing many Thai songs to learn letters.
A smart and active boy, Bien could read and write after only a few lessons. Later, he often looked for books written in the ancient Thai language to read, from which he found not only Thai poems and songs but also useful lessons in life.
Years later, he still studied Vietnamese Roman alphabet and Thai language himself. When he was 13-14 years old, he could memorise great literacy works of Thai people. When he turned 20, he gained a deep understanding of history and origin of Thai people as well as their culture.
Thanks to insightful knowledge about Thai culture, Bien made considerable contributions to restoring and maintaining special folk performing arts such as Han khuong and flute making and playing.
Among his contributions, the most remarkable is the restoration of six ancient Xoe dances bearing the soul of Muong Lo land. In 1953, Bien began setting up an art group to pass on the value of Thai xoe dances to locals, including the six ancient Xoe dances.
Since 1995, he has travelled throughout the village to teach the art of Xoe dances to generations of Thai ethnic people. As a result, the atmosphere and spirit of xoe dances have become an indispensable part of Thai Muong Lo lives.
Bien said a special thing of xoe dances is that when the music is played, everyone is happy and enters the circle, be they rich or poor, officials or farmers. He promised that he will put his energy and passion into teaching to light up the fire of love for Xoe dances. According to him, it should be added into school curricula to popularise its heritage and prevent it from the risk of oblivion.
Thanks to support of local authorities, mass organisations, Bien, and lovers of Thai xoe dances, the art was recognised by UNESCO as the National Intangible Cultural Heritage in 2015 and the Intangible Cultural Heritage of Humanity, becoming a joy and pride of Thai community and Muong Lo Thai people in particular.
Proud and honoured, Bien together with the community will continue devoting their efforts, wisdom and ability, standing united to protect and uphold "Thai xoe dance" heritage.
Other news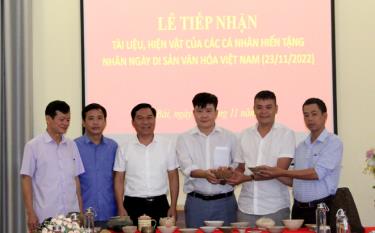 The Museum of Yen Bai province has received documents and objects donated on the occasion of the Vietnam Cultural Heritage Day (November 23).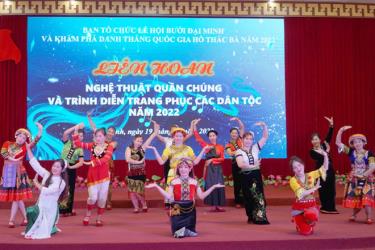 Yen Binh district has held a grand event of popular art and ethnic costumes performances, as part of a festival promoting Dai Minh pomelo and Thac Ba lake scenic site.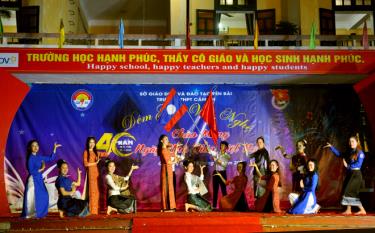 An art programme has been held in Cam An high school in Yen Binh district Vietnamese and Lao students in Yen Bai College on the occasion of the 40th Vietnamese Teachers' Day (November 20, 1982-2022).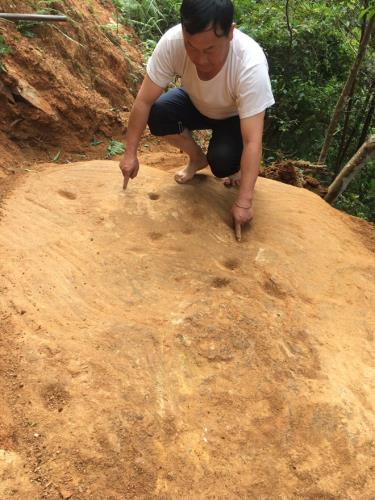 Some rocks with ancient carvings were recently discovered at a site in Hang Chua Say hamlet of Che Cu Nha commune, Mu Cang Chai district. The site is about 4km to the east of the headquarters of the communal People's Committee.