Yen Bai honours winners of second Literature and Art prize
YBO - The second Yen Bai Literature and Art Prize, held every five years, attracted 194 works from 73 artist and writers' groups to this year's event.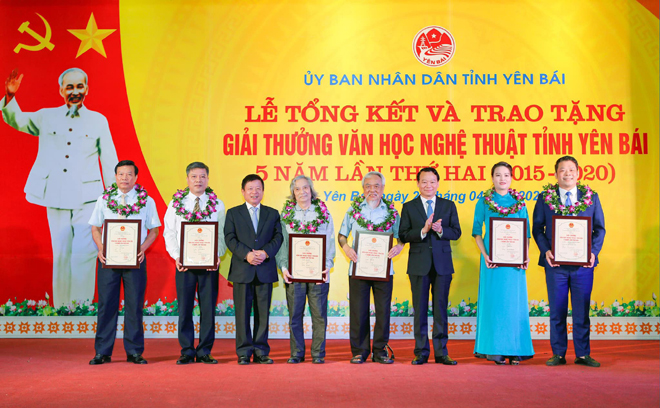 Secretary of the Provincial Party Committee Do Duc Duy and musician Do Hong Quan - Chairman of the National Committee of the Vietnam Union of Literary and Art Associations award A prizes to the winners.
The art focuses on a host of life's topics and themes, including Vietnam's outstanding history of revolutionary war and various other genres that captured the judge's attention.
Two rounds of judging resulted in the Jury Council unanimously selecting 52 works for awards. Seven works were selected for the A prize, while 13 won the B prize, 17 won C prize, and 15 won a consolation prize.
At the winners' ceremony, Secretary of the Yen Bai Provincial Party Committee Do Duc Duy lauded the success of the second awards programme, as well as the great contributions to literature and art, and most importantly, the positive effects of art on the spiritual life of the people in the province.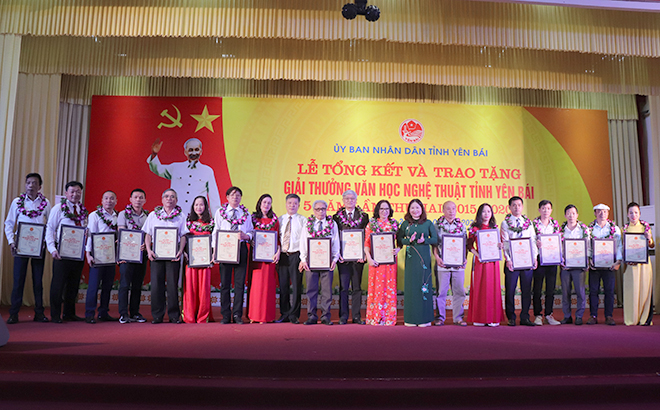 He suggested that the Provincial Union of Literature and Arts should continue to promote the role of motivating artists and writers to participate in the event. He stated that it is events like this that promote literary and art associations to help artists and writers create many works of great importance. The works that come out of the event directly help to elevate ideological and artistic values and are appreciated on both a cultural and a spiritual level by local art fans.
Other news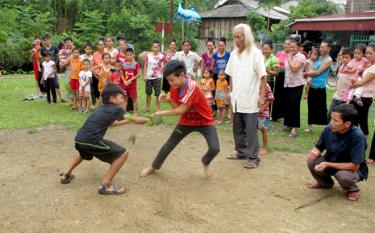 Coming to Muong Lo - Nghia Lo on the 13th and 14th days of the 7th lunar month, visitors will be extremely delighted to participate in the traditional Sip Xo festival of the local ethnic people Thai Den – a branch of Thai ethnic communities living mainly in Vietnam's northern and north-central regions.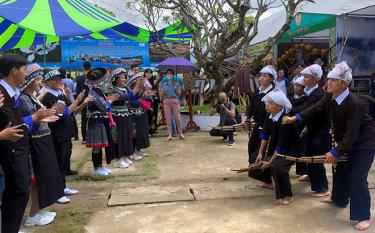 YBO - Yen Bai province is currently home to 132 recognised historical and cultural relic sites, including one special national, 12 national and 119 provincial sites.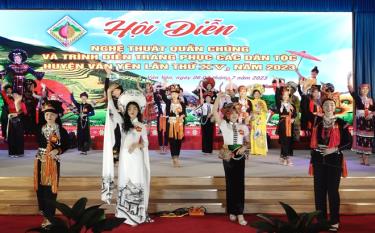 Van Yen district has organised the 15th amateur art and ethnic costumes festival with the participation of 25 art troupes with over 500 amateur artists and 34 contestants who took part in costume shows.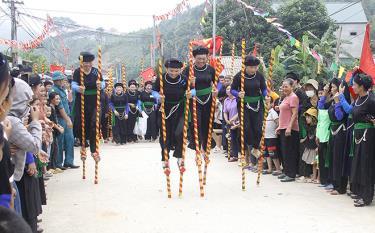 The Tay Ethnic Culture Festival of Dai Phac commune, Van Yen district, has been held recently with many exciting and unique activities imbued with traditional culture of the Tay ethnic group such as: walking on stilts, 'then' singing (special ritual practice of Tay, Nung and Thai ethnic minority groups), gourd lute performances, Tay people's dance, stick dance, and folk games.