Van Yen launches team of volunteer drivers to support COVID-19 prevention, control
YBO - Van Yen district has established a team of volunteer drivers to support the prevention and control of the COVID--19 epidemic in the locality.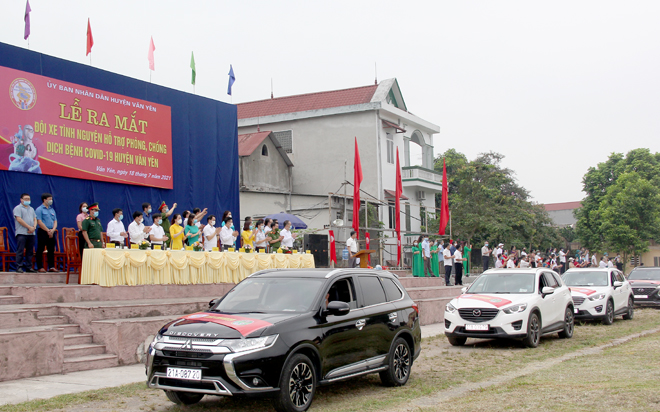 Vehicles of the Volunteer Vehicle Team at the launching ceremony.
After just two days issuing the call for volunteers, 268 people, including three women, from 17 communes, towns, and 10 agencies and units applied to join the Volunteer Vehicle Team. They are of different ages and come from all walks of life but all share the spirit of wanting to contribute to the fight against the epidemic.
At the team's debut ceremony, leaders of Van Yen district presented logos to the drivers in the team. The district health center has trained the drivers in COVID-19 prevention and control measures, including disinfection of themselves and their vehicles, and how to use protective gear properly.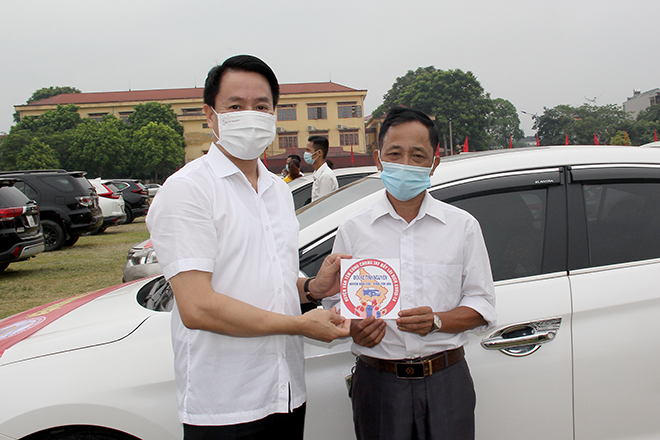 Secretary of Van Yen district's Party Committee Luyen Huu Chung presents the team's logos to the drivers.
The establishment and launch of the Volunteer Vehicle Team is meaningful in the context of complicated developments of the pandemic, demonstrating the spirit "fighting the epidemic like fighting the enemy" of Van Yen district. The Volunteer Vehicle Team is ready to respond to any situation, serving the transport of people and goods, supplies and equipment, as well as the task of contact tracing and zoning quarantine areas.
Other news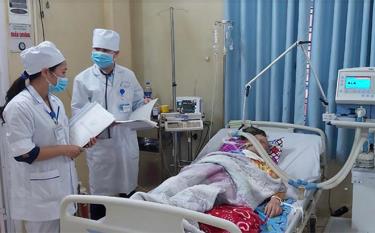 According to Yen Bai province's Social Insurance Agency, the local Health Insurance Fund pays 600-800 billion VND for medical examination and treatment each year. In many cases, patients are paid up to hundreds of millions of VND for a course of treatment.
The Women's Union in Van Yen district has been implementing a campaign on building hygienic habits for families initiated by the Vietnam Women's Union (VWU) Central Committee alongside another on building civilised lifestyle in urban and rural areas, with encouraging results.
Nearly 226,000 students in Yen Bai province officially began the 2021 - 2022 academic year on September 5 morning.
In the four waves of COVID-19 infections, the awareness, sense of responsibility, and self-consciousness of each people are an important factor helping Yen Bai province succeed in combating the pandemic so far.