General Vo Nguyen Giap's statue on Son Ca island
On Son Ca island in Truong Sa (Spratly) archipelago of Vietnam's Khanh Hoa province, nearly 1,000 nautical miles from the mainland, there is a complex dedicated to General Vo Nguyen Giap.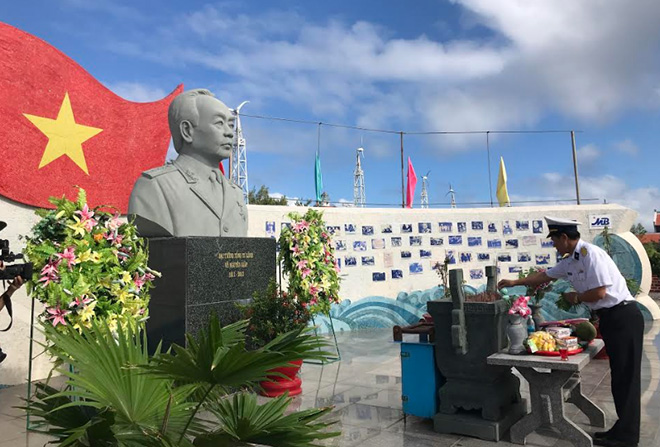 A soldier offers incense to General Vo Nguyen Giap at his statue on Son Ca island.
The park and road running along the sea have served as a venue to educate young generations about revolutionary traditions, and a meeting place for officers, soldiers and residents on the island.
The highlight of the 400sq.m park is General Giap's statue seeing Vietnam's sea and sky. The statue, 1.76m high, was completed in December 2015 by sculptor Le Dinh Bao.
As many as 300 photos printed on ceramics featuring the life of General Giap and his attachment to the Vietnam People's Army are hung on the wall behind the statue, which measures 24m long and 2.5m high.
In front of the park is a road named after the General running about 500m, connecting the park and Linh Son pagoda on Son Ca island.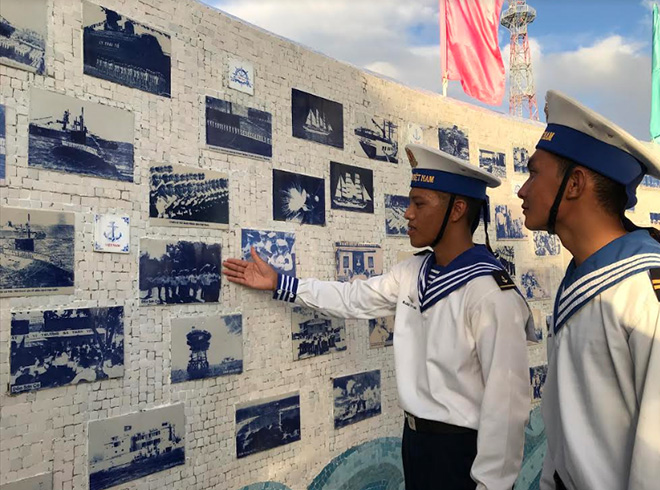 Young soldiers study the glorious history of Vietnam People's Navy at the statue area.
With various types of plants, the park and the road have significantly contributed to giving a facelift to the island.
The statue has also helped to build and consolidate confidence of officers and soldiers who are safeguarding national sovereignty over sea and islands, and affirm Vietnam's maritime sovereignty.
Other news
Having wholeheartedly devoted his life to the nation and its people, President Ho Chi Minh is not only the beloved leader of the Vietnamese people but he has also won the appreciation of many politicians, culturists and artists around the world, who have praised him as an outstanding figure and a great example of perfect personality.
All elementary schools and kindergartens in Yen Bai province re-opened on May 11 after three months of closure to help curb the spread of the COVID-19.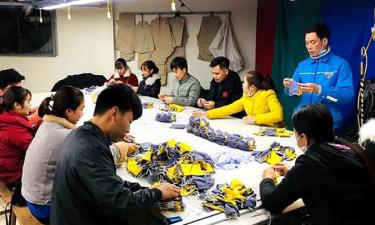 The COVID-19 pandemic was like a test of the heart. Together with the whole country, the "flowers" of good deeds in Yen Bai have blossomed with the spirit of "solidarity" for the community, ready to help each other overcome difficulties on the front of the disease prevention.
Yen Bai province is now home to 700 elderly people owning farms or enterprises and 904 members of the Association of the Elderly succeeding in economic activities.