Young people develop new business models in Yen Binh district
YBO - Vu Manh Thang and Ly Thi Sam Sung are among the most successful young people in Yen Binh district of northern mountainous Yen Bai province who are not afraid of changing to find their own ways of doing business.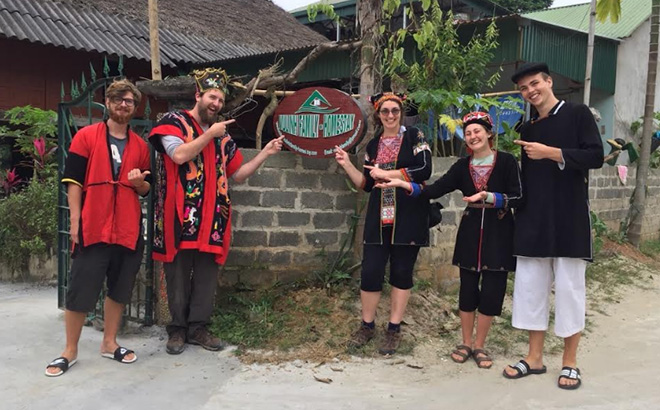 Ly Thi Sam Sung establishes a cooperative group for community-based tourism development in Ngoi Tu village, attracting many foreign tourists.
Thang, the owner of a rabbit and orchard farm in Tan Binh village, Tan Huong commune, had various jobs, but none brought him steady earnings, before he visited a rabbit farm in Yen Bai city.
He started off by raising ten pairs of rabbit imported from New Zealand and now his rabbit herd has grown to 1,100, including 140 breeding rabbits.
The young man distributes about seven tonnes of rabbit every year at an average price of 70,000 VND per kg, earning over 150 million VND (6,400 USD) in profit.
Addition to rabbit farming, Thang also made use of his hill land to grow 100 red-flesh dragon fruit trees, a hectare of cinnamon and 30 honey bee hives.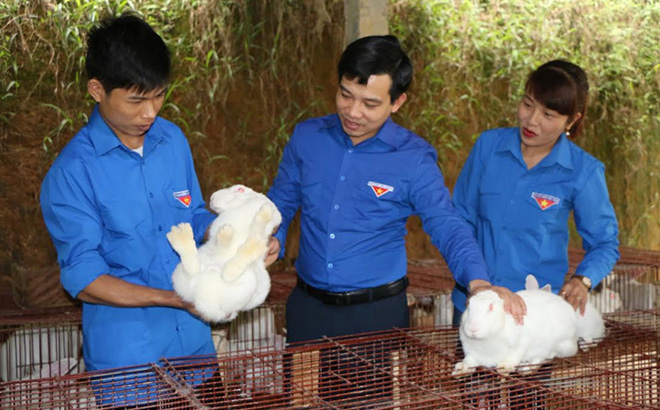 Vu Manh Thang (first from the left) introduces rabbit farming to cadres of the Ho Chi Minh Communist Youth Union of Yen Binh district.
Meanwhile, Sung is a Dao ethnic minority girl living in Ngoi Tu village, Vu Linh commune. Her family owns a homestay establishment with two stilt houses which can accommodate 40 people and three fully-equipped rooms.
She has put a lot of effort to learn Engligh to communicate with foreign visitors. Now, her homestay welcomes over 1,000 visitors annually, earning her around 200 million VND (8,500 USD).
Last year, she established a cooperative group for community-based tourism development in Ngoi Tu village with the first three members being young people in the commune.
The group has not only created jobs for local people but also raised awareness of the significance of preserving natural landscapes and traditional culture of local ethnic minority communities.
"As a young people who sees the potential of local tourism, I want other youngsters to join hands in making our homeland an attractive destination and giving tourists a space to experience the beautiful nature, culture and friendliness of Dao people," Sung said.
She was among 1,000 delegates representing their provinces to attend the eighth National Congress of the Vietnam Youth Federation for the 2019 – 2024 tenure held in December last year.
Other news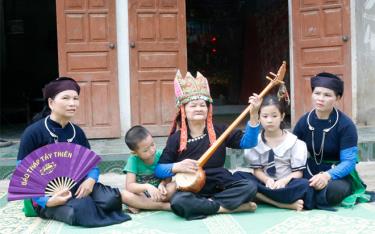 During her 80 years of life, Hoang Thi Quan has almost four decades as a master of the "Then" singing and become a famous "Then" practitioner in Van Yen - the land of cinnamon.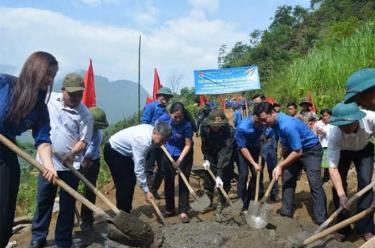 Activities in the summer volunteer youth campaign are being carried out simultaneously and creatively that suit local conditions.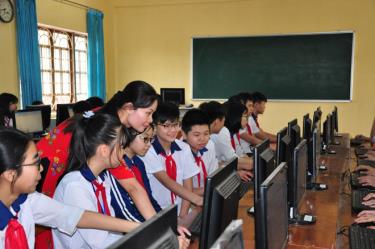 According to the Yen Bai Department of Education and Training, a provincial-level contest to select excellent secondary students in the school year 2019-2020 ended, with 258 awards presented including nine first, 39 second, 74 third and 136 consolation prizes.
With her courage, confidence and acumen, Trieu Thi Minh Hien, a farmer from Son Trung village, Mai Son commune, Luc Yen district who used to work full-time on the farms, has become a successful businesswoman highly regarded by local people and authorities.