Luc Yen ready for "Going to Gemstone Land" tourism festival
Wednesday, December 2, 2020
YBO - The second Luc Yen district "Going to Gemstone Land" tourism programme will be held from December 4-6 with a wide range of new and attractive activities.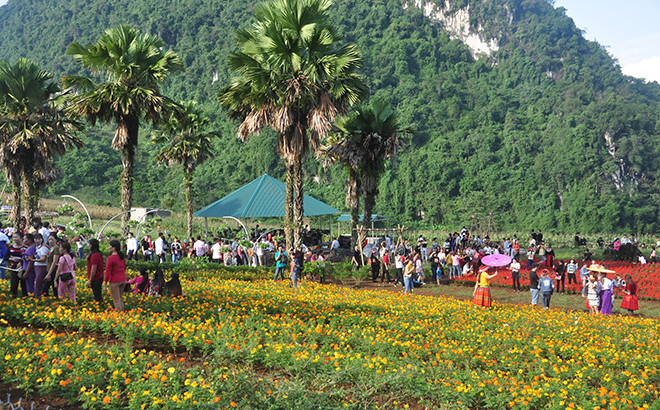 Khai Trung green plain is a destination for visitors when coming to Luc Yen district.
According to Vice Chairwoman of the district People's Committee Nong Thu Ha, the programme aims at introducing and promoting the district's tourism attractions and outstanding tourism products to attract both domestic and foreign visitors, thus increasing the livelihoods for locals.
It is also expected to help attract more investors, improve tourism products and services, boost tourism development and linkages, and connect tourism programmes of the province with surrounding localities such as Lao Cai, Ha Giang and Tuyen Quang to create inter-province tours.
As Luc Yen is well-known for Ruby, visitors to the festival will have a chance to visit a gemstone market, use pieces of Ruby to make pictures, visit cultural and historical relic sites such as Hac Y tower pagoda, Dai Cai temple, Sao pagoda, Tien spring and Hum cave, and enjoy cuisine of the Tay ethnic minority group.
In addition, the district will also organise a "wrapping Chung cake" contest and a trade fair with eight stalls showcasing the district's one commune-one product (OCOP) products.
A culture-tourism street will be inaugurated, while street performances and sport competitions will be held.
Other news
Amid the complicated developments of COVID-19 pandemic, in order to protect the "green zone" status for the province, Yen Bai has restricted locals from traveling outside the locality as well as people from other localities from entering the province. Many local families have chosen to visit sites in the province to ensure safety and enjoy their vacations in weekends.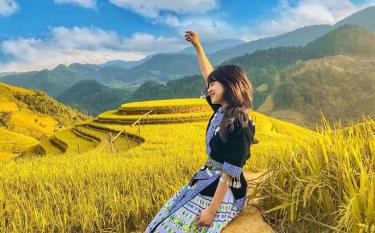 La Pan Tan tray-shaped hill is located about 8km from the centre of Mu Cang Chai district. It is about 1000 – 1600 metres above sea level. The name of the hill might result from the fact that it looks like a tray.
Nghia Lo town of Yen Bai province has launched a contest to seek designs of tourism symbol for the town.
Luc Yen district has set targets to develop green tourism into an important economic sector, create various quality tourism products and become one of the province's outstanding destinations in the 2020-25, thereby building the brand of "Luc Yen-where colours converge".