Yen Bai strengthens control measures at medical quarantine checkpoints
YBO - Vice Chairwoman of the Yen Bai Provincial People's Committee Vu Thi Hien Hanh requested strengthening a number of COVID-19 prevention and control measures to strictly monitor people entering the province while inspecting medical quarantine checkpoints.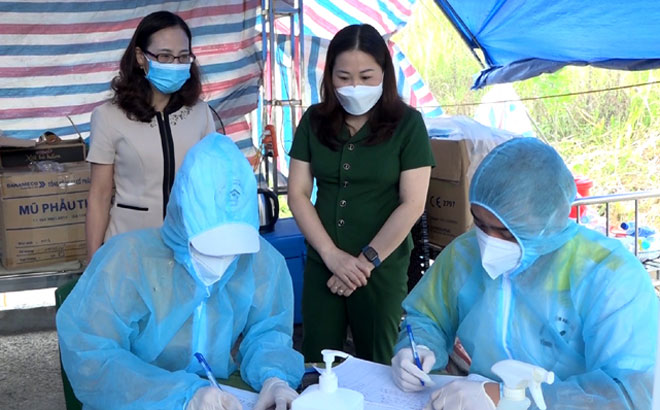 Vu Thi Hien Hanh, Vice Chairwoman of the Provincial People's Committee, inspects the entering of health declaration data at checkpoint No. 1 at IC12 intersection.
Through inspections at checkpoint No. 1 at the IC12 intersection on Noi Bai - Lao Cai highway and checkpoint No. 6 in Minh Quan commune, Tran Yen district, it could be seen that competent forces at the checkpoints have made great efforts to overcome difficulties and strictly perform assigned tasks in pandemic prevention and control such as receiving health declarations, taking samples for quick COVID-19 tests, and separating lanes for incoming vehicles.
Drivers have strictly complied with the epidemic prevention and control requirements of the forces. However, as the traffic volume has increased, while there is a small number of staff, leading to traffic jams and other problems.
Hanh, who is also Standing Deputy Head of the provincial Steering Committee for COVID-19 Prevention and Control, asked authorities to increase medical workers to take samples for COVID-19 testing at a number of health quarantine checkpoints, and work closely together to prevent and handle cases of drivers or assistants who refuse to make health declarations or intentionally make dishonest declarations, or decline to have samples taken for quick COVID-19 testing.
The checkpoints were requested to make recommendations and provide leaflets to raise public awareness of pandemic prevention and control.
Other news
Yen Bai authorities issued new registration licences for 147 businesses in the first six months while 24 enterprises were dissolved and 260 others stopped operations. Currently, there are 2,537 enterprises operating in the province.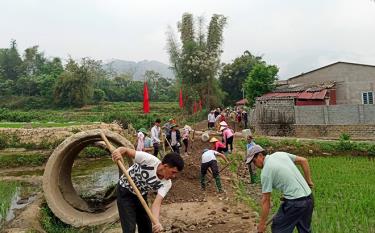 In 2021, Van Chan district in Yen Bai province is assigned to build 60km of rural roads, with a total estimated capital of 100 billion VND, 50 percent of which will be contributed by locals in the form of working days, construction materials, and machinery. To date, the district has completed 51 percent of the assigned plan.
Van Chan district is home to 4,490 ha of tea, including over 4,000 ha for commercial purpose. At present, Lien Son farm township has the largest tea area in Van Chan district with 500 ha.
Since 2014, a project on planting industrial material trees and developing non-wood products spanning over 600 ha, invested by Tan Thanh An Construction and Trade Company, has been underway in Tien Phong village, Xuan Long commune, Yen Binh district.