Mu Cang Chai "golden terraces" shine
YBO - The Mu Cang Chai terraced rice fields in the northern province of Yen Bai have been praised as one of the world's top 20 colourful places by the New York-based magazine Conde Nast (CN) Traveler.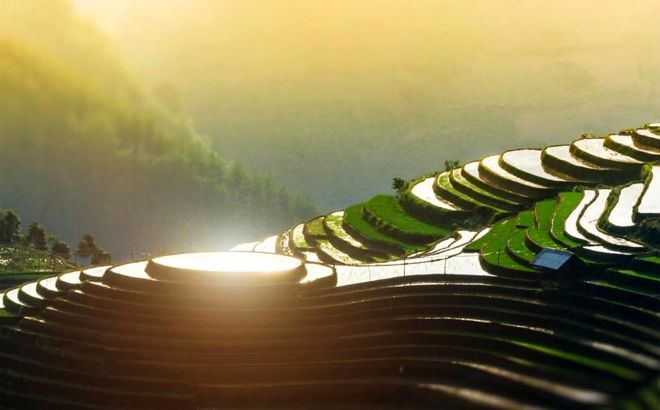 The beauty of terraced rice fields
Meanwhile, Khau Pha pass is ranked one of the four most beautiful paragliding sites in Vietnam and the top 10 most beautiful paragliding destinations on the globe.
In 2019, Mu Cang Chai terraced rice fields were recognized as a special national relic site by the Prime Minister.
These titles continue affirming the role that the terraced rice fields hold in tourism development as well as the achievements gained by Mu Cang Chai in developing tourism in association with preserving and promoting the value of "golden terraces".
To date, "golden terraces" in Mu Cang Chai basically formed two tourism seasons: "pouring water" season and ripe rice season, with "flying over pouring water season" and "flying over ripe rice season" paragliding festivals becoming an attractive adventure tourism type in the northwestern region.
Mu Cang Chai district has invested in developing infrastructure and planning of terraced rice fields, encouraged locals to engage in tourism activities, promoted the image of Mu Cang Chai through different channels to popularise the beauty of terraced rice fields and make them a typical tourism product of the locality.
The district intends to make a dossier seeking UNESCO's recognition of Mu Cang Chai terraced rice field special national relic site as a world cultural heritage.
Other news
Amid the complicated developments of COVID-19 pandemic, in order to protect the "green zone" status for the province, Yen Bai has restricted locals from traveling outside the locality as well as people from other localities from entering the province. Many local families have chosen to visit sites in the province to ensure safety and enjoy their vacations in weekends.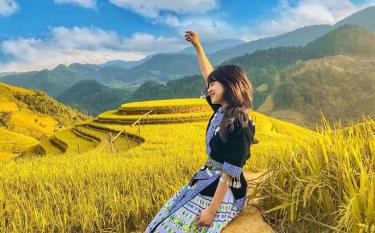 La Pan Tan tray-shaped hill is located about 8km from the centre of Mu Cang Chai district. It is about 1000 – 1600 metres above sea level. The name of the hill might result from the fact that it looks like a tray.
Nghia Lo town of Yen Bai province has launched a contest to seek designs of tourism symbol for the town.
Luc Yen district has set targets to develop green tourism into an important economic sector, create various quality tourism products and become one of the province's outstanding destinations in the 2020-25, thereby building the brand of "Luc Yen-where colours converge".