Yen Bai's bright spot in blood donation movement
YBO - Along with efforts in giving care and treatment to patients, doctors and nurses of Yen Bai General Hospital has shown strong performance in implementing the voluntary blood donation programme.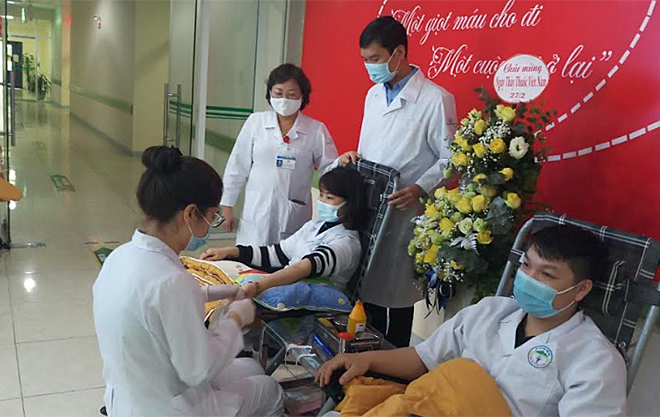 Staff and doctors of Yen Bai General Hospital join a voluntary blood donation event.
The hospital has step up communications to raise its doctors and nurses' awareness of blood donation and safe blood transfusion, while organising blood donation events and make it a regular activity of the facility.
Since the beginning of this year, the hospital's staff have donated 224 blood units amid the shortage of blood reserve due to impacts of the COVID-19 pandemic.
Many of them have donated their blood dozens of times and are willing to become a "living blood reserve store" for patients.
Having engaged in blood donation events many times Nguyen Thi Phuong, an employee of the Finance-Accounting Bureau of the Yen Bai General Hospital said: "I hope each individual will become a mirror inspiring others to join voluntary blood donation campaigns, helping to fill up the blood reserve bank to save needy patients".
For Doctor Nghiem Xuan Khanh from the AB Internal Medicine Department, donating blood is not a responsibility but also a wish.
"My parents both suffer gastrointestinal bleeding, requiring family members to regularly donate blood to save them. Therefore, I deeply understand the significance of blood and the fatal risk for patients due to the lack of blood, so I have donated my blood twice each year."
Sharing the same idea, Doctor Nguyen Trung Hieu, vice director of the hospital, who has donated his blood many times recalled that in 2008 when he took office in the hospital, as a young doctor, he voluntarily worked overtime to enrich his experience, which made his presence in the hospital almost all the day.
"I remember there was a day, a pregnant woman came and need urgent blood transfusion. Her blood group was the same as mine, so without hesitation, I voluntarily donated my blood to her. As learning that she overcame the fatal conditions, I was deeply moved".
The timely donated blood has not contributed to save patients but also shown the good deeds of humanitarian hearts. The hearts of medical workers of the Yen Bai General Hospital have shined the light of responsibility to the community, multiplying seeds of benevolence and promoting mutual support tradition of the nation.
Other news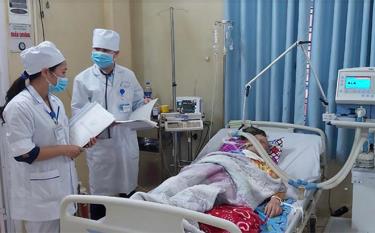 According to Yen Bai province's Social Insurance Agency, the local Health Insurance Fund pays 600-800 billion VND for medical examination and treatment each year. In many cases, patients are paid up to hundreds of millions of VND for a course of treatment.
The Women's Union in Van Yen district has been implementing a campaign on building hygienic habits for families initiated by the Vietnam Women's Union (VWU) Central Committee alongside another on building civilised lifestyle in urban and rural areas, with encouraging results.
Nearly 226,000 students in Yen Bai province officially began the 2021 - 2022 academic year on September 5 morning.
In the four waves of COVID-19 infections, the awareness, sense of responsibility, and self-consciousness of each people are an important factor helping Yen Bai province succeed in combating the pandemic so far.