Yen Bai's "white blouse" soldiers fight COVID-19 in Bac Giang
YBO - Despite a geographical distance between the provinces, Yen Bai has sent two working groups with 35 officials and doctors to assist Bac Giang that is now the country's biggest COVID-19 hotspot.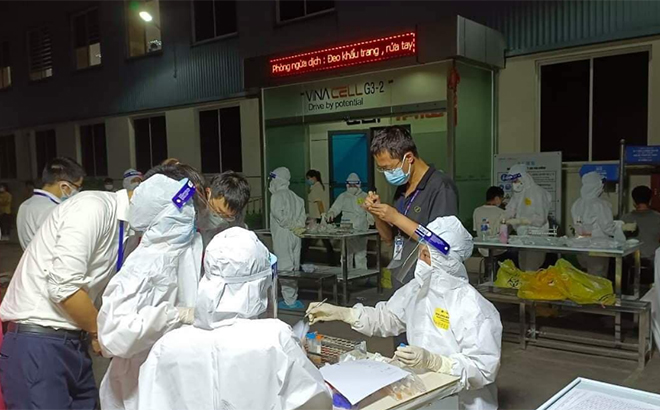 Medics from Yen Bai province coordinate with staff of Bac Giang province's Centre for Disease Control in contact tracing and collecting samples for COVID-19 testing at industrial parks.
A group of 15 medical workers arrived in Bac Giang on May 17 to help the province in contact tracing and COVID-19 testing.
Le Dinh Tien, a 59-year-old doctor who led the delegation, registered for the task without hesitation although he has an over 80-year-old mother and a disabled child.
Tien said after being assigned by Bac Giang province's Centre for Disease Control, his group quickly embarked on the task, adding that out of the 15 medical workers, 10 were in charge of contact tracing, while the remainder collected samples for COVID-19 testing.
like their colleagues in Bac Giang, Yen Bai's medics worked from morning till midnight. During the first few days, they were a bit tired and even had heatstroke, but all were full of enthusiasm and did not have any complaints, according to Tien.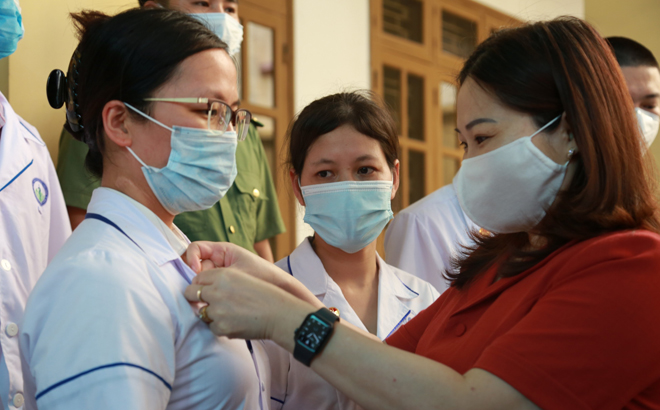 Vice Chairwoman of the provincial People's Committee Vu Thi Hien Hanh presents Yen Bai province's logos to the medical workers who are about to depart for Bac Giang.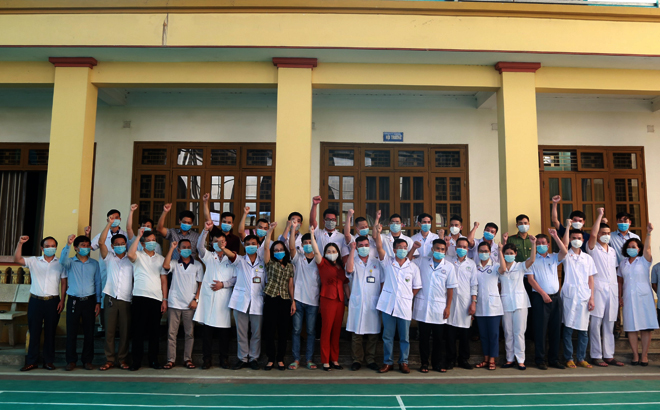 The second working group shows their determination before heading to Bac Giang.
There are two female medical workers in the group – Tran Van Anh, 29, and Mai Thi Dung, 24, both from the Yen Bai General Hospital. The women had anticipated hardships and dangers before coming to Bac Giang. However, they and other members of the delegation are resolved to help Bac Giang soon contain the pandemic.
Tran Huy Tuan, Chairman of the Yen Bai province People's Committee and head of the provincial Steering Committee for COVID-19 Prevention and Control, said as COVID-19 broke out at industrial parks in Bac Giang and spread rapidly, it is a must to act quickly in contact tracing and mass testing to soon seal off pandemic clusters and stamp out the outbreak.
Yen Bai decided to send health workers selected from the provincial General Hospital, the Centre for Disease Control, three district-level medical centres, to Bac Giang although it had yet to receive any suggestions from the province, he said.
Apart from personnel, Yen Bai also presented 2,000 Realtime PCR test kits worth about 1 billion VND to Bac Giang.
In response to the Prime Minister's appeal, Yen Bai dispatched its second group of 22 experienced doctors and nurses to Bac Giang on May 25 to help the latter with COVID-19 treatment at field hospitals.
Other news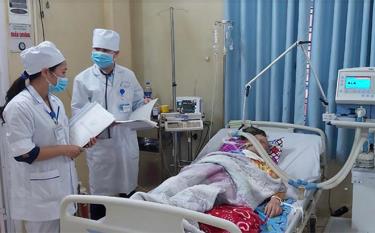 According to Yen Bai province's Social Insurance Agency, the local Health Insurance Fund pays 600-800 billion VND for medical examination and treatment each year. In many cases, patients are paid up to hundreds of millions of VND for a course of treatment.
The Women's Union in Van Yen district has been implementing a campaign on building hygienic habits for families initiated by the Vietnam Women's Union (VWU) Central Committee alongside another on building civilised lifestyle in urban and rural areas, with encouraging results.
Nearly 226,000 students in Yen Bai province officially began the 2021 - 2022 academic year on September 5 morning.
In the four waves of COVID-19 infections, the awareness, sense of responsibility, and self-consciousness of each people are an important factor helping Yen Bai province succeed in combating the pandemic so far.