Tran Yen's farmers treat pesticide packaging waste
Since 2015, localities in Tran Yen district of Yen Bai province have pooled internal resources from local people to build over 1,000 tanks storing pesticide packaging bags.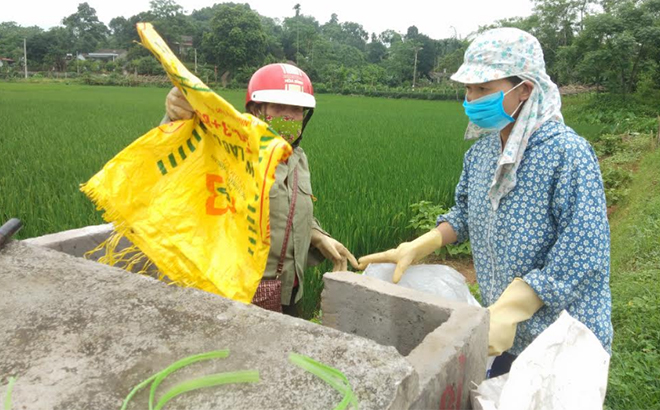 Residents put used pesticide bags into a tank on paddy fields
Luong Manh Hung, Chairman of the People's Committee of Minh Quan commune in Tran Yen district, said in the past, after spraying pesticides, residents often threw away packing, bottles and jars containing pesticides on banks of ditches and rice fields. Many threw them into irrigation ditches, which harmed humans' health, the environment and water resources.
To meet environmental criteria in new rural development, the commune built 40 tanks to collect pesticide packaging bags on an area of 240ha of rice and perennial crops while raising public awareness of environmental hygiene, especially disposing pesticide waste in right places.
Ha Van Tuyen, a farmer in Nga Quan commune, said: "It is inevitable to use pesticides in agricultural production. Previously, we mostly burned them to treat packaging, but was very toxic. Now we store them in tanks, then other units come to collect and process them so that the environment is better protected".
Tran Yen district has over 23,000ha of annual and perennial crops. Since 2015, localities have pooled internal resources from the public to build over 1,000 tanks to collect pesticide packing bags, ensuring 3 ha of rice per tank and 10 ha of perennial crops per tank. At the same time, it urged residents to not abuse the use of pesticides and put their bags into tanks after spraying.
At the same time, sectors and localities raised farmers' awareness of using pesticides according to the principle of "four right" (right type, right dose, right period and right way).
In order to improve environmental criteria after being recognised as a new rural district, Tran Yen signed a contract with Phu Ha Environment Co. Ltd to treat pesticide waste, thus mitigating their impacts on the surrounding environment. The move was also welcomed by local residents.
Other news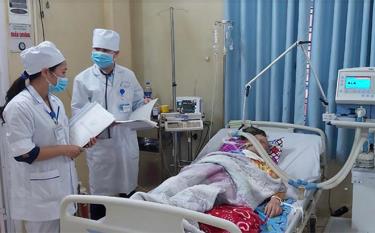 According to Yen Bai province's Social Insurance Agency, the local Health Insurance Fund pays 600-800 billion VND for medical examination and treatment each year. In many cases, patients are paid up to hundreds of millions of VND for a course of treatment.
The Women's Union in Van Yen district has been implementing a campaign on building hygienic habits for families initiated by the Vietnam Women's Union (VWU) Central Committee alongside another on building civilised lifestyle in urban and rural areas, with encouraging results.
Nearly 226,000 students in Yen Bai province officially began the 2021 - 2022 academic year on September 5 morning.
In the four waves of COVID-19 infections, the awareness, sense of responsibility, and self-consciousness of each people are an important factor helping Yen Bai province succeed in combating the pandemic so far.