Yen Bai works to boost law dissemination, education
Friday, November 12, 2021
The council for coordination in law dissemination and education of Yen Bai province held a ceremony in Van Chan district on November 1 to launch the action month for the Vietnam Law Day (November 9). Since then, agencies and localities across the province have been taking various measures to popularise the Law Day and legal documents via their portals, meetings, and other activities.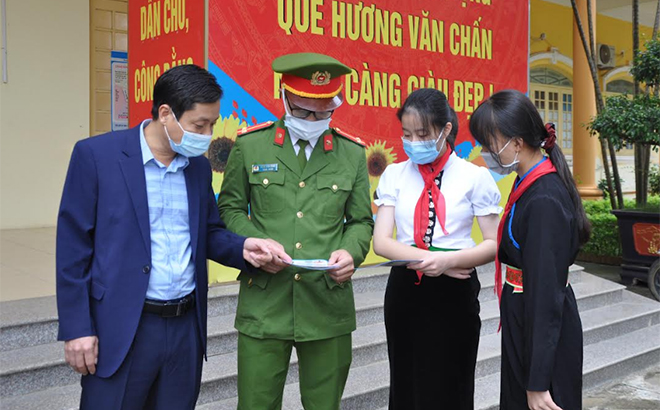 Judicial and police officers of Van Chan district share knowledge about laws with students.
Aside from disseminating the important issues regulated in the Law on Law Dissemination and Education, agencies and localities have boosted communications about those of public concern, focusing on corruption prevention and control, administrative reform, environmental protection, land, and the settlement of administrative violations.
Activities in response to the Vietnam Law Day have been carried out in a flexible manner that matches the local situation and ensures their effectiveness. Notably, law dissemination has been promoted through telecom and social networks as well as publications.
An outstanding activity is an online competition titled "The youth and law" organised by the provincial Department of Justice and the provincial Committee of the Ho Chi Minh Communist Youth Union. It took place from September 20 to October 20 on the website http://tinhdoan.thitructuyen.online.
Its content covers the Law on Marriage and Family, the Law on Road Traffic, the Law on Drug Prevention and Control, some regulations of the Penal Code (those related to traffic safety and drug crimes), and legal documents guiding the enforcement of laws.
By the end of October 20, the contest attracted nearly 11,000 participants with more than 50,000 visits to its website. The number of people with all the 20 correct answers accounts for a large proportion.
To improve the quality and effectiveness of activities in response to the Law Day, as well as of the law dissemination and education as a whole, the judicial sector has ordered related agencies and localities to step up communications to raise sectors, all-level authorities, agencies, and organisations' awareness and sense of responsibility towards law dissemination and education as in line with Conclusion No. 80 by the Party Central Committee's Secretariat.
In particular, the content and forms of dissemination and education have been reformed and diversified to suit social demand and different target groups. The mass media, along with information technology, digital technology, and social networks have been capitalised on to boost this work.
Agencies and localities in Yen Bai have moved to consolidate the apparatus of and improve the performance by law dissemination and education personnel. Besides, private resources in society have also been engaged in the task.
Basing on the effectiveness of the activities in response to the Vietnam Law Day, Yen Bai province will increase law dissemination and education in a practical and effective manner so that learning and complying with laws can truly become a daily activity of every citizen, and each day will be the Law Day.
Other news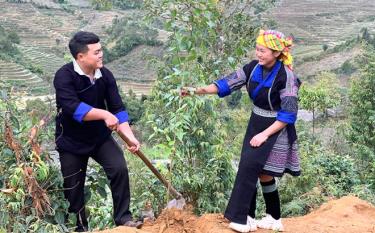 The "Happy village" model was formed in De Xu Phinh commune, Mu Cang Chai district, to encourage residents to abide by the guidelines and policies of the Party and State as well as village regulations, while supporting each other in economic development, thus raising the happiness index for local people.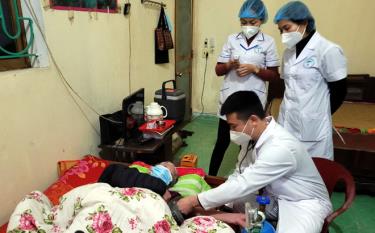 Medical stations in Yen Bai province have actively raised public awareness of fighting winter-spring diseases that potentially cause food poisoning, enhanced epidemiological supervision, especially the COVID-19 pandemic in towns, wards and communes.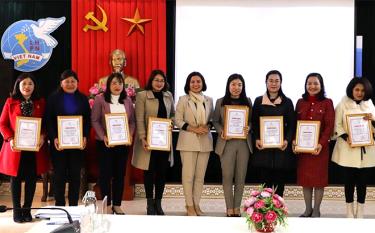 A contest highlighting Yen Bai women's meaningful activities drew more than 6,400 interactions, nearly 1,900 comments and over 1,900 shares of entries.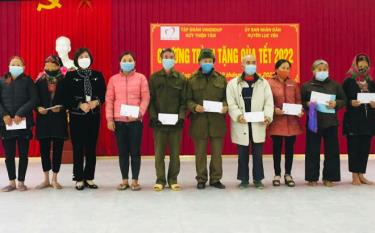 On January 10, VinGroup's Thien Tam Fund, in collaboration with the provincial Fatherland Front and relevant units, presented 1,000 gift packages, worth 600,000 VND each, to poor households in 23 communes of Luc Yen district ahead of Tet (the traditional Lunar New Year) holiday.