"Routes of solidarity, happiness" make Nghia Lo township more beautiful
YBO - Nghia Lo township in the northern province of Yen Bai has launched its movement to build lighted, green and beautiful roads since 2020 as part of its efforts to encourage cultured behaviours and good lifestyle of local residents.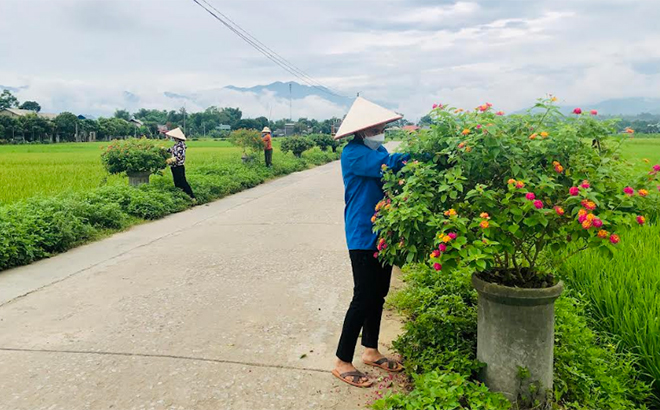 Local residents in Son A commune take care of flowers along the lighted, green, clean and beautiful road in the locality.
A 1.2km road connecting Ao Luong and Ban Van hamlets in Son A commune has been coloured with various kinds of flowers and lights thanks to contributions of local people.
Nguyen Le Thuy, head of the flower caring team of Ao Luong, said that the team has nine members who are all flower lovers and voluntarily take care of the 800m-long flower line along the road.
"We water and prune the flowers and clean up the road at least once per week. Since the lighting system was installed in the road, we often do physical exercise there, which makes out life more exciting," she said.
Meanwhile, Nghia Phuc commune has five flower routes in all of its five hamlets, with total length of about 1.9km. In order to build the roads, Nghia Phuc has mobilised the engagement of local officials, residents and businesses. Along with support of 1.5 million VND to each road from the communal administration, each local organisation donated 300,000 VND for the construction, while each household also contributed 100,000 VND and many working days.
Chu Quoc Hoang, Secretary of the Nghia Phuc Party Committee, said that many local residents have even named the roads as "routes of happiness" and "routes of solidarity" to manifest the benefits that the roads have brought.
By the same method, in 2021, the commune has developed one more road in each hamlet. So far, two roads with the length of 800m have been finished, while the rest three are scheduled to complete in September, he said.
Since 2018, Nghia Lo has started to form self-managed roads with bright, green, clean and beautiful standards. At the end of 2018, three routes received recognition from the township.
Since 2020, Nghia Lo has launched its campaign to built bright, green, clean and beautiful roads.
These roads must meet four criteria: at least 300m in length with ensured urban order and traffic safety, beautiful decoration and urban civilized lifestyle, and protected environment.
Dinh Anh Tuan, Head of the Culture-Information Division of Nghia Lo, said that with the effective methods, nine routes have been recognised to meet all the criteria. Many communes, despite their difficulties, have contributed to the construction of the roads and spread the sense of environmental protection to the society.
Particularly, Ao Sen road in Tan An ward has also received a certificate of merit from the provincial People's Committee for its beauty in 2020.
Other news
The Steering Committee for Voluntary Blood Donation of Yen Bai province has held a ceremony to honour 100 outstanding blood donors in 2021.
Yen Bai is one of 12 provinces selected by the Ministry of Culture, Sports and Tourism to pilot the implementation of a set of good behaviour within the family.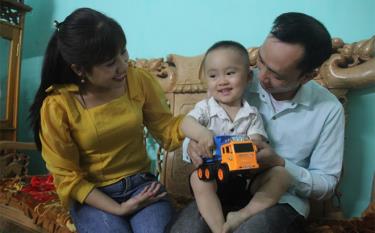 Over the past years, the emulation campaign on women good at balancing professional work and personal life has been spread among female labourers in Yen Bai province, helping to promote women's position and role in different spheres of the social life.
The Yen Bai Farmers' Union has launched the model club of farmers with successful production and business in Hung Thinh commune, Tran Yen district, Yen Bai province.