Mu Cang Chai preserves traditional culture in combination with tourism development
YBO - Along with beautiful natural landscapes, Mu Cang Chai district of Yen Bai district is also home to the unique cultural identities of Mong and Thai ethnic minority groups, and various traditional values of local communities' traditional customs, festivals, crafts, costumes and cuisine.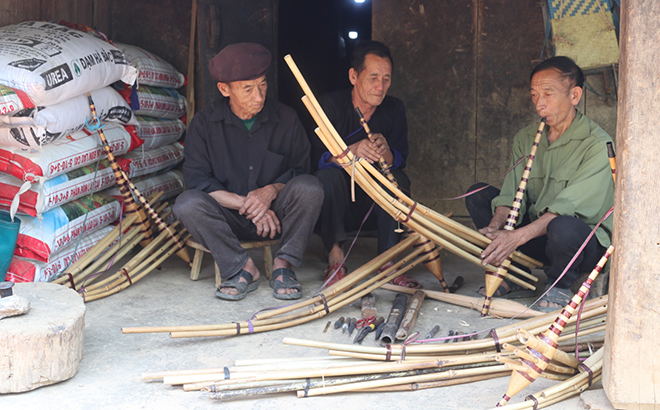 Artisan Giang Su Giang (right) from Hang Phu Loa of Mo De has made great contributions to maintaining Khen culture of Mong people.
As a mountainous locality, Mu Cang Chai has cool weather throughout the year. Famous natural landscapes in the district include Lung Cung Mount and La Pan Tan Mount, providing ideal conditions for tourists who love to explore the nature.
Particularly, the beauty of terraced fields and different flowers in four seasons, along with stunning check-in destinations such as Pung Luong bamboo forest, Lao Chai ancient rocks, De Xu Phinh "dinosaur back"-shaped mountain and Nam Khat cave also help Mu Cang Chai lure visitors.
Trinh The Binh, Head of the Culture and Information Division of Mu Cang Chai, said that with more than 90% of the local population being Mong people, the district has a lot of unique traditional customs, habits and special cultural identities.
Over the years, the district has focused on preserving and restoring traditional festivals and folk culture and ancient crafts to serve tourism development, he said.
Every year, the district organises many special festivals, including "To day" Flower (wild flower belonging to the peach blossom family) Festival, Com Moi (new rice) Festival, Khen (panpipes) Festival, and Doc Lap (Independence) Festival, with folk games and festive activities, attracting a large number of visitors.
Meanwhile, Mu Cang Chai has also paid great attention to developing local art troupes in community-based tourism villages, helping to promote traditional arts.
Recently, seven additional local residents have been recognised as folk art artisans, while many new clubs have been set up in schools and villages to preserve traditional culture.
Giang Su Giang, an artisan in Hang Phu Loa hamlet of Mo De commune, said that with 40-year experience in Mong people's Khen (panpines) production and performance, he has worked hard to teach the art to local youngsters with the aim of preserving and promoting the art with this traditional music instrument. He has also worked as an instructor in Khen making classes in communes.
New tourism products in combination with the diverse traditional cultural values that have been well preserved and promoted have brought Mu Cang Chai closer to its goal of becoming a "green - typical - safe - friendly" tourist destination./.
Other news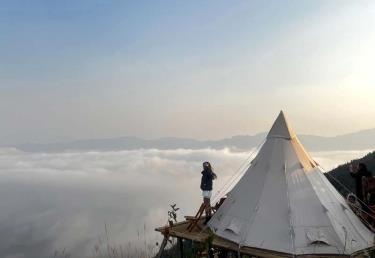 Camping has been chosen by many young people for their holidays over the recent years. In anticipation of that trend, some businesses and individuals in Yen Bai province have set up campsites to take full advantage of natural landscapes and attract tourists to the locality.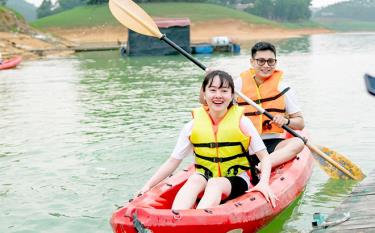 The northern province of Yen Bai welcomed over 121,000 visitors during the five-day holidays from April 29 to May 3, an increase of 70.2% compared to that the same period last year.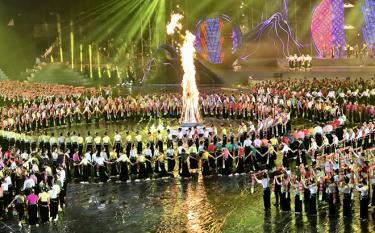 With diverse and unique potential, Yen Bai is a famous tourist destination in the north, as it welcomes millions of visitors every year. In addition to pristine landscapes and attractive indigenous cultures, the western localities of the province have launched many new and attractive tourism products for the five-day national holiday of Hung Kings Commemoration Day, National Reunification and May Day.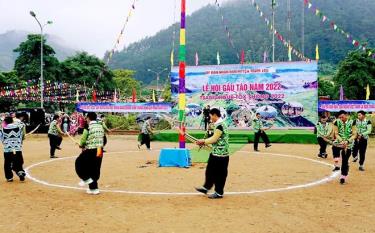 Tram Tau district in Yen Bai province has made efforts in renewing its tourism products, making them more diverse, unique and environmentally friendly, thus turning itself into an attractive destination.