Learning history effectively from model of Dien Bien Phu Campaign
YBO - With collected items and scraps, a group of eighth graders of Co Phuc Secondary School in Yen Bai province's Tran Yen district has made a model of the historic Dien Bien Phu Campaign, making learners excited and easy to remember the very detailed and vivid battles.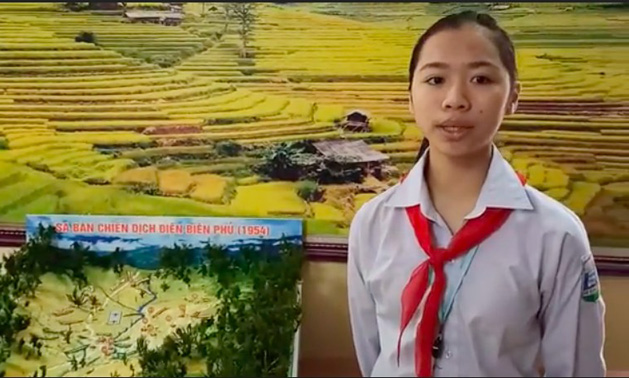 Vu Hoai Thuong, head of the student group, stands next to the model of the Dien Bien Phu Campaign.
Talking about the idea of making the model of the Dien Bien Phu Campaign, Vu Hoai Thuong – an eighth-grade student of Co Phuc Secondary School, the group's head said: "From the desire to make students love this subject and lessons become more interesting as well as the encouragement of teachers and our friends, we have gained more confidence to complete teaching aids for history lessons."
The model of the Dien Bien Phu Campaign was completed with a power supply from an old computer; pieces of styrofoam, led bulbs and dry tree trunk collected, she said.
Thuong said they had to buy only some frames, screws, glue, and paints, adding that they didn't cost much money.
Do Thi Minh Nguyet, a history teacher at the Co Phuc Secondary School, who guided the students, said the method of teaching history in the school has failed to make it easy for students to remember and understand.
Most of the lessons use tables and diagrams, so students couldn't understand all the typical battles, she said.
To make the subject more attractive, students are always encouraged to promote their creativity. Therefore, the idea of making the model of the Dien Bien Phu Campaign was highly appreciated and supported by the teachers as it reminisces the battle in the most vivid way.
Vu Quoc Long, Head of the Division of Education and Training of Tran Yen district said: "The model is reproduced very clearly by the students, helping learners to be interested and easy to memorise from the battles. I think this method of learning can be used in many other subjects."
Other news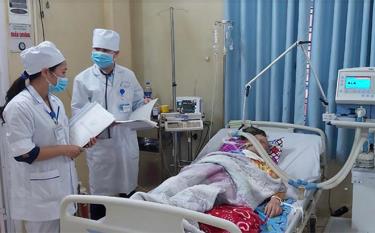 According to Yen Bai province's Social Insurance Agency, the local Health Insurance Fund pays 600-800 billion VND for medical examination and treatment each year. In many cases, patients are paid up to hundreds of millions of VND for a course of treatment.
The Women's Union in Van Yen district has been implementing a campaign on building hygienic habits for families initiated by the Vietnam Women's Union (VWU) Central Committee alongside another on building civilised lifestyle in urban and rural areas, with encouraging results.
Nearly 226,000 students in Yen Bai province officially began the 2021 - 2022 academic year on September 5 morning.
In the four waves of COVID-19 infections, the awareness, sense of responsibility, and self-consciousness of each people are an important factor helping Yen Bai province succeed in combating the pandemic so far.