Yen Bai targets food safety for entire society
As of the end of 2020, Yen Bai province had over 8,880 food production and business facilities, of which 2,444 were managed by the health sector, 2,789 by the agricultural sector and 3,638 by the industry and trade sector.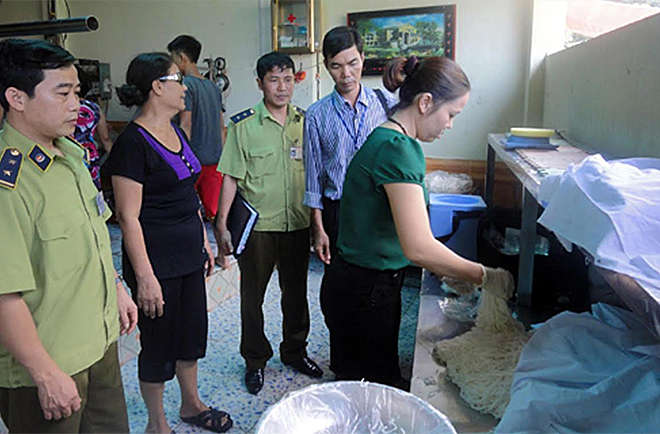 Authorities inspect a food production and trading establishments in the locality.
In recent years, the province has reported 106 food poisoning cases affecting 1,347 people, including seven deaths. These cases have been investigated in accordance with the Ministry of Health's regulations, and the causes of most of the cases were found.
Recently, the food poisoning case on April 23 in Au Lau Industrial Park had at least 13 workers hospitalised. Test results of the jícama sample showed positive for Staphylococcus aureus.
The number of establishments such as catering services, business of food, bottled water, ice, products of animal origin, and collective kitchens changes year after year.
In 2020, relevant departments inspected 4,381 establishments, discovering 708 violating establishments, and punishing 608 ones with the total amount of nearly 600 million VND, and warning 100 ones.
The action month for food safety in 2021 is taking place from April 15 to May 15 under the theme of "Ensuring food safety, preventing food poisoning in a new normal state", with the aim to keep the number of people affected by food poisoning below seven per 100,000 people, and build role models in school and business kitchens.
The province continues promoting dissemination and education to create a change in food safety and hygiene, while strengthening inspections, and coordination with relevant agencies and People's Committees of districts, towns and city to monitor food safety and hygiene in food production, processing trade villages.
The health sector continues working to control food safety violations, investigate and handle serious violations over food safety and hygiene in accordance with the law, consolidate and improve the capacity of specialised agencies and desks, especially health clinics of districts, towns, city, management officials at the and commune, ward and town levels, thus helping local authorities in organising the management of food safety.
Other news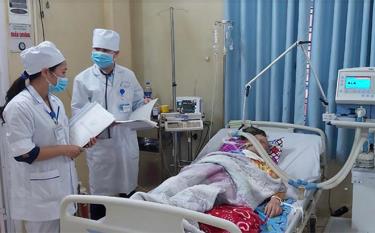 According to Yen Bai province's Social Insurance Agency, the local Health Insurance Fund pays 600-800 billion VND for medical examination and treatment each year. In many cases, patients are paid up to hundreds of millions of VND for a course of treatment.
The Women's Union in Van Yen district has been implementing a campaign on building hygienic habits for families initiated by the Vietnam Women's Union (VWU) Central Committee alongside another on building civilised lifestyle in urban and rural areas, with encouraging results.
Nearly 226,000 students in Yen Bai province officially began the 2021 - 2022 academic year on September 5 morning.
In the four waves of COVID-19 infections, the awareness, sense of responsibility, and self-consciousness of each people are an important factor helping Yen Bai province succeed in combating the pandemic so far.