Hoang Thi Quan – preservationist of soul of "Then"
During her 80 years of life, Hoang Thi Quan has almost four decades as a master of the "Then" singing and become a famous "Then" practitioner in Van Yen - the land of cinnamon.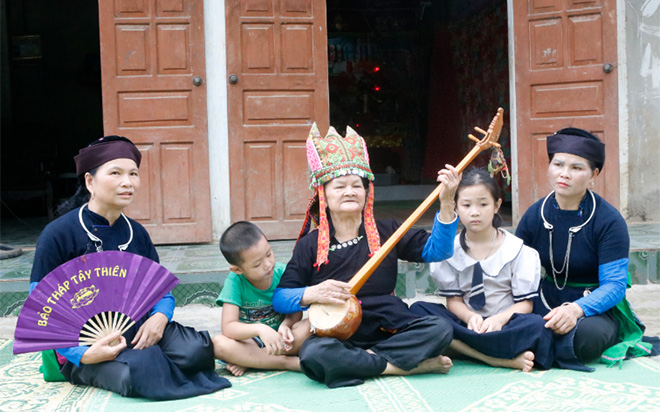 Hoang Thi Quan teaches "Then" to her descendants.
"Then" has long been a practice for the Tay ethnic people to show respect for the heaven, the earth and ancestors, and "Then" masters are those who keep the cultural heritage alive so far.
Among them, Hoang Thi Quan, who resides in Doan Ket hamlet of Ngoi An commune, is one who helps to preserve "Then" melodies and pass the love for this heritage to younger generations.
"Then" songs and dances have become part of her soul since Quan was a small girl, and she was taught to become a "Then" master by her grandfather and father very early. Since then, she has got more in-depth understanding about "Then" and the value of "Then" songs in the life of Tay people.
Previously, when not many people were interested in "Then", Quan had to visit each house to invite locals to join her. She wished to help others learn more about and love the cultural identity of her ethnic group and preserve it so that "Then" melodies, from traditional to modern ones, will not fall into oblivion.
Thanks to that, local residents have come to understand more about the meaning and role of "Then", joined hands in heritage preservation, and developed a pride in the community's traditional culture.
Despite her age, Quan's love for "Then" has never run out. With wholehearted efforts, she has been striving to uphold cultural values passed down from former generations by teaching "Then" and encouraging others of the local Tay community to jointly maintain it so that the heritage will exist in the colourful life in the Van Yen land of cinnamon forever.
Other news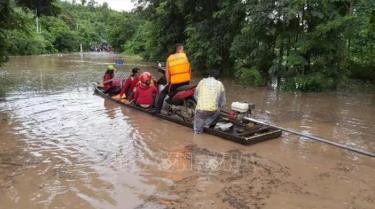 One person in the central province of Thua Thien-Hue died, another went missing in Quang Tri and 110 others were injured after storm Noul swept through the central region, reported the Office of the Central Steering Committee on Natural Disaster Prevention and Control.
Located in Yen Ninh Street, Yen Bai city, the AD English centre has attracted more than 300 students of different ages since its inception one year ago.
By August 30, there had been 54 households from six communes in the mountainous district of Tram Tau, Yen Bai province, filing requests to be removed from the poverty list this year.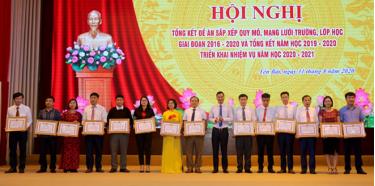 A conference reviewing a project on rearrangement of schools and classrooms in Yen Bai province for the 2016-20 period was organised by the Yen Bai People's Committee.