Yen Bai promises exciting experience of Vietnam's longest zipline
YBO - Coming to Tu Le commune, visitors will have a chance to "fly" above Van Chan and Mu Cang Chai districts thanks to an over-1km-long zipline.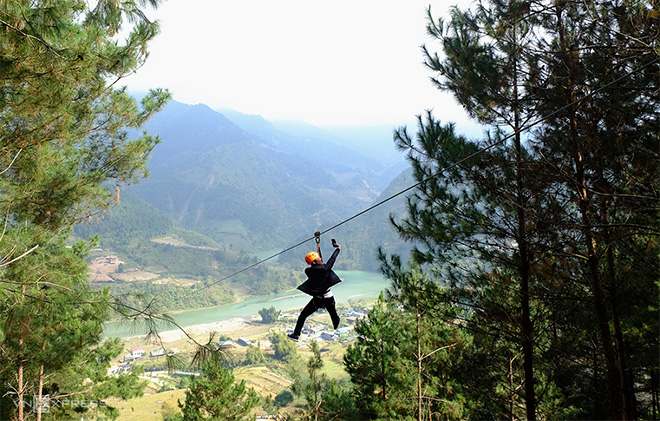 A player enjoys the over-1km-long zipline in Tu Le commune.
The longest zipline in Vietnam is available at the Aeris Hill adventure park in Nuoc Nong hamlet of Tu Le commune, Yen Bai province's Van Chan district.
With the total length of 1.2km, the zipline features two sections linking Van Chan and Mu Cang Chai districts of the province.
The first section, nearly 1km long, offers tourists a chance to enjoy a panorama of the Tu Le valley surrounded by seemingly endless mountain ranges. Meanwhile, the second section brings them to a site for taking vehicles back to the adventure park.
Players will be equipped with helmets and safety ropes while the park's staff members always stand ready at the two ends of the zipline to ensure safety for players.
The staff members said tourists less than 50kg in weight will be added with a 10kg sand bag to ensure that they will complete their zipline tour. Each player will need about one or two minutes to experience both sections of the line.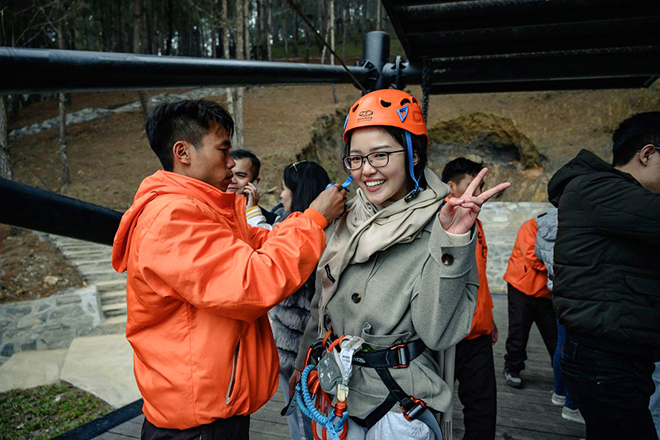 Trying a zipline for the first time, Diem Huong, a 26-year-old visitor from Hanoi, said the fear of heights and the worry about safety disappeared once she slid along the zipline, adding that the landscape seen when sliding the second section is not as beautiful as the previous one, but this section provides an experience of faster speed.
Minh Duc, 23, another tourist from Hanoi, said he has played zipline in Vietnam for many times but he is still surprised by the experience in Tu Le because of the length. Particularly, the zipline here traverses many different types of topography and landscapes like terraced fields, river, forest, and mountain.
The Aeris Hill park opens the whole week, except for Wednesday, with its game areas available from 8:30am to 6pm. It takes about seven to eight hours to travel around 270km from Hanoi to Tu Le. The trip is suitable for a three-day holiday.
Other news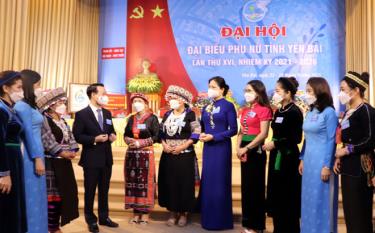 The 16th Yen Bai provincial Women's Congress, for the 2021 - 2026 tenure, took place on September 22 and 23.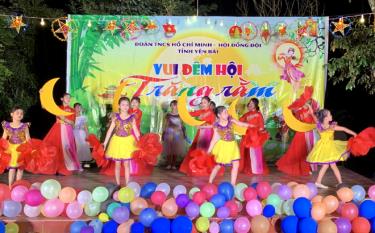 Despite COVID-19 pandemic's impacts, Yen Bai has held various activities in many forms for local children, aiming to ensure that they enjoy a full, meaningful, happy and safe Mid-Autumn festival.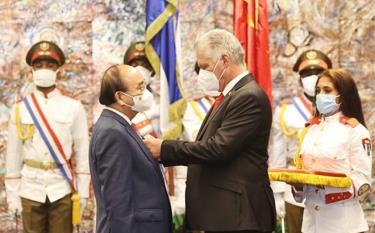 Vietnam and Cuba released a 12-point joint statement on the occasion of Vietnamese President Nguyen Xuan Phuc's official friendship visit to Cuba from September 18-20 at the invitation of First Secretary of the Communist Party of Cuba Central Committee and President of Cuba Miguel Díaz-Canel Bermúdez.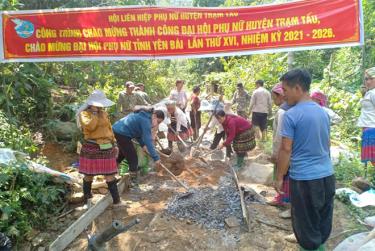 The 16th Yen Bai provincial Women's Congress, for the 2021 - 2026 tenure, is scheduled to officially take place at the province's convention centre on September 22 - 23.