Yen Bai digitises data of over 4,500 martyrs
YBO - On June 15, the province's steering committee 515 organized a conference to review the implementation of a project on searching and gathering remains of fallen soldiers (Project 1237) and another on identifying remains of fallen soldiers (Project 150) in the 2013-2020 period.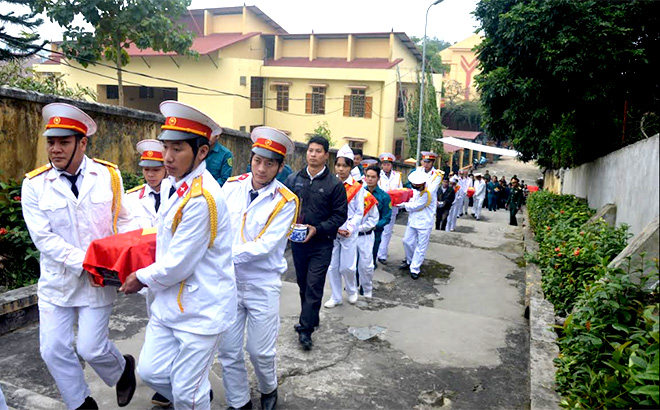 Van Yen district organizes the reburial of war martyrs' remains in the district's cemetery.
Yen Bai province has over 2000 war martyrs buried in 15 State-run cemeteries; 268 others were buried in civilian cemeteries; and 13 were laid to rest in memorial sites.
The Steering Committee 515 has directed the work at three levels of commune, district and province in compiling dossiers and lists of war martyrs, drawing maps for searching for and collecting remains.
The committee has received and verified information of 1,667 fallen soldiers who died and were initially buried in the province, entered data on over 4500 martyrs in the specialised database; and provided information on hometown, place of death and original burial sites of over 1,500 martyrs for 44 provinces and cities across the country.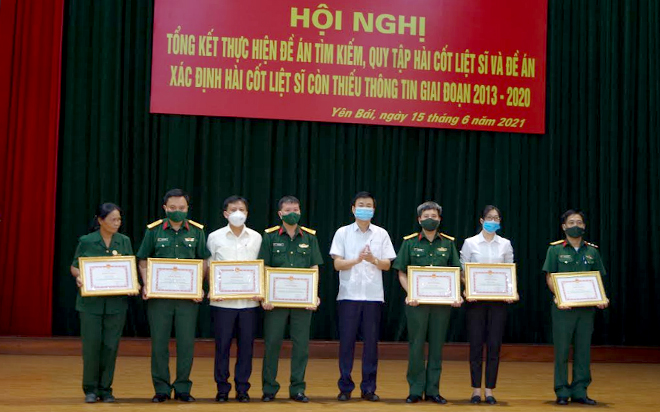 Vice Chairman of the provincial People's Committee Nguyen Chien Thang presented certificates of merit to four collectives and five individuals who performed well in implementing Project 1237 and Project 150 in the 2013-2020 period.
108 communes, wards and town of Yen Bai have completed maps of war martyrs' burial sites in 381 areas in the province; collected samples of unidentified martyrs to serve DNA tests in the future.
In the time to come, the steering committee and localities will continue to lead and carry out the task of searching for and gathering the remains of war martyrs and identifying the remains with insufficient information in the province, while searching for information and data related to war martyrs, and identifying martyrs by DNA testing.
Other news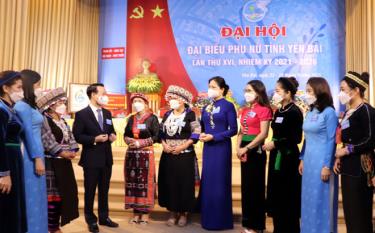 The 16th Yen Bai provincial Women's Congress, for the 2021 - 2026 tenure, took place on September 22 and 23.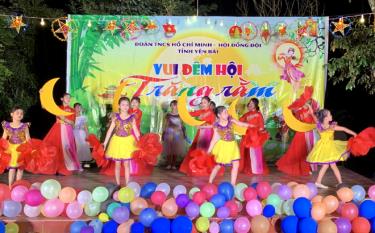 Despite COVID-19 pandemic's impacts, Yen Bai has held various activities in many forms for local children, aiming to ensure that they enjoy a full, meaningful, happy and safe Mid-Autumn festival.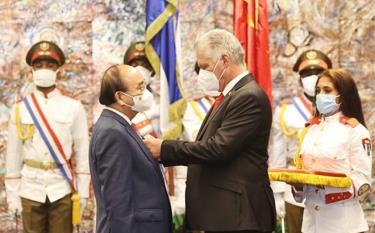 Vietnam and Cuba released a 12-point joint statement on the occasion of Vietnamese President Nguyen Xuan Phuc's official friendship visit to Cuba from September 18-20 at the invitation of First Secretary of the Communist Party of Cuba Central Committee and President of Cuba Miguel Díaz-Canel Bermúdez.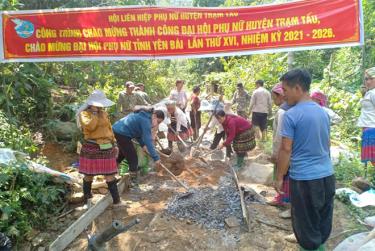 The 16th Yen Bai provincial Women's Congress, for the 2021 - 2026 tenure, is scheduled to officially take place at the province's convention centre on September 22 - 23.