Yen Bai enjoys bumper spring rice crops
YBO - Yen Bai province cultivated close to 19,500 ha of spring rice crops this year, 2.4 percent higher than the plan. Productivity was estimated at 55.53 quintals per ha, up 0.1 quintal per ha from last year's spring harvest, and total output exceeded 108,271 tonnes, surpassing the plan by 2.64 percent.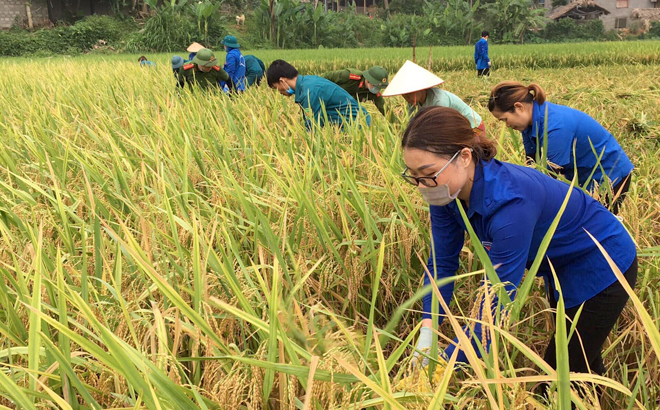 Members of Luc Yen district's youth union help farmers harvest rice.
Districts with high productivity included Nghia Lo township (63.32 quintals per ha), Van Chan (58.02 quintals per ha), Luc Yen (56 quintals per ha), and Van Yen (55.6 quintals per ha).
The rice grew well this year, said Mai Thi Hanh, a farmer in village 7, Tan Linh commune, Luc Yen district, adding that every "sao" (Vietnam's traditional unit of measurement, equivalent to 360 sq.m) in this rice-growing field has produced at least two quintals of rice. This crop season, her family cultivated nearly one "mau" (3,600 sq.m), generating more than 50 bags of rice, she said.
Luc Yen district, as a whole, is home to over 3,600 ha of spring rice crops this year, 7 percent higher than its plan; 60 percent of which was for hybrid varieties while 40 percent for purebreds.
Since the beginning of the crop, farmers have strictly followed local authority's recommendations on rice farming, especially regarding how to handle soil, regular field visits and good farming practices.
The district has directed agricultural cadres to closely cooperate with communes and townships to keep a close watch on local rice fields and instruct farmers how to prevent and eliminate pests and diseases, helping them minimise economic losses.
Tran Quoc Tuan, head of the district's division of agriculture and rural development, said farmers are being encouraged to fasten their harvest as the weather is being favourable. The district is striving to harvest more than 2,200 ha of rice by June 10, he added.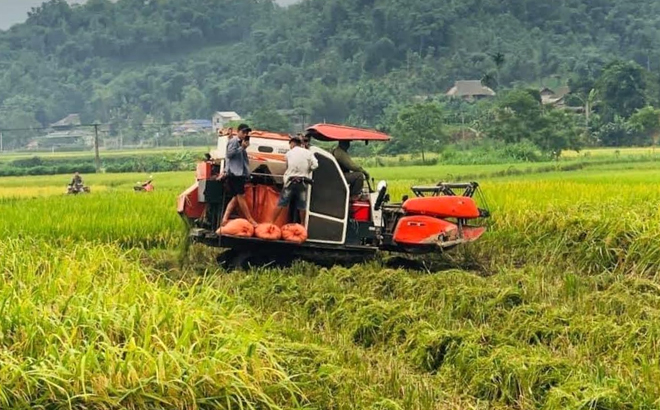 Farmers in Tran Yen district use a modern harvester to collect rice crops.
In Nghia Lo, active efforts have been made to train local farmers on new farming techniques, provide them with new high-yield rice varieties, and prevent drought. Thanks to such efforts, more than 2,000 ha of spring crops in the township are developing well.
Ha Van Tuan, Chairman of the People's Committee of Thach Luong commune, said though drought has affected some areas of rice, timely measures have been taken to fix the problems, so these areas did not need to shift to farming of other crops. The entire commune has completed harvest, with productivity averaging 65 quintals per ha.
Encouraged by the bumper spring rice crop, farmers are gearing up for the next season – the Summer-Fall crops – during which about 20,900 ha of rice and 8,475 ha of maize will be cultivated.
Other news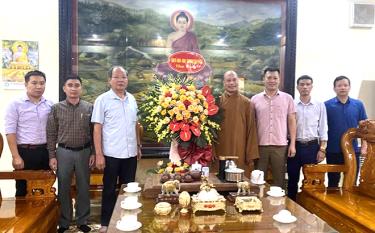 On the occasion of the Vu Lan Festival in the year of 2556 in Buddhist calendar, a working team gathering representatives from the Yen Bai Party Committee's Mass Mobilisation Commission, provincial Department of Home Affairs and Department of Public Security visited and presented gifts to the Executive Council of the Yen Bai Buddhist Sangha and leaders of Linh Phong Pagoda in Yen Ninh Ward and Van Tien Pagoda in Van Phu commune of Yen Bai city.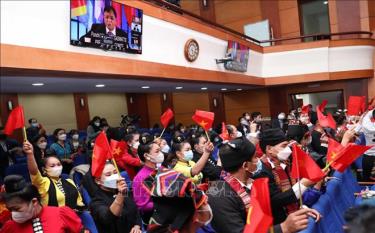 A ceremony to receive a UNESCO certificate recognising the art of Xoe dance of the Thai ethnic minority group as Intangible Cultural Heritage of Humanity and the opening of Muong Lo Culture and Tourism Festival for the discovery of Special National Landmark Mu Cang Chai terraced fields will take place at Nghia Lo township stadium on September 24.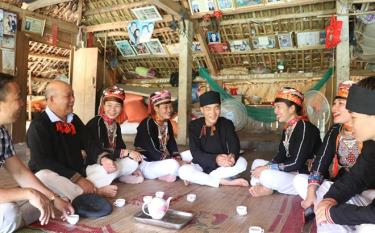 Over the past years, 80 prestigious persons of ethnic minority groups in Tran Yen district have been considered bridges connecting the Party with local people and role models in patriotic emulation movements.
Yen Bai province's Public Security has coordinated with the provincial Red Cross Society and General Hospital in organising the 2022 blood donation day.