Yen Bai honours outstanding enterprises in 2020
Tuesday, October 20, 2020
YBO - Yen Bai province is home to 2,326 enterprises and 477 cooperatives, registering total capital of more than 26 trillion VND and over 1.07 trillion VND, respectively.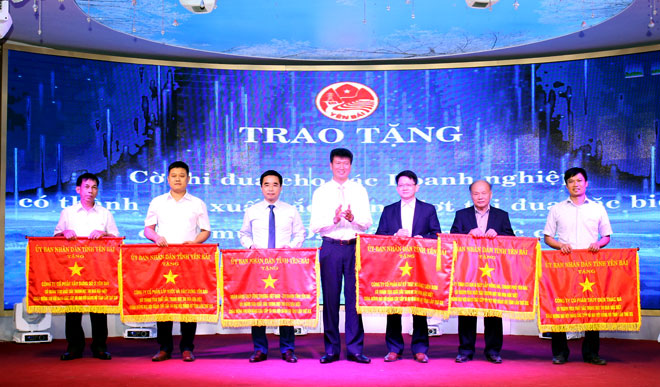 Chairman of the Yen Bai provincial People's Committee Tran Huy Tuan presents emulation flags to six collectives in recognition of their outstanding achievements in the special emulation campaign held to mark the 19th provincial Party Congress this year.
These enterprises and cooperatives have contributed about 61 percent of the provincial State buget revenue, or 703 billion VND.
This year, they have so far mobilised 4.02 trillion VND in investment in local projects, up 23.8 percent from a year earlier.
The businesses have created jobs for around 40,500 workers, with monthly wage averaging 5.3 million VND per person, while playing an active role in social welfare activities to reduce poverty and build new-style rural areas.
Chairman of the provincial People's Committee Tran Huy Tuan praised the business community's contributions to Yen Bai over the past years, saying the province is committed to further strengthening ties with the community and expanding support for them.
He asked local governmental bodies and administrations to improve and streamline public administrative procedures; and provide enterprises and people with better access to support policies. They must also intensify the popularization of policies on international integration and free trade agreements of which Vietnam is a member among the local businesses; and hold dialogues to learn about their problems and proposals, he said.
Tuan urged the province's business associations to continue bridging enterprises and governmental department and agencies, and protecting legitimate rights of the enterprises and members. They should timely report challenges and issues facing the enterprises to competent authorities in order to help the province improve local policies and public administrative procedures and better business climate.
The People's Committee honoured six collectives and 32 enterprises and cooperatives in recognition of their outstanding business results and achievements in the province's social welfare activities and emulation campaigns held to mark the 19th provincial Party Congress this year.
Other news
Vietnamese Prime Minister Nguyen Xuan Phuc held talks with his Cambodian counterpart Samdech Techo Hun Sen via videoconference on November 24 to discuss ways to enhance the bilateral relations and exchange views on some international and regional issues of shared concern.
Minister of Transport Nguyen Van The had a working session on November 17 with Secretary of the Yen Bai provincial Party Committee Do Duc Duy and Secretary of the Ha Giang provincial Party Committee Dang Quoc Khanh to discuss a project on building a road linking Ha Giang with the Noi Bai – Lao Cai Expressway.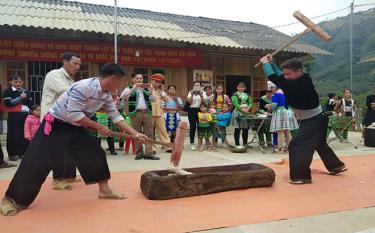 Over the past few days, localities across Yen Bai province have been in a celebratory atmosphere of the great national solidarity festival which marks the 90th anniversary of the Vietnam Fatherland Front (November 18, 1930 – 2020). Every street and hamlet here is red with the national flags and banners, and locals have joyfully taken part in activities of this solidarity festival.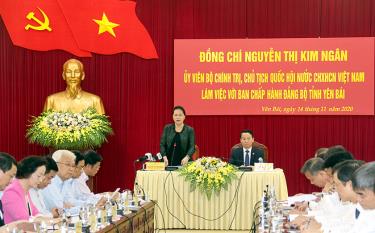 National Assembly Chairwoman Nguyen Thi Kim Ngan paid a working visit to Yen Bai province on November 14, during which she lauded the achievements the locality has made over the years. She showed pleasure at the success of the 19th provincial Party Congress, saying that members of the 19th provincial Party Committee are officials of morality and professional capacity, young age and dynamism to take responsibility in the time to come.