Tran Yen promotes role of prestigious persons in community
Over the past years, 80 prestigious persons of ethnic minority groups in Tran Yen district have been considered bridges connecting the Party with local people and role models in patriotic emulation movements.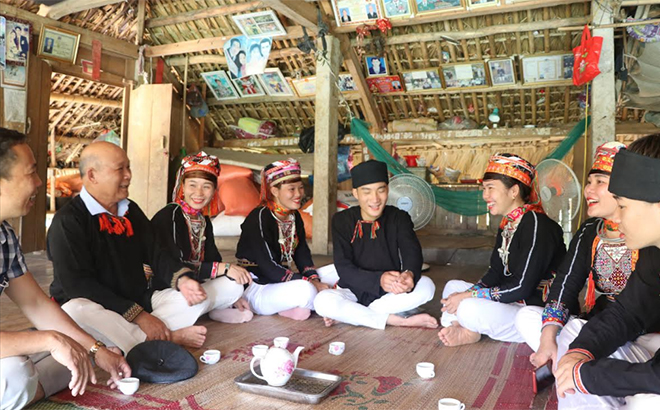 Language and handwriting class of the Dao ethnic group in Tan Dong commune taught by prestigious Dang Hong Quan (first from left).
In socio-economic development, poverty reduction, and new-style rural area building movements, prestigious people in the district have actively participated in production, implemented and mobilised others to effectively use loans, seedlings and breeders supported by the State through national target projects and programmes; and encouraged locals to donate land for rural roads, and help repair roads and irrigation canals, and contribute to new-style rural area building.
Dang Hong Quan in Khe Dat hamlet of Tan Dong commune has mobilised local people to contribute 60 million VND (2,560 USD) and 600 working days, and donate 1,200sq.m of land to build a cultural house for the hamlet; encouraged them to dismantle 30m of fences by themselves and donate 2,000sq.m of land to build rural roads; and helped establish an embroidery and singing club of the Dao ethnic group with the participation of 30 members.
Nguyen Van Doan from Ban Din village, Viet Hong commune, has encouraged locals to build rural roads, and repair and purchase equipment for the cultural house; mobilised two households to renovate mixed gardens to plant 3ha of fruit trees, five others to grow Bat Tien tea and cinnamon, and three others to shift inefficient one-crop fields into fish ponds and do other services for higher income.
Prestigious people have also participated actively in building the grassroots political system and the great national solidarity block, promoted their exemplary role in encouraging their families, relatives and locals to eliminate backward customs in weddings, funerals and festivals, repel social evils, reconcile conflicts in the community, and mobilise ethnic groups to promote the tradition of great solidarity and help others; and preserve and promote the cultural identity of the ethnic groups, traditional festivals, languages and handwritings.
Up to now, some traditional festivals of ethnic minorities have been preserved such as 'Long Tong' festival of the Tay group in Kien Thanh commune; the 'Cap sac' festival of the Dao group in Tan Dong commune; and Doc hamlet's communal house festival in Viet Hong commune held at the beginning of spring every year. In addition, folk singing has been preserved in cultural activities of minority groups such as 'then' singing, 'khap' singing of the Tay group in Hong Ca and Hung Khanh communes, 'sinh ca' singing of the Cao Lan group in Hoa Cuong commune, and 'rua' (turtle) dancing of the Dao group in Kien Thanh commune.
Prestigious people's active activities among the ethnic minority groups in Tran Yen district have been making important contributions to the great national solidarity, thus promoting the people's spirit of mastery; helping exploit all potentials and strengths for economic development, and poverty reduction, and gradually improve the material and spiritual lives of ethnic minorities in the locality.
Other news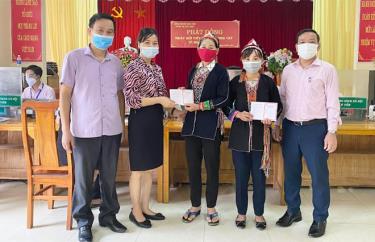 The Fatherland Front Committee of Yen Bai province has sent an open letter to agencies, organisations, businesses and people calling for donations to the province's "Fund for the Poor" and the social security programme in 2022.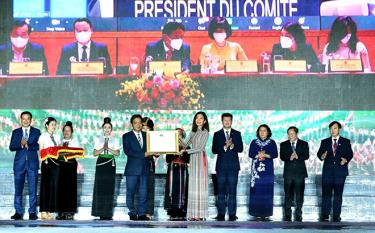 At the Ceremony to receive the certificate of UNESCO inscribing "Art of Xoe Thai" on the list of representative intangible cultural heritage of humanity and opening the festival, Ms. Pauline Tamesis - United Nations Resident Coordinator in Vietnam Nam gave a speech. Yen Bai Newspaper would like to introduce the full text of the speech!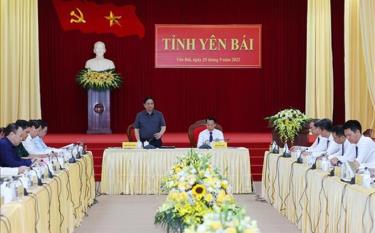 The northern mountainous province of Yen Bai would develop rapidly and sustainably with its potential, advantages and opportunities, Prime Minister Pham Minh Chinh told local officials on September 25.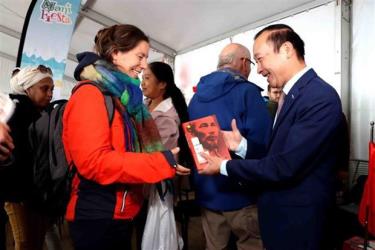 The Vietnamese Embassy in Belgium has collaborated with the Workers' Party of Belgium (PTB) to hold a series of activities in honour of late President Ho Chi Minh at the party's recent Manifesta (solidarity) festival in Ostend.