Yen Bai responds to programme to provide computers to needy students
YBO - In response to the "Internet and computers for students" programme launched by the Prime Minister, Yen Bai province has quickly mobilised the resources needed to fulfil its responsibilities.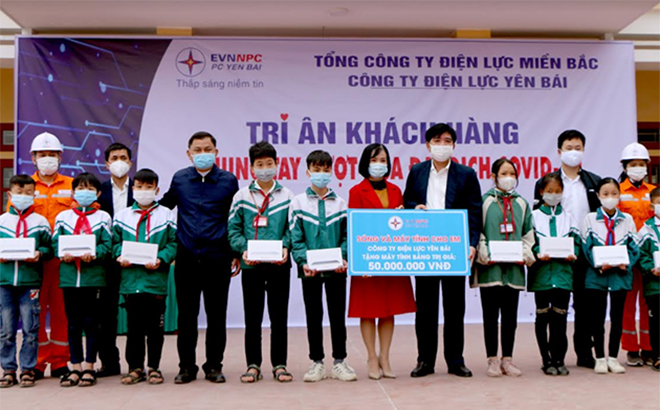 Leaders of the Yen Bai Power Company present tablets to students at the Mau Dong Commune High School in Van Yen district.
This academic year, the Mau Dong Commune Primary and Secondary School in Van Yen district has more than 720 students in 22 classes at both levels. During the 2021-2022 school year, because of COVID-19, 97 percent of students study online using laptops or smartphones, following the motto "Don't come to school, but don't stop learning". The school, meanwhile, sends study materials to the homes of the remaining 3 percent of students who do not have computers.
The Yen Bai Power Company has presented 10 tablets to students with a total value of over 50 million VND. Nguyen Huu Nghi, Deputy Director of the Yen Bai Power Company, said this is to support disadvantaged students so that their studies are not interrupted by the pandemic.
As a newly-merged unit in early 2022, the Nghia Tam Secondary and High School in Van Chan district still lacks facilities, and most students live in villages and communes facing difficulties. Of the 967 students at both levels, some 100 students from ethnic minorities or in problematic circumstances do not have devices to study online.
"We are honoured and excited for our students to receive devices from the leaders of the Party Central Committee's Organising Commission," said teacher Nguyen Duc Hieu. "With this gift of 100 tablets, all of our students are now able to study online".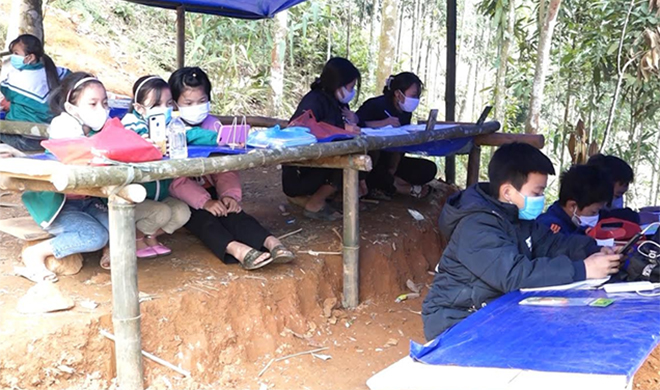 A self-made online "classroom" of students in Van Yen district amid the COVID-19 pandemic.
Figures from the provincial Department of Education and Training show that 35,812 out of the total of 173,999 students in local primary to high schools do not have devices to study online. Mu Cang Chai district is short of over 11,000 devices, Tram Tau district more than 5,000, and Luc Yen district nearly 4,000.
Given the humanitarian meaning of the programme, the Provincial People's Committee has issued an action plan and actively called on local public servants and staff at agencies, organisations, and businesses as well as individuals to join hands in reaching the goal of 100 percent of schools, teachers, and students being fully equipped with computers or other devices to enable online teaching and studies.
Organisations and businesses in and outside of the province have provided 320 million VND and 190 tablets to date for students. The province is continuing to seek and receive other resources for support.
Other news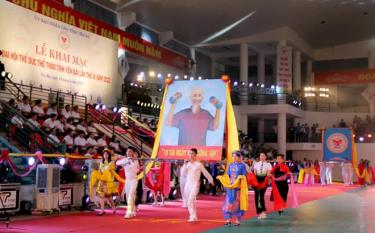 The 9th sports festival of Yen Bai province has seen the participation of more than 800 athletes from 21 delegations of nine districts, townships and city and 12 departments and sectors, who have been competing in 15 sports.
The provincial Vietnam Social Security agency and Yen Bai city ranked first in the 2021 District and Department Competitiveness Index (DDCI) rankings, according to a survey's results released by the provincial People's Committee in Decision No. 859/QD-UBND, dated June 6, 2022.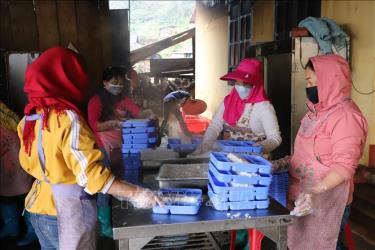 Yen Bai province has 396 semi-boarding preschools, primary and secondary schools with more than 226,000 students having one to three meals at school. Ensuring food safety and hygiene in semi-boarding schools in Yen Bai province has received special attention.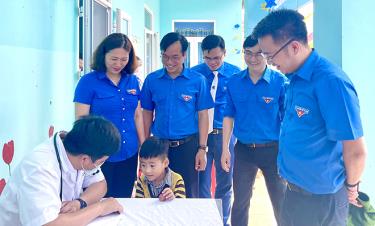 The Ho Chi Minh Communist Youth Union (HCYU) in Yen Bai launched the summer volunteer youth campaign at an event held in De Xu Phinh commune, Mu Cang Chai district, which will run until August 2022.