Vietnam-US ties continue to grow, says former Vietnamese Ambassador
YBO - Ambassador Le Van Bang, the first Vietnamese Ambassador to the US, tells Vietnam News Agency that he believes the Vietnam-US relationship will continue to grow.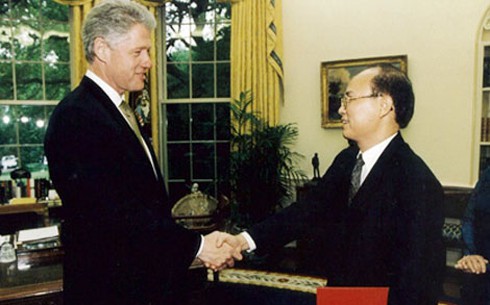 Former Vietnamese Ambassador to the US Le Van Bang in 1997 meets then US President Bill Clinton.
US President Bill Clinton announced the lifting of the embargo on Vietnam on February 3, 1994, followed by the US declaration of normalising relations with Vietnam in July 1995. What were your feelings when witnessing the historic moment?
During 20 years of perseverance to normalise Vietnam-US relations (1975-1995), I witnessed countless ups and downs and difficulties in the struggle and Vietnam's efforts. In particular, in 1986, when Vietnam began to open its doors, the need for the lifting of the embargo was extremely urgent, so the US's embargo was a stone blocking the door, making it impossible for us to communicate with the world 'normally'.
Typically, around 1988-1989, there were business owners who shared with me that they sold to Indian partners US$200,000 worth of copper scrap. Indian businesses paid through a US bank, so the money was held up there, making it very hard for Vietnamese businesses.
I was assigned to be the United Nations Ambassador in 1993-1994, in charge of relations with the US. This was also the stage of normalising relations between Vietnam and the US, starting from New York City. With the efforts of both nations, on the morning of February 3, 1994, the US Department of State invited me from New York to Washington DC to report "a special issue in the two countries' diplomatic relations". Here, the US Department of State announced that from 3pm on February 3, 1994, President Bill Clinton officially announced the lifting of the trade embargo on Vietnam and asked me to report this information to Hanoi.
Then, at 3pm the same day, President Clinton appeared on TV, announcing the lifting of the trade embargo on Vietnam. Despite knowing the information in advance, I still could not help but shed tears of joy and happiness. That meant after 20 years of so much struggle, we had achieved our goal. Removing the embargo meant Vietnam had the right to trade with the US and with other countries in the world without being prevented via finance, investment and trade barriers.
I remember very well a memory related to this important event. Earlier, in a conversation discussing when the US would remove the Vietnamese embargo, a US professor said: "This is very difficult". Therefore, right after the trade removal order was issued, that friend wrote me a brief letter "You win!". This proves the US people are very interested in the relationship between the two countries.
After the US declaration of normalising relations with Vietnam in July 1995, I remember very clearly the first time we conducted a flag-raising ceremony, sang the national anthem and saluted the flag in front of the embassy's headquarters in the US on August 5, 1995. To me, this was not only an important ceremony but also a glorious task, a very important task for diplomats like me in particular and Vietnamese people at that time in general.
At that time, what challenges and opportunities did Vietnam face when the US normalised relations?
The fact that the US announced the lifting of Vietnam's trade embargo on February 3, 1994 followed by the declaration of normalising relations with Vietnam in July 1995, first of all, created opportunities for Vietnam to normalise relations not only with the US but also connect with all countries in the world, in all fields.
This was also a premise for us to achieve other important achievements such as joining the Association of Southeast Asian Nations (ASEAN) in 1995 and joining the Asia-Pacific Economic Cooperation Forum (APEC) in 1998. In short, this was the starting point for Vietnam to integrate internationally normally.
However, besides the opportunities, Vietnam faced many challenges because of the 'war syndrome' between Vietnam and the US still remained and was unable to go away in a day or two. In addition, to negotiate a trade agreement with the US, there were provisions that Vietnam had to consider carefully, or even change laws to meet US requirements. Both countries still had to deal with the aftermath of the war, such as finding missing people, mixed-blood children, people in re-education camps.
Therefore, during my first days as a Vietnamese Ambassador to the United States, one of my main tasks was to change the public opinion and thoughts of the American people about Vietnam, and gradually eliminate 'Vietnam syndrome'. At that time, I was active in many places, through many activities of sending messages of peace, co-operation, innovation and international integration of Vietnam.
In August 1995, Deputy Minister of Foreign Affairs Le Mai assigned me the mission to come to Orange County, California, the US, to meet and talk to the people here about the situation of Vietnam about the Vietnam-US relationship, thereby verifying public opinion and news in this locality.
This was not only a difficult and sensitive mission but also requires wit and bravery when coming to speak in front of more than 500 people with different perspectives about Vietnam, about the relationship between the two countries. I determined that I had to really try my best to get the job done; conveying Vietnam's peace message to everyone. And when I did my job well, from debating, noisy reactions, and even objections, people there finally turned to ask questions and have constructive and kind discussions.
How do you assess the development of Vietnam-US relations at present compared to 25 years ago?
It's totally different. In the economic field, in 1994, bilateral trade reached a modest figure of about US$400 million, in 2019 it reached nearly US$70 billion, an increase of more than 130 times.
In recent years, trade relations between Vietnam and the US have begun to take off. Vietnam has continuously experienced a trade surplus and the US has become Vietnam's largest export market.
Clearly, the trust between the people and senior leaders of the two countries has been significantly improved, which can be seen through high-level visits between the two countries.
Therefore, I believe that in the future, relations between the two countries will develop very well. In particular, Vietnam the US established a comprehensive partnership in 2013, strengthening and expanding co-operation in all fields, from politics, diplomacy, economics, investment, to defence, security, culture, education, science and technology, overcoming war. In addition to co-operation and rapid development in recent years, the two countries share the goal of peace, stability and development in Southeast Asia in particular and the world in general. I believe this goal in the future will continue to be maintained and developed.
Currently, Vietnam's priority issues are economic development, science-technology and access to the US market, especially high technology development. I would like to emphasise the priority of Vietnam-US economic co-operation in developing high-tech fields such as renewable energy, clean and sustainable energy, smart city development, and high-tech agriculture, high-tech industry. However, Vietnam needs to overcome obstacles to attract US investment in this area, especially paying special attention to overcoming the limitations of the law.
Similarly, the US wants to join Vietnam in maintaining peace, stability and order in Southeast Asia and Asia-Pacific. Therefore, the relationship between Vietnam and the US will continue to develop.
Other news
Foreign Ministry Spokeswoman Le Thi Thu Hang highlighted Vietnam's viewpoint that all activities in its Hoang Sa (Paracel) and Truong Sa (Spratly) archipelagos without permission of the country are void and not conducive to peace, security and stability in the East Sea, and that Vietnam resolutely protests those.
Police in the northern border province of Lao Cai said on August 3 that they have broken down a drug trafficking ring, seizing three suspects and 84,800 tablets of meth.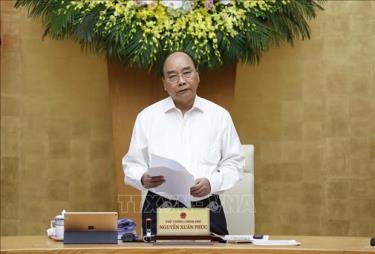 Prime Minister Nguyen Xuan Phuc chaired a one-day regular Cabinet meeting for July on August 3, which focused on seeking measures to fulfil socio-economic goals amidst COVID-19 pandemic.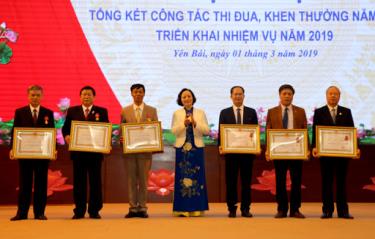 The Yen Bai People's Committee has issued Announcement No 94/TB-UBND to inform relevant departments, sectors, organisations, and localities in the province on the organisation of the 10th Yen Bai Patriotic Emulation Congress.