Luc Yen performs "four-on-the-spot" model before rainy season
YBO - Luc Yen district has made specific instructions to implement the "four-on-the-spot" model ready for the upcoming typhoon season.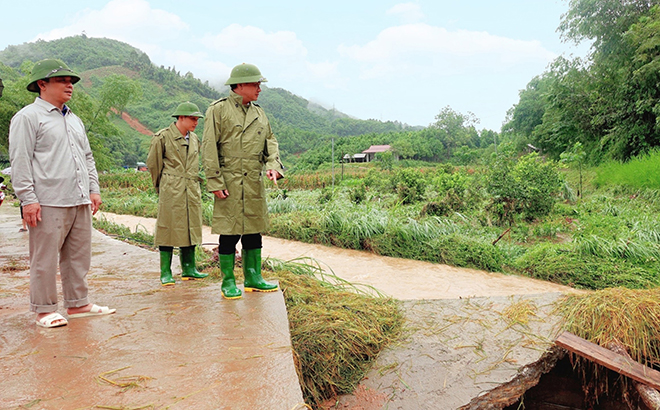 Officials of the People's Committee of Luc Yen district direct disaster recovery work after storms in An Lac commune in 2022.
Last year, Luc Yen was affected by nine natural disasters, storms, and floods, which severely damaged houses, traffic and irrigation works, and agricultural production with a total loss of an estimated 3.6 billion VND (over 135,400 USD).
Implementing the "four-on-the-spot" motto, the Luc Yen People's Committee has directed the consolidation of the local steering committee for natural disaster prevention, and search and rescue, focusing on determining key plans that need to be performed, and preparing evacuation and relocation plans.
In addition to key forces in hamlets, the People's Committees of communes and townships have also arranged militia on duties. Military and police forces have also supported communes and townships in this work when natural disasters occur.
Vehicles and equipment have been prepared in flood-prone communes such as Minh Chuan, Tan Linh, Tan Lap, Phan Thanh, To Mau. Others such as generators, loudspeakers, life jackets, and cars always stand ready for timely and effective response to any incidents and natural disasters.
Households in the district have been required to stockpile food, drinking water, fuel, and medicines. Meanwhile, authorities of communes, villages, and hamlets have been ordered to have plans to ensure enough essential goods for people during disasters.
According to Tran Quoc Tuan, head of the agriculture and rural development office of Luc Yen district, said when a disaster occurs, the local steering committee for natural disaster prevention, and search and rescue will promptly mobilise people, equipment, facilities while providing support for units and sectors to minimise losses of human life and assets.
Responding skills before, during and after natural disasters are popularised on the local radio system, aiming to raise awareness of local people.
Attention has been also paid to inspecting the system of canals, ditches, pumping stations, culverts, and construction sites of irrigation works in order to ensure water drainage when heavy rains happen.
Other news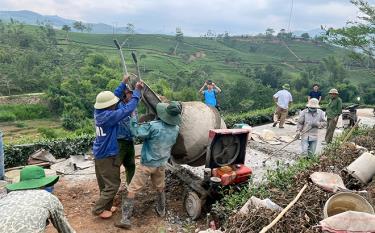 People in Residential Area No. 5, Lien Son farm township, Van Chan district join hands with local authorities to build rural roads.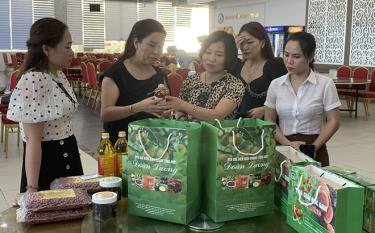 The Yen Bai Centre for Industry and Trade Promotion has sent a delegation of officials and representatives of local firms to Hai Duong and Quang Ninh provinces and Hai Phong city to explore the markets and promote trade partnership with the three northern localities.
Yen Binh district has earmarked 21.3 billion VND (895,000 USD) for the development of agricultural, forestry and fishery production in the 2021-2023 period.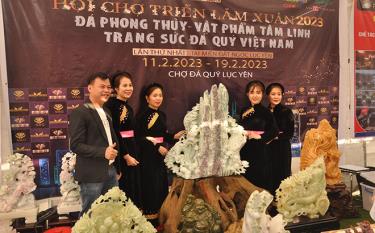 Yen Bai is hosting 52 foreign-invested businesses from 10 countries and territories, including 30 firms having 100% capital being FDI. The firms make up 1.7% in the total number of businesses in the province, with a combined capital of about 4.4 trillion VND (186.08 million USD).