Yen Bai works to remove difficulties in establishment of new businesses
YBO - Yen Bai authorities issued new registration licences for 147 businesses in the first six months while 24 enterprises were dissolved and 260 others stopped operations. Currently, there are 2,537 enterprises operating in the province.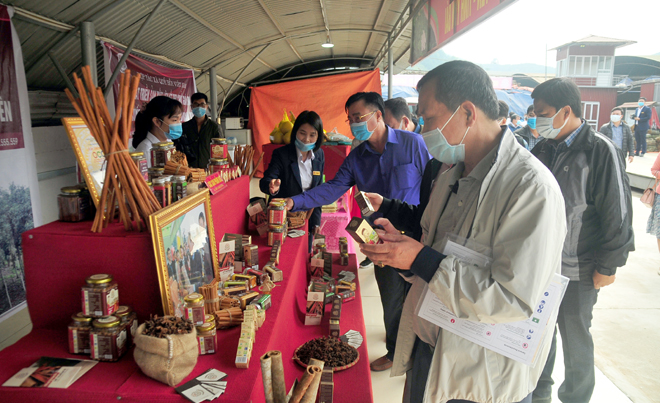 Representatives of businesses in and outside the province visit a booth introducing products of the Vietnam aniseed and cinnamon cooperative.
To complete the goal in the number of newly established firms this year, the provincial Department of Planning and Investment has seriously implemented administrative reforms as well as regulations on the issuance and adjustment of business registration licences.
A a result, 100 percent of business registration licences were issued on and ahead of schedule, with online registration encouraged amid the COVID-19 pandemic.
In Yen Binh district, which is striving to have 40 new enterprises in 2021, the People's Committee have promulgated many documents and policies for the development of businesses, while the dissemination of related polices and laws has received significant attention from local authorities.
The district is also actively completing production premises, investing in infrastructure, and creating an open legal corridor for production, business, trade and services in communes and townships to attract investors.
In 2020, 37 new businesses, 19 cooperatives, and 12 cooperative groups were set up, surpassing the planned figures and pushing the total number of enterprises and cooperatives to 370. Local authorities also supported six investors in implementing their projects and three others in planning their projects. Currently, the district houses 80 projects in different sectors.
To fulfill its target in the number of newly established firms this year, Yen Binh is drastically implementing tasks assigned by the Government, Prime Minister, and Yen Bai People's Committee. Simplifying administrative procedures and clearing hurdles facing businesses in accessing land and financial resources as well as expanding production are also important.
Other news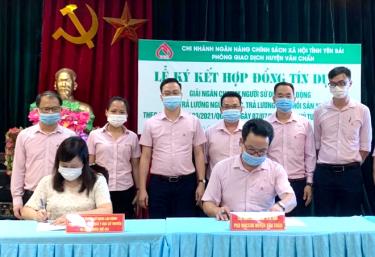 The fourth wave of COVID-19 pandemic has been causing large-scale impacts, thus hindering the sale of advantageous products of enterprises in the province such as pressed wood, tea, tapioca starch, porcelain insulators and stone powder. The endurance of local enterprises operating in tourism, catering, accommodation and transportation has also reached their limits when they have to suffer long-lasting, smoldering negative impacts.
Leaders of some sectors in Yen Bai province and 500 delegates in 400 places nationwide attended a webinar on September 9 to discuss the enhancement of Vietnam - Africa agricultural cooperation for common sustainable development.
The second Vietnam Summit in Japan is set to be held virtually on November 20-21 under the endorsement of the Embassy of Vietnam in Japan and the Vietnam National Innovation Center (NIC).
Two products of Yen Bai province have been named among outstanding industrial products in rural areas this year of the country.