Van Chan focuses on building rural roads
YBO - In 2021, Van Chan district in Yen Bai province is assigned to build 60km of rural roads, with a total estimated capital of 100 billion VND, 50 percent of which will be contributed by locals in the form of working days, construction materials, and machinery. To date, the district has completed 51 percent of the assigned plan.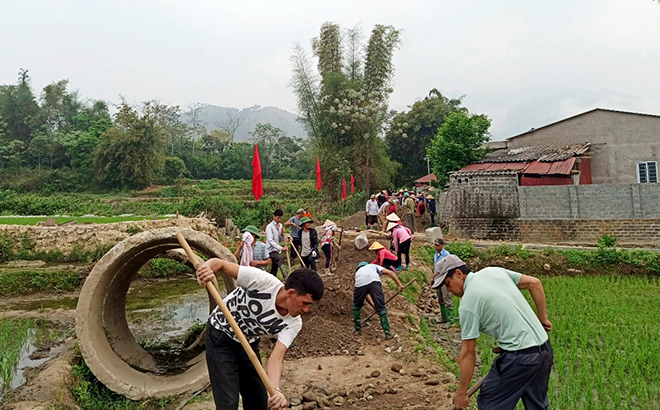 Residents in Tu Le commune build rural roads.
As locals see the benefits from the building and expansion of roads, many households in Minh An commune have voluntarily donated their land, trees and crops to build roads.
Trieu Duc Quy, Chairman of the commune People's Committee, said that this year the commune strives to build 8.5km of rural roads under the motto of "the State and people work together". More than 4 km of roads have been completed so far, bringing the total length of concrete and asphalt roads in the commune to 30.5 km.
like Minh An, Tu Le commune registered to construct 7.9km of rural roads. Secretary of the commune Party Committee Bui Thi Doan stated that aware of the benefit of roads for trade, local residents have agreed to donate their land, trees and crops. Wealthy households have donated money, while more disadvantageous ones have contributed their workdays and materials. At present, nearly 2km of roads in Nuoc Nong and Pha Duoi hamlets are completed.
In the 2016-2020 period, the district built and upgraded 414.5km of rural roads, including 264.2km of asphalt and cement roads and 150.3 km of aggregate roads, repaired over 2,084 km of rural roads, and built 323 drainage works of all kinds, with a total investment of more than 543.1 billion VND.
Hoang Thi Ly, head of Van Chan district's Economy - Infrastructure Desk, said that thanks to the early start of work, the engagement of the entire political system and the high consensus of local people, the district has to date completed 51 percent of the road building plan, bringing the total length of concrete and asphalt roads of the whole district to 610 km.
The roads have not only met locals' travel demand, facilitated trade and attracted more tourists to the district, but also changed the face of the district, especially in mountainous communes, and served as an important premise for socio-economic development, defence and security ensuring, poverty reduction, and improvement of locals' living conditions.
Other news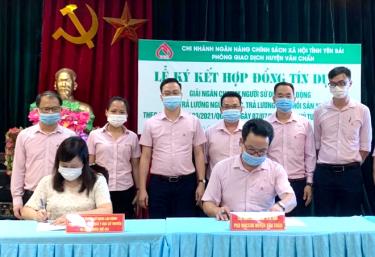 The fourth wave of COVID-19 pandemic has been causing large-scale impacts, thus hindering the sale of advantageous products of enterprises in the province such as pressed wood, tea, tapioca starch, porcelain insulators and stone powder. The endurance of local enterprises operating in tourism, catering, accommodation and transportation has also reached their limits when they have to suffer long-lasting, smoldering negative impacts.
Leaders of some sectors in Yen Bai province and 500 delegates in 400 places nationwide attended a webinar on September 9 to discuss the enhancement of Vietnam - Africa agricultural cooperation for common sustainable development.
The second Vietnam Summit in Japan is set to be held virtually on November 20-21 under the endorsement of the Embassy of Vietnam in Japan and the Vietnam National Innovation Center (NIC).
Two products of Yen Bai province have been named among outstanding industrial products in rural areas this year of the country.