Van Yen speeds up cinnamon harvesting amid COVID-19
YBO - Van Yen district is the country' largest cinnamon growing area with more than 50,000 hectares of cinnamon in 25 communes and townships.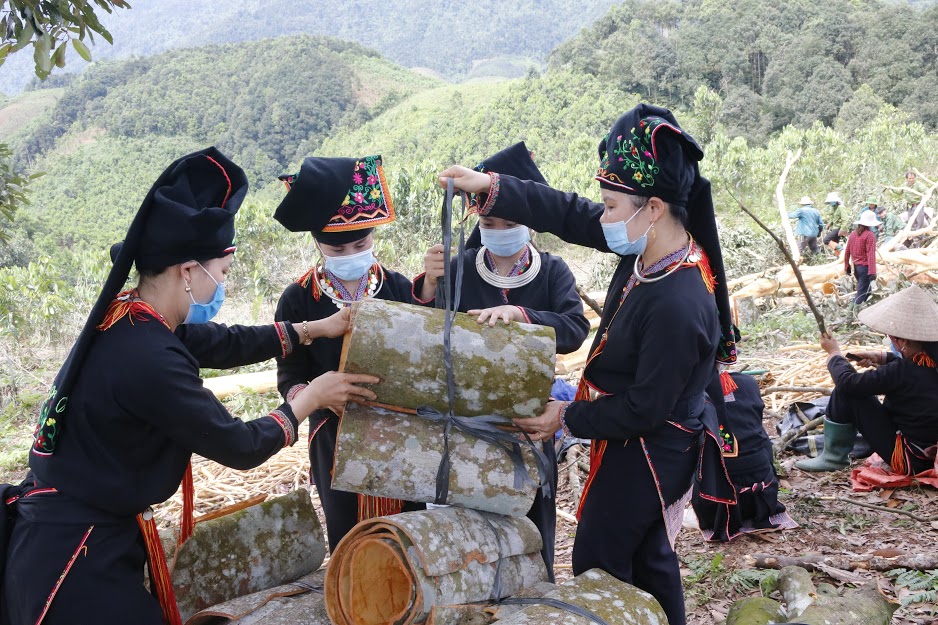 A young Dao ethnic woman in Vien Son collects cinnamon skin that has just been harvested.
Each year, the locality provides about 6,500 tonnes of dried cinnamon skin to the market, while its output of cinnamon branches and leaves is about 65,000 tonnes, oil production is about 300 tonnes per year, and cinnamon wood production is nearly 51,000 cubic metres each year. Income from cinnamon trees of locals is nearly 800 billion VND (34.74 million USD).
There are two cinnamon crops in a year in Spring and Autumn. As part of efforts to implement the "dual targets" of preventing the spread of COVID-19 and boosting socio-economic development, Van Yen has directed cinnamon-growing communes to speed up the harvesting of cinnamon in the Spring crop in parallel with the strict implementation of pandemic prevention and control measures in production.
Chairman of the district People's Committee said that as the locality is entering the peak harvest season, it has send working groups to communes and townships to direct them in ensuring safety from COVID-19 while harvesting. They have also strengthened the inspection of and direct local businesses in organising production activities and applying pandemic prevention and control measures.
The Yen Bai branch of the Son Ha spice and favouring company in Yen Hop commune has operated for three years with 180 workers. Each day, the firm buys nearly 100 tonnes of cinnamon skin for processing and exporting to 40 countries around the world.
The firm has formed a team in charge of COVID-19 prevention and control to remind, inspect and supervise the implementation of pandemic prevention and fight measures by workers at the workplace, with a risk assessment released each week.
The company has allocated personnel to check the health declarations and disinfection activities in line with the 5K message of the Health Ministry right from the entrance. During the production time, all officials and workers of the company are asked to wear masks and wash hands with sanitizers. Therefore, the firm's workforce has stayed stable with good signals in the number of orders.
Van Yen is home to 11 oil extracting facilities and 16 businesses and co-operatives engaging in processing and trading of cinnamon skin, along with hundreds of small cinnamon trading facilities and 200 cinnamon sapling producers and traders. All the establishments and local residents of Van Yen have joined hands with the whole political system to maintain the outcomes of the "dual targets" implementation.
Other news
Leaders of some sectors in Yen Bai province and 500 delegates in 400 places nationwide attended a webinar on September 9 to discuss the enhancement of Vietnam - Africa agricultural cooperation for common sustainable development.
The second Vietnam Summit in Japan is set to be held virtually on November 20-21 under the endorsement of the Embassy of Vietnam in Japan and the Vietnam National Innovation Center (NIC).
Two products of Yen Bai province have been named among outstanding industrial products in rural areas this year of the country.
According to the State Bank branch in Yen Bai province, outstanding loans affected by the COVID-19 epidemic as of July 31, 2021 amounted to 7,067 billion VND, accounting for 25.42 percent of the total outstanding loans in the province.