Tram Tau develops OCOP products
YBO - Tram Tau district has rolled out favourable policies to help local strong products meet criteria of the One Commune One Products (OCOP) programme. Many plants have become commodities of high economic value.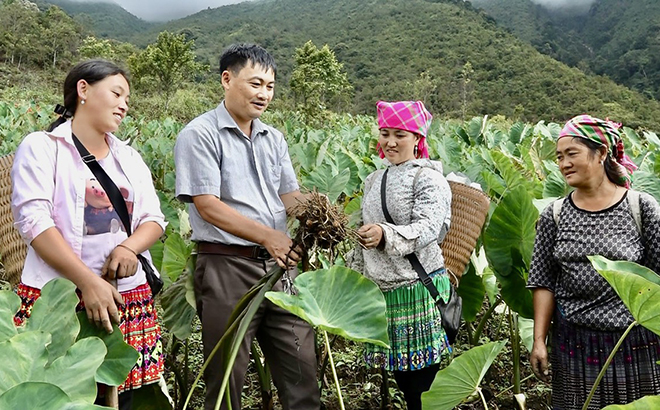 Mong ethnic people in Tram Tau district exchange experience in taro planting and caring.
Giang A Cho's family, who lives in Chi Lu village, Phinh Ho commune, has more than 2 hectares of century-old Shan Tuyet tea trees. After each harvest, his family strives to take care of the trees, ensuring that their tea plantation develop well.
Cho said he has joined the Phinh Ho Shan Tuyet Tea Cooperative. Thanks to attending training sessions, visiting models in neighbouring districts and provinces and receiving science and technology transfer, all tea buds of his family are purchased.
Currently, the Hiep Thanh Tea Co.Ltd, which owns a processing facility in the locality, is buying fresh tea buds from Phinh Ho commune to produce three types of tea, namely green tea, white tea and red tea.
Giang A Lau, head of Phinh Ho Shan Tuyet Tea Cooperative, said the production and packaging of tea products are carried out in line with European organic standards, therefore the quality of tea products is improved. They are also favoured by tea lovers at home and abroad, he said, adding the fact that Phinh Ho Shan Tuyet tea is certified as OCOP product and receiving geographical indication has a great impact on the cooperative.
After more than four years of implementing the OCOP programme, Tram Tau district has so far 10 products recognised as three-star OCOP items, including Phinh Ho Shan Tuyet tea, 87 sticky rice; Tram Tau taro, Phinh Ho white tea and Shan Tuyet red tea.
To have more products meeting OCOP standards, the district also promotes brand building; supports trade promotion, improves products' quality and competitiveness of manufacturers as well as ensures food safety and hygiene standards.
Data relating to agricultural households is digitalised. The households are instructed on how to create accounts and post products for sale on e-commercial platforms and essential sale skills. They are also guided on how to register products and prepare necessary dossiers.
This year, Tram Tau district will improve the quality of products that have been evaluated and ranked in the 2019 – 2021 period, and review six products rated three stars of the province that expires in 2023. They are Shan Tuyet Phinh Ho tea; 87 sticky rice; Tram Tau taro; Tram Tau chili bamboo shoots; Cuong Hai Tram Tau hot mineral spring and Tram Tau lemongrass essential oil.
It will develop two new products which are certified as three stars at the provincial level, namely Homestay tea hill community tourism products and Tram Tau red rice.
Tram Tau aims to have 12 OCOP products and all of them are eligible to be posted on Voso.vn and Postmart.vn as well as other reputable e-commerce platforms by the end of this year.
Other news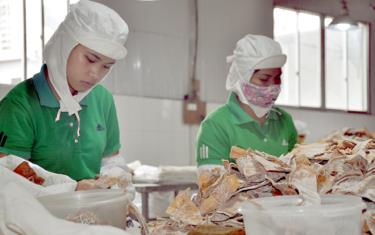 Yen Binh district in the northern mountainous province of Yen Bai has over 300 hectares of Bat Do bamboo shoots, mainly in My Gia, Yen Thanh, Xuan Lai, Cam Nhan communes, of which 200 hectares are under harvest.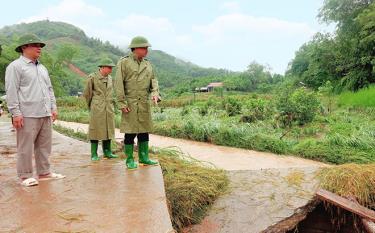 Luc Yen district has made specific instructions to implement the "four-on-the-spot" model ready for the upcoming typhoon season.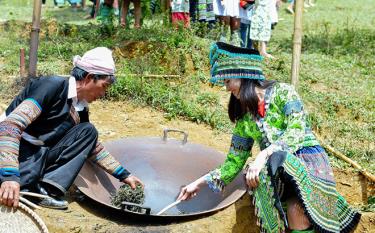 YBO - Rural tourism comprises activities, services and facilities provided in rural areas with the aim of exploiting the strengths of the countryside to meet tourists' demand for experimenting.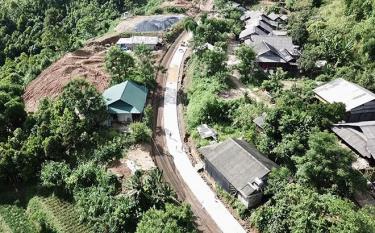 The total capital investment from the State budget for Van Chan district to implement 115 projects is more than 140 billion VND (nearly 6 million USD). Of this sum, 78 billion VND comes from the district's budget, 11 billion VND from the provincial budget and the rest from the national target programme as well as other lawful sources.