Cuong Thinh develops cultivation of herbal plants
Wednesday, March 24, 2021
Many households in Cuong Thinh commune of Tran Yen district in Yen Bai have grown "la khoi" (Ardisia silvestris) for use as herbal plant.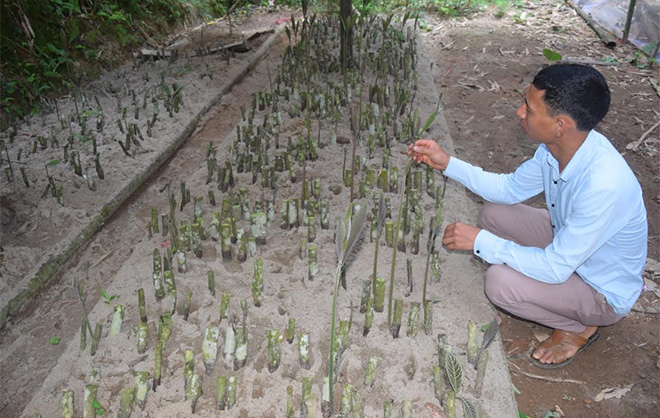 People in Cuong Thinh commune, Tran Yen district prepare seeds to plant la khoi.
The plant is used as a cure for digestive and stomach diseases. It is fond of humidity and suitable for growing under other trees, so its cultivation allows the optimal use of land.
After 6 or 8 months, the leaves can be harvested with two batches during three months, yielding 70-80 kg of fresh leaves per "sao" (equivalent to 360 sq.m).
They are sold at the price of 30,000 VND per kg, while dried leaves are valued at 220,000-250,000 VND per kg. Each sao generate earnings about 1-1.3 million VND per month.
Some families owning a large area of land under the plant rake in hundreds of millions of VND annually, for example Pham Ba Chien in Dam Hong hamlet; Bui Thi Son and Nguyen Van Nhat in Dong Lan hamlet and Pham Van Hung in Dong Chuoi.
The commune to date has more than 90 households growing "la khoi" with a combined area of 22.96 ha. The area of over-one-year-old trees stands at 12 ha, generating 60 tonnes of fresh leaves per year.
In Cuong Thinh commune, seven cooperative groups have been formed to assist each other in the farming of the plant and to form a production chain for sustainable development, thus creating jobs and raise local people's income.
Other news
In 2020, the movement to donate land for the construction of rural roads in Luc Yen district grew strongly. Nearly 1,000 local households voluntarily donated about 150,000sq.m of land, chopped down 20,000 big trees and removed nearly 4,800sq.m of walls for road building.
Thanks to the turning off of electricity devices in one hour in response to the Earth Hour 2021 on March 27 evening, Yen Bai saved 23,700 kWh of power.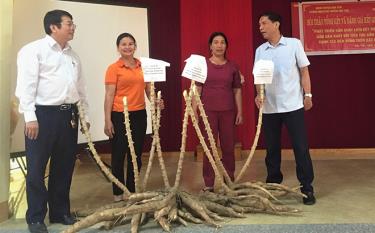 Developing production under value chains in tandem with promoting sales and sustainable cultivation on sloping land was one of the projects on agricultural production under value chains implemented in Van Yen district in 2020.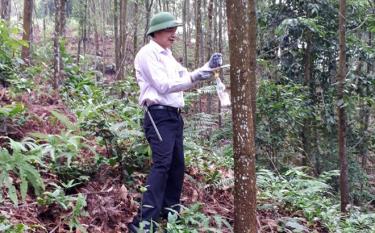 In 2020, Yen Binh district had more than 3,400ha of forest granted with the Forest Stewardship Council (FSC) certificates. The area is managed by 2,410 households in the communes of Xuan Long, Ngoc Chan, Cam An, Yen Thanh, Vinh Kien, and Han Da.