Cuong Thinh develops cultivation of herbal plants
Wednesday, March 24, 2021
Many households in Cuong Thinh commune of Tran Yen district in Yen Bai have grown "la khoi" (Ardisia silvestris) for use as herbal plant.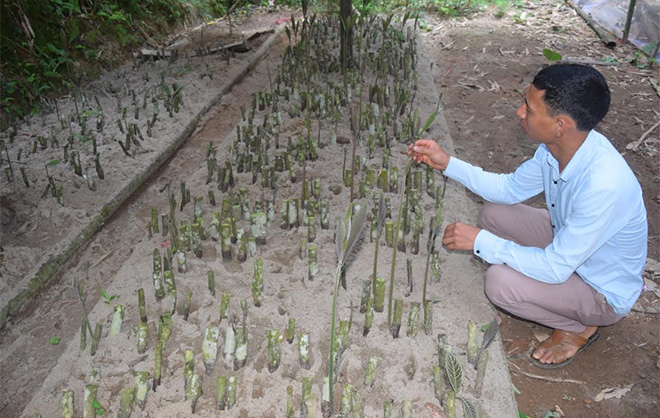 People in Cuong Thinh commune, Tran Yen district prepare seeds to plant la khoi.
The plant is used as a cure for digestive and stomach diseases. It is fond of humidity and suitable for growing under other trees, so its cultivation allows the optimal use of land.
After 6 or 8 months, the leaves can be harvested with two batches during three months, yielding 70-80 kg of fresh leaves per "sao" (equivalent to 360 sq.m).
They are sold at the price of 30,000 VND per kg, while dried leaves are valued at 220,000-250,000 VND per kg. Each sao generate earnings about 1-1.3 million VND per month.
Some families owning a large area of land under the plant rake in hundreds of millions of VND annually, for example Pham Ba Chien in Dam Hong hamlet; Bui Thi Son and Nguyen Van Nhat in Dong Lan hamlet and Pham Van Hung in Dong Chuoi.
The commune to date has more than 90 households growing "la khoi" with a combined area of 22.96 ha. The area of over-one-year-old trees stands at 12 ha, generating 60 tonnes of fresh leaves per year.
In Cuong Thinh commune, seven cooperative groups have been formed to assist each other in the farming of the plant and to form a production chain for sustainable development, thus creating jobs and raise local people's income.
Other news
Leaders of some sectors in Yen Bai province and 500 delegates in 400 places nationwide attended a webinar on September 9 to discuss the enhancement of Vietnam - Africa agricultural cooperation for common sustainable development.
The second Vietnam Summit in Japan is set to be held virtually on November 20-21 under the endorsement of the Embassy of Vietnam in Japan and the Vietnam National Innovation Center (NIC).
Two products of Yen Bai province have been named among outstanding industrial products in rural areas this year of the country.
According to the State Bank branch in Yen Bai province, outstanding loans affected by the COVID-19 epidemic as of July 31, 2021 amounted to 7,067 billion VND, accounting for 25.42 percent of the total outstanding loans in the province.