Van Yen district boosts cassava farming under value chain
YBO - Developing production under value chains in tandem with promoting sales and sustainable cultivation on sloping land was one of the projects on agricultural production under value chains implemented in Van Yen district in 2020.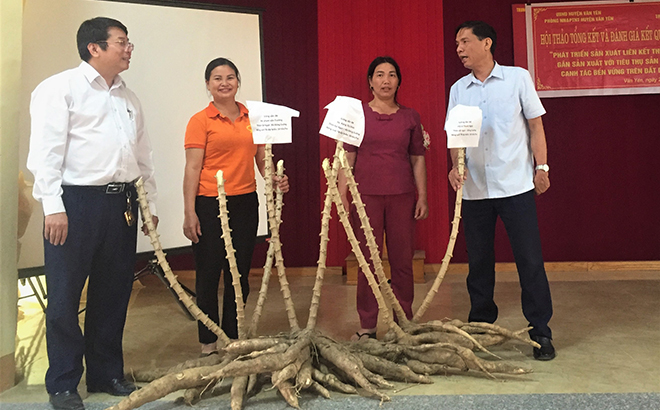 Representatives of the Van Yen district People's Committee assess outcomes of the project on developing production under value chains in tandem with promoting sales and sustainable cultivation on sloping land.
To carry out this project, the district set up cooperative groups for coordination in cassava farming in An Binh, Mau Dong, Dong Cuong, Lam Giang, and Chau Que Thuong communes. Five areas covering 200ha of land in total were formed to cultivate new cassava varieties. Biological anti-erosion measures have also been applied to farming on sloping land to ensure sustainable cultivation.
The households engaging in the value chain have cultivated BK and Sa21-12, which are new cassava varieties recently developed by the Thai Nguyen University of Agriculture and Forestry and the Root Crop Research and Development Centre under the Field Crops Research Institute.
The productivity has reached 47.5 tonnes of fresh roots per ha, about 15 – 20 tonnes higher than that of other cassava varieties grown in the locality.
At present, each hectare of cassava generates income of more than 109 million VND (over 4,700 USD), and the sale has been guaranteed by the Van Yen cassava factory.
Other news
Leaders of some sectors in Yen Bai province and 500 delegates in 400 places nationwide attended a webinar on September 9 to discuss the enhancement of Vietnam - Africa agricultural cooperation for common sustainable development.
The second Vietnam Summit in Japan is set to be held virtually on November 20-21 under the endorsement of the Embassy of Vietnam in Japan and the Vietnam National Innovation Center (NIC).
Two products of Yen Bai province have been named among outstanding industrial products in rural areas this year of the country.
According to the State Bank branch in Yen Bai province, outstanding loans affected by the COVID-19 epidemic as of July 31, 2021 amounted to 7,067 billion VND, accounting for 25.42 percent of the total outstanding loans in the province.