Yen Binh district looks to have additional 3,000ha of FSC-certified forest
YBO - In 2020, Yen Binh district had more than 3,400ha of forest granted with the Forest Stewardship Council (FSC) certificates. The area is managed by 2,410 households in the communes of Xuan Long, Ngoc Chan, Cam An, Yen Thanh, Vinh Kien, and Han Da.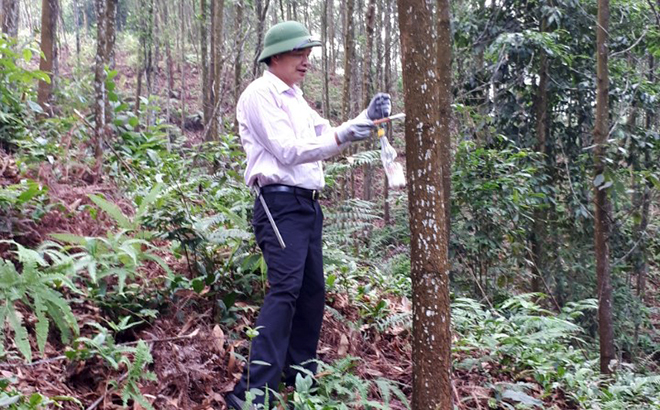 An officer of the provincial Forest Protection Department examines a forest area granted with the FSC certificate in Tan Nguyen commune.
The district is striving to expand this area by 3,000ha in 2021.
The Hoa Phat Industrial Co. Ltd, which is responsible for making the plan on sustainable forest management and FSC certification in Yen Binh this year, expects to have the area reaching 5,000ha in the communes of Phuc Ninh, My Gia, Dai Minh, Mong Son, Bao Ai, Tan Huong, Dai Dong, Phu Thinh, Thinh Hung, Yen Thanh, Cam Nhan, Ngoc Chan, and Xuan Long.
To carry out this plan, since the year's beginning, the district's forest protection force has provided training in afforestation and forest caring and exploitation for local residents so as to ensure that the practices comply with the 10 principles and 56 criteria for afforestation of the FSC.
Other news
Leaders of some sectors in Yen Bai province and 500 delegates in 400 places nationwide attended a webinar on September 9 to discuss the enhancement of Vietnam - Africa agricultural cooperation for common sustainable development.
The second Vietnam Summit in Japan is set to be held virtually on November 20-21 under the endorsement of the Embassy of Vietnam in Japan and the Vietnam National Innovation Center (NIC).
Two products of Yen Bai province have been named among outstanding industrial products in rural areas this year of the country.
According to the State Bank branch in Yen Bai province, outstanding loans affected by the COVID-19 epidemic as of July 31, 2021 amounted to 7,067 billion VND, accounting for 25.42 percent of the total outstanding loans in the province.