Yen Bai's leaders meet with businesses, investors
Tuesday, February 28, 2023
YBO - The People's Committee of northern Yen Bai province has recently held a meeting with businesses and investors.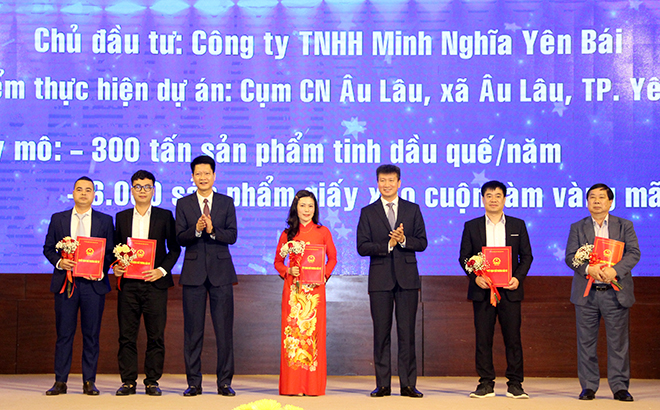 A local leader presents investment licences to projects in 2023
Last year, the province recorded 319 newly-established businesses with a total registered capital of nearly 3.6 trillion VND, bringing the total number of local firms to 2,960, up 302 from 2021. They contributed to 62.8% of the provincial budget's revenue.
In 2022, 37 projects were licenced with a total registered capital of more than 10.7 trillion VND. So far, the province has granted licences to 600 projects valued at more than 93.68 trillion VND and 402.1 million USD.
Hailing the business community, entrepreneurs and investors' contributions to the province's development over the past years, Chairman of the provincial People's Committee Tran Huy Tuan wished that they would keep renovating themselves, overcome challenges and improve business efficiency.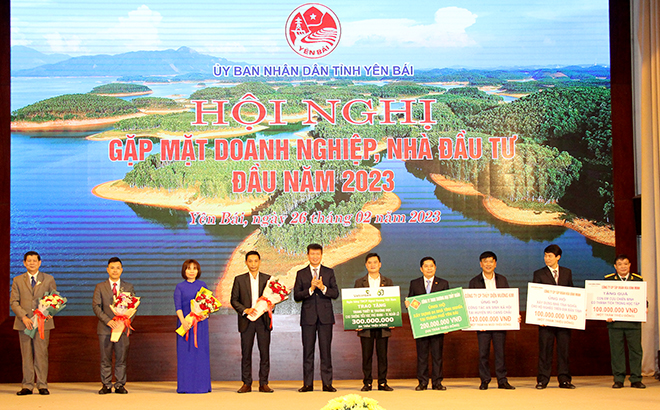 Chairman of the provincial People's Committee Tran Huy Tuan presents flowers to firms that actively engaged in community activities, contributing to social welfare work in the locality.
He called for attention to actively seeking new markets, renewing technology, strengthening production connectivity, raising awareness and mindsets based on digital technology. Businesses need to build new brands and seek promising markets, improve the material and spiritual lives of workers and accompany the province in social welfare work.
The official stressed that during 2023 and subsequent years, Yen Bai will prioritise investment in hi-tech, eco-friendly and energy-friendly projects while attracting strategic and capable investors to launch large-scale projects that have widespread impacts.
He asked departments, agencies and localities to effectively adopt measures to improve the provincial investment environment, promptly perform support policies and tackle difficulties faced by firms, and assist them in seeking markets and partners, workforce training and branding.
Other news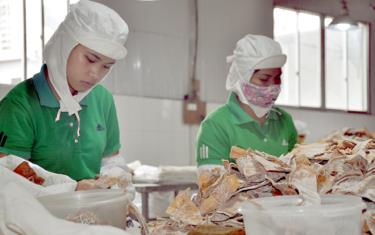 Yen Binh district in the northern mountainous province of Yen Bai has over 300 hectares of Bat Do bamboo shoots, mainly in My Gia, Yen Thanh, Xuan Lai, Cam Nhan communes, of which 200 hectares are under harvest.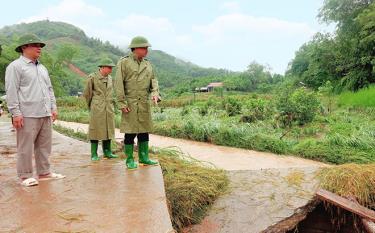 Luc Yen district has made specific instructions to implement the "four-on-the-spot" model ready for the upcoming typhoon season.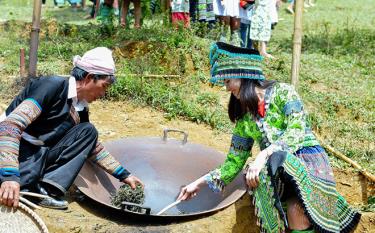 YBO - Rural tourism comprises activities, services and facilities provided in rural areas with the aim of exploiting the strengths of the countryside to meet tourists' demand for experimenting.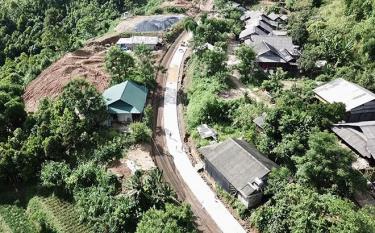 The total capital investment from the State budget for Van Chan district to implement 115 projects is more than 140 billion VND (nearly 6 million USD). Of this sum, 78 billion VND comes from the district's budget, 11 billion VND from the provincial budget and the rest from the national target programme as well as other lawful sources.