Tran Yen district promotes organic cinnamon production
Wednesday, November 9, 2022
YBO - Tran Yen district in the northern mountainous province of Yen Bai has defined organic production as an inevitable solution towards a clean agriculture. The locality has stepped up organic production methods for key plants, especially cinnamon, to meet the demand of the most demanding markets.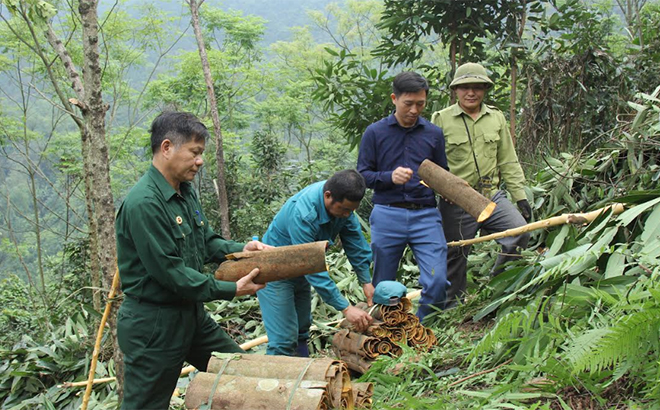 Farmers in Dao Thinh commune are collecting cinnamon bark.
Ta Thi Chin in hamlet 1, Dao Thinh commune, has six hectares of forestry land. In 2015, she joined an organic cinnamon growing programme in the locality with a wish of seeking a suitable, high-value variety to increase her family's income.
"Since joining the organic cinnamon growing programme, we have known how to utilise agricultural by-products and probiotics to make fertilizers, and the vegetation to make the soil more fertile. At first, we found it hard to get familiar with the new methods. After recognising their long-term benefits, my family and other households in the hamlet have persistently applying them."
Dao Thinh commune is now home to more than 800 hectares of cinnamon, mainly in hamlets 5, 6 and 7, including more than 30-year-old cinnamon hills. The area of organic cinnamon stands at 500 hectares. Organic cinnamon products are free from toxic chemicals. During the production, attention has been paid to balancing the natural ecosystem and maximising community health and productivity in terms of life, land, plants, animals and humans.
Thanks to the model, the value of organic cinnamon is about 1.5 times higher than that of cinnamon produced in the traditional way, helping to open up great opportunities for trade promotion and exports, and raise incomes of local residents.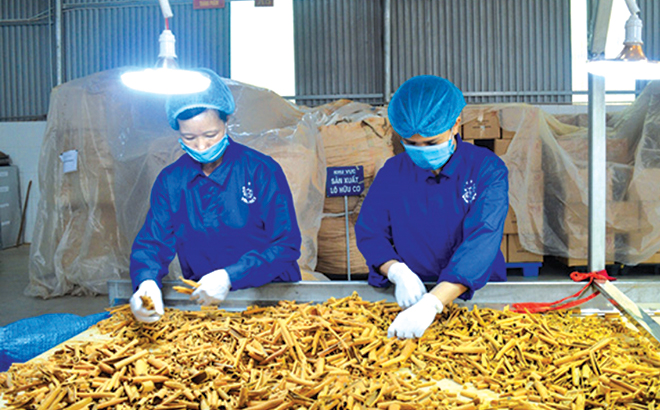 Cinnamon stick processing at Dao Thinh Cinnamon Cooperative.
Cinnamon is also a key tree in Kien Thanh commune, with more than 1,300 hectares of organic cinnamon, making up about 45% of the total cinnamon area in the commune.
Chairman of the Kien Thanh Commune People's Committee Duong Kim Hung said local authorities have coordinated with relevant companies and units to open training courses, supervise the production process and frequently take samples for quality testing.
The area of cinnamon in Tran Yen district now exceeds over 20,000 hectares, accounting for 25% of the combined cinnamon area in Yen Bai province. Cinnamon has been viewed as a key tree in the local forest-based economy, mainly in Dao Thinh, Tan Dong, Viet Thanh, Hoa Cuong, Y Can, Quy Mong, Kien Thanh, Hong Ca and Luong Thinh communes.
About 9,000 hectares are grown with organic methods, and more than 2,200 hectares meet domestic and international standards. The total annual output of dried cinnamon bark is 4,000 - 5,000 tonnes/hectare, with an income of over 400 billion VND (16.09 million USD).
Trieu Thi Bich Lieu, head of the Bureau of Agriculture and Rural Development of Tran Yen district, said the locality aims to raise the area of cinnamon to 25,000 hectares by 2025, with the area of organic cinnamon expected to reach over 12,000 hectares.
Other news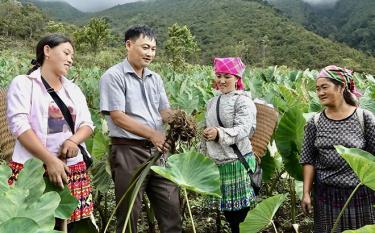 Tram Tau district has rolled out favourable policies to help local strong products meet criteria of the One Commune One Products (OCOP) programme. Many plants have become commodities of high economic value.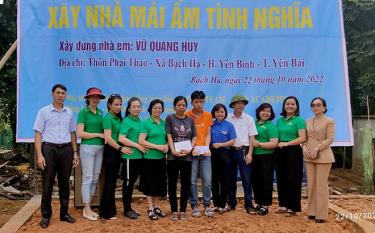 YBO – Along with great contributions to socio-economic development, businesses and entrepreneurs in Yen Bai province have actively provided support for the locality's social welfare work.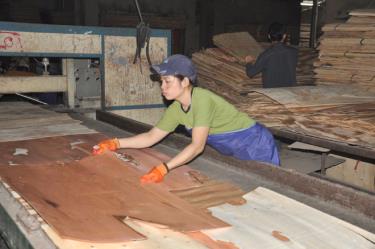 Yen Bai province granted registration certificates to 27 new enterprises in the first two months of 2023, reaching 8.2% of its yearly target.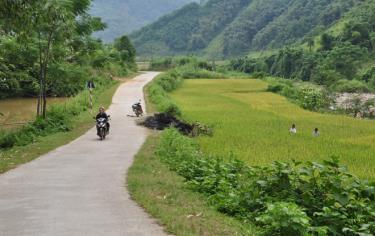 In 2023, Tran Yen plans to have additional four communes completing the criteria of the new-style rural area building programme and two others finishing those for model new-style rural areas, thus fulfilling its target of having 50% of the total communes becoming advanced new-style rural areas.