Pilot project on fish cage farming on Thac Ba reservoir proves effective
YBO - "Nganh" fish, scientifically known as Cranoglanis henrici, belongs to order Siluriformes. This species of fish is mainly found in Thailand, the Philippines, Indonesia and China.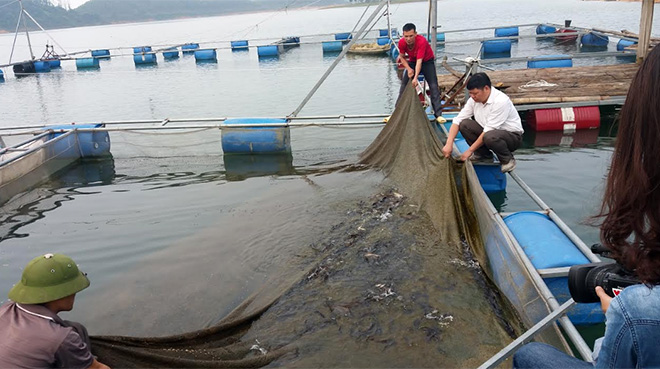 A fish cage farming model of Le Van Thu's family in Ma village, Vinh Kien commune of Yen Binh district
In Vietnam, schools of the fish can be seen in lower reaches of rivers in northern localities, primarily in Bang Giang river of Cao Bang, Ky Cung of Lang Son, Chay river and Thac Ba reservoir in Yen Bai.
In Yen Bai province, the fish can be caught in the Hong (Red) River network, Chay river and mostly Thac Ba reservoir.
Statistics in 2013 illustrated that approximately 500 kg of fish are caught and sold in the province at prices of between 150,000 and 200,000 per kg. Many fishermen residing near the rivers of Lo, Gam and Hong make a living by catching this fish.
With such a rapid speed of exploitation, the fish volume in local rivers and reservoirs has been on the decrease. In 2013, the province's centre for the application of science and technology launched a pilot project on "nganh" fish cage farming in Thac Ba reservoir which released more than 2,000 fish fry.
The project aimed to complete a process of "nganh" fish farming using modern technology and homemade fish feed in the reservoir, and gradually transfer the technique to local people.
Implemented in 2013-14, the project developed a "nganh" fish farming procedure in fresh water, taking advantage of geographical characteristics of Thac Ba reservoir and contributing to the conservation of native species which serves as a scientific foundation for research.
After nearly seven years, the centre has delivered results of the project to some families in Vinh Kien commune of the province's Yen Binh district. Outstanding achievements have been recorded so far.
Chairman of the Vinh Kien People's Committee Nguyen Van Chien revealed that in 2019, the commune's fish output surpassed 300 tonnes, with more than 70 cages.
This year, it sets itself a target of expanding the scale to 100 cages and encourage local people to breed typical fish species like "nganh" and "nheo", he added.
The project has offered a new fish choice for local breeders and changed the traditional view on aquaculture in the locality.
Other news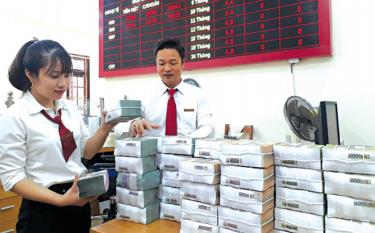 Despite annual deposit rates being adjusted down between 0.3 and 0.5 percent, idle money continues to flow into banks in Yen Bai.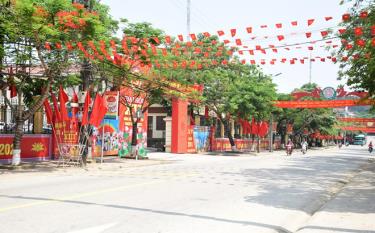 Van Yen district in Yen Bai province is striving to elevate potential communes, namely An Thinh, An Binh and Xuan Ai to tier-V urban areas by 2025, while focusing all resources on developing Mau A township from a tier-V urban area to a tier-IV urban area in near future.
Yen Bai province was ranked 36th among the country's 63 provinces and cities in the Provincial Competitiveness Index (PCI) in 2019, and placed in the group of localities with good governance, according to the rankings announced by the Vietnam Chamber of Commerce and Industry (VCCI) on May 5.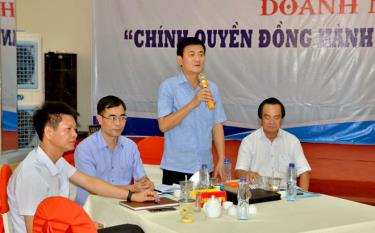 The provincial People's Committee, the Party organisation of the bloc of provincial agencies and businesses, and the business association in Yen Bai on August 28 co-hosted a monthly meeting among local businesses called "Business Café" to discuss impacts of the Vietnam-European Union Free Trade Agreement (EVFTA) on the Vietnamese economy.